In advance of this year's BEI: Back End of Innovation conference, we wanted to start a larger dialog about the execution of innovation programs. In a joint effort with conference chair Julie Anixter, Chief Innovation Officer, MAGA DESIGN GROUP and Executive Editor, INNOVATION EXCELLENCE we're kicking off the conversation by putting a series of questions to some of our exciting BEI speakers.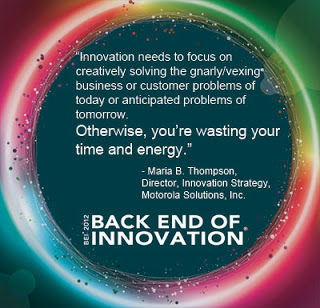 This week we checked in with Maria B. Thompson, Director, Innovation Strategy, MOTOROLA SOLUTIONS, INC., asking, 'based on your own personal experience, what is the single most important piece of advice that you would give to people who are beginning to implement an innovation project, program or strategy?'
Thompson's answer:
''What keeps your Senior Managers awake/up at night'? ' Target your innovation efforts here.
Any innovation initiative requires senior management support and sponsorship and should be rooted in the biggest pain points for the business. Innovation needs to focus on creatively solving the gnarly/vexing business or customer problems of today or anticipated problems of tomorrow. Otherwise, you're wasting your time and energy.' 
Update: Julie Anixter has some additional questions for Maria Thompson to be answered at the BEI: Back End of Innovation event, read them and add yours here.
Maria B. Thompson will be presenting 'Predictive Innovation: Directed Inventing to Ensure Generation of High-Value Ideas' on Tuesday October 9th at BEI: Back End of Innovation.
In more than 15 years of planning, conducting and facilitating more than 100 inventing sessions, Thompson has found one major truth: garbage in = garbage out. The yield of novel, patentable ideas from ad hoc brainstorming sessions is predictably low. The Directed Innovation methodology includes preparation and pre-work in the planning phase that focuses the ideation phase participants on the most important and fruitful problem areas to generate novel ideas. Measurements are pre-defined and used throughout the process to assess the value of problems, as well as the ideas generated.
To join this session, register as a reader of this blog & save 15% off the standard registration link, use code BEI12BLOG.
Register:
Online: http://bit.ly/Mtylno
Email: register@iirusa.com
Phone: 888.670.8200
Michelle LeBlanc is a Social Media Strategist at IIR USA with a
specialization in marketing. She tweets about innovation under the @BEI_innovation moniker, and everything else at @Leblancly.