By Jen Hyde, Freshmade
In four years, Gen Z will represent 24% of the U.S. workforce and 40% of consumer spending. From a trends perspective, Millennials and Gen Z (roughly 6 to 20 years old) don't want to be put in a box. They're pushing back against gender labels.
What does this mean for brands?
In her Foresight & Trends presentation 'Gen Z Goes Genderless', trend forecaster Olivia Chow spoke about rising generations and trends. 'More important than what is trending,' she said, 'is who is trending and what's trending for them.' 
Skirts & Spaceships
Jaden Smith, son of actor Will Smith, wears skirts, modeling them for brands like Louis Vuitton to combat bullying. A bit unsettling today, but not so far removed from the past. In 1884, a little Franklin Delano Roosevelt was
photographed in a skirt
, with shoulder-length hair.
It wasn't always blue for boys and pink for girls. It was actually the opposite. A June 1918 article from Earnshaw's Infants' Department said, "Pink, being a more decided and stronger color, is more suitable for the boy, while blue, which is more delicate and dainty, is prettier for the girl."
As fashion changes, so too do toys. Lego has gone back and forth following trends. In 1974, Lego included a letter to parents that read:



The urge to create is equally strong in all children. Boys and girls.


It's imagination that counts. Not skill. You build whatever comes into your head, the way you want it. A bed or a truck. A dolls house or a spaceship.


A lot of boys like dolls houses. They're more human than spaceships. A lot of girls prefer spaceships. They're more exciting than dolls houses. The most important thing is to put the right material in their hands and let them create whatever appeals to them.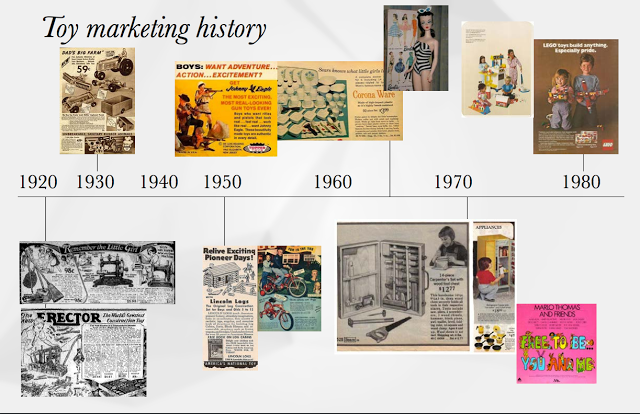 In 2014, Lego released its pink and purple Friends line, its first success with new products aimed at girls in about 20 years. Critics included a seven-year-old girl who wrote the company to ask why all the girl Legos 'sit at home, go to the beach, and shop' while the boy Legos 'went on adventures, worked, saved people, and had jobs, even swam with sharks.' Later, Lego released its Research Institute with a female paleontologist, an astronomer and a chemist.
Betting On Trends
People were outraged when Target decided to remove gender labels in stores. Alas, aisle E11: "Building Sets" and "Girls' Building Sets" is no more.
That's not necessarily a bad thing. As Chow says, 'It's not about gender any more, it's about people and how they relate to your product.' 
Images by Olivia Chow