Tapping into two of my passions, fixing
innovation and attending Open Space meetings, I joined Richard Ruth of Eli
Lilly and Dane Zehrung of Chevron Technology Ventures at 8:45 am on Monday for
the kickoff and morning of "Fixing Open Innovation: An Open Space
Experience."
For
those who don't know what an Open Space meeting is, it is a meeting where the
agenda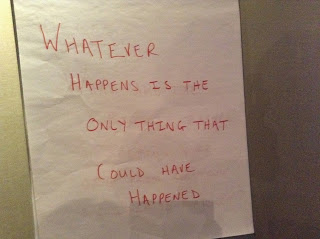 is designed, the meeting flow unfolds, and the objectives and
deliverables are determined... at the meeting itself.
That's right:
No agenda
No prework
No slide decks
The Open Space Meeting was designed by
Harrison Owen
, who discovered
that often, the best parts of meetings happen at the coffee breaks.
The
meeting is designed such that, after a presentation on the theme of the
meeting, people put forth topics for breakout groups in which there will be
discussion, exchange of ideas, and collection of outcomes.  Compare this to a usual meeting with a fixed
agenda, a single speaker, a corporate hierarchy, and pre-determined
deliverables, and you can see why Open Space creates energy, excitement, and
yes'innovation.
There are
four rules in an open space meeting:
Whoever comes is the right people
Whenever it starts , it starts
Whenever it's over, it's over,
Whatever happens is the only thing that
could happen.
There is also the law of two feet: if you
don't like the group you are in, you can move to another one. It 'always works,'
according to Ruth. The outcome may not be what you thought it would be, but the
outcome is where the process took it. That's because it was the most passionate
and compelling content in the hearts and minds of the attendees.
After two
short talks, Ruth presented the theme: What are the
biggest issues keeping your organization from getting to market? Our task for
the day was to learn about Open Space meetings by actually participating in
one.
We all sat in a circle. A grid was created
on the wall with time slots and sections. For this size group (about 25-30), we
had four breakout areas for each time slot. 
The next step ' write your idea or issue on a big sheet, present it, and
fill a spot on the grid. Here's another rule ' if it's your idea, you run that
session. The group that forms may be 5-10 people, or more...or less. Whoever
comes to the meeting is the right person/right people. 
After some very quick discussion, the group
voted to combine a few ideas, and we set to work in small groups to work through
them. 
Here is what the board looked like: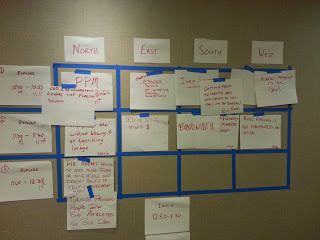 As it happened, the groups ranged from 3 to 7 of us.
If it's just you - you can have a team of
one to work out the idea/issue.  How many
times in your life have you had the opportunity to work through an idea or
issue?
In an Open Space session, the right people
in the room make the right decisions. You get rid of titles, the groups are run
by people from all levels, and senior management is encouraged to step back and
allow others to lead groups and discussions vs. pushing their own agendas.
So, can we fix innovation this way?  Stay tuned for the results of the session!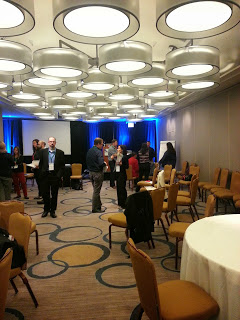 Ivy Eisenberg is founder of Our IdeaWorks, an Innovation and Lean Customer Research' consultancy that helps companies connect to customers and other stakeholders to discover business opportunities, accelerate growth, and build and deliver successful products and services.  Ivy has more than 25 years of experience in the Front End of Innovation, user interaction design, and software product and project management. She has worked in healthcare, financial services, B2B, consumer goods, and telecommunications sectors.  Ivy is also an award-winning humor writer and storyteller, with an MBA in Marketing, Entrepreneurship and Innovation from NYU's Stern School of Business.