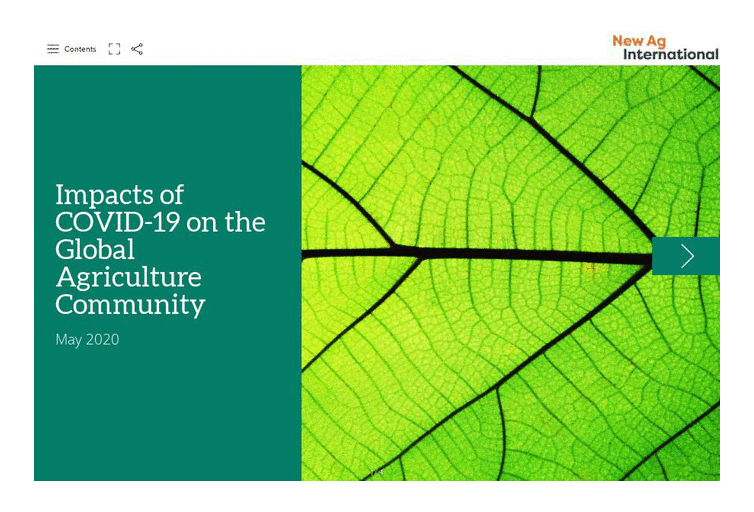 COVID-19 and the associated lockdowns have had a huge impact on the global agriculture industry and food chain, bringing a number of challenges, as well as opportunities for growth. This combined interactive report from New Ag International and Informa Connect Life Sciences explores these impacts through original survey data from the industry and a video panel discussion featuring some of the top figures in the global agriculture.
Read or download the report above (or click here).
Research Report: Impacts of COVID-19 on the Global Agri Community: Informa Connect Life Sciences conducted a survey (14-22 April 2020) of professionals from across the agricultural supply chain, asking those involved in the industry their experiences of the COVID-19 crisis, its impact on their sector, and their thoughts for how it will shape the industry in the years ahead. This report details the results of the 291 responses.
Digital Roundtable: Food chain resilience during COVID-19 and beyond: On 14 May 2020, New Ag International and the European Biostimulants Industry Council (EBIC) co-hosted a Farm to Fork Europe digital roundtable discussion on food chain resilience during COVID-19 and beyond. Here you can watch the full discussion, and read a summary and insights from Naomi Brooker, Portfolio Director, New Ag International. Panellists include:

MODERATOR: Kristen Sukalac, Secretariat, EBIC and Consulting Partner, Prospero & Partners
Luca Bonini, CEO, Italpollina
Pekka Pesonen, President, COPA-COGECA
Raluca Marian, General Delegate of the Permanent Delegation, European Union International Road Transport Union (IRU)
Will Surman, Director of Public Affairs and Communications, FoodDrinkEurope
Fabien Santini, Deputy Head of Unit, Governance of agri-food markets, DG AGRI
Read or download the report above (or click here).