Fintech, Small Business, and the American Dream
Karen Gordon Mills, Former Member of President Obama's Cabinet & Senior Fellow at Harvard Business School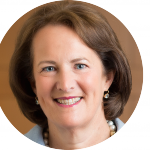 Karen Mills served in President Barack Obama's Cabinet as the Administrator of the U.S. Small Business Administration from 2009 until August 2013, and was a member of the President's National Economic Council. At SBA, she led a team of more than 3,000 employees and managed a loan guarantee portfolio of over $100 billion. At the height of the Great Recession, she took steps that led to record-breaking years for SBA lending and investments in growth capital. Additionally, Mills' efforts helped small businesses create regional economic clusters, gain access to early-stage capital, boost exports, and tap into government and commercial supply chains.
Mills is currently a Senior Fellow at both the Harvard Kennedy School and Harvard Business School, where she is part of the entrepreneurship faculty. She is a leading authority on U.S. competitiveness, entrepreneurship, and innovation. She is the author of the new book Fintech, Small Business & the American Dream, as well as a number of Harvard Business School white papers and publications.
Mills is a venture capitalist—the Vice Chair of Envoy, an immigration services provider, and a Director of Churchill Capital II and Clarivate Analytics. She also serves in leadership roles for several policy organizations, including: Chair, Advisory Committee for the Private Capital Research Institute; Co-Chair, Bipartisan Policy Center's Main Street Finance Task Force; Member, Council on Foreign Relations; Member, U.S. Securities and Exchange Commission Small Business Capital Formation Advisory Committee; Director, National Bureau of Economic Research. She is a Member of the Harvard Corporation and a past Vice Chair of the Harvard Overseers.
Mills earned an AB in economics from Harvard University and an MBA from Harvard Business School, where she was a Baker Scholar. She is a recipient of the U.S. Department of the Navy's Distinguished Public Service Award, and is a frequent guest on news outlets, including Bloomberg TV and CNBC, with recent op-ed placements in American Banker, Fortune, Forbes, The Hill, and Harvard Business Review.
Missed the last episode? Catch up  now...