The advent of rising gas supplies has allowed the US and Mexico in particular to raise gas consumption and cut their greenhouse gas emissions. In Europe, where energy security and renewables enjoy priority, gas has always been important. In all three markets, emissions are lower.
This feature provides an overview of the experiences of three distinct markets.
The US
The U.S. is now the world's biggest gas producer, producing about 80 Bcf/day (Billion cubic feet per day), which is some 25% of the world's total output, suggests Platts. This is despite the US market experiences low prices for some years, proven gas reserves now stand at over 400 Tcf, a 33% increase since 2011 alone. Such an increase in forecast output will allow the US to become the world's third-largest exporter of liquefied natural gas according to the EIA. Burgeoning supply of shale gas forced prices down from over $8 per MBtu (Million British thermal units) in 2008 to $2.26 MBtu in November 2016. US natural gas fired powered generation increased 19 percent in 2015 because of low gas prices, increased gas fired generating capacity and coal power plant closures. In 2016, natural gas accounted for 32 percent of electricity generation and exceeded coal's contribution. Karen Sund, partner and founder of Sund Energy AS, points out that "US potential demand is likely to grow since low prices help" expand demand. The switch to shale gas reduced US greenhouse gas emissions by 12 percent on levels in 2005.
As for shale gas's prospects, Jeff Share Editor of Pipeline Gas Journal says, "about Trump and natural gas, who knows? " Should the Trump administration open up federal land to fracking, gas prices could fall further which would be a boon for industry and households dependent on gas as well as boosting LNG exports. It would also prevent a renaissance of US coal mining.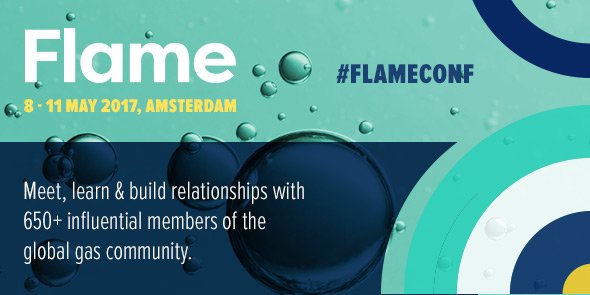 Mexico
Mexico's output of 53 Tcm (Trillion cubic metres) natural gas ranks it 17th in the world and its consumption of 59 Tcm makes it the 12th biggest market. The gap between supply and demand is made up by piped gas imports from the US and, since last August, eleven cargoes of LNG exported from Cheniere Energy Inc.'s Sabine Pass terminal, according to Bloomberg data. Since 2010, demand for imported gas rose rapidly, from just 0.9 billion cubic feet per day (Bcf/d) to reach 3.6 Bcf/d in 2016, reports the EIA 2017. National energy ministry, SENER, (Secretaría de Energía de México) projects that pipeline imports will continue to increase to reach 3.8 Bcf/d in 2018.
This rapid increase in gas imports owes much to two factors. One , the power sector's switch from expensive oil to cheap gas and two, with liberalisation of the electricity sector, construction of new power stations. In 2016 gas accounted for 33 percent of Mexico's generating capacity and the EIA forecasts the addition of another 18.7 Giga Watts of natural gas power generation by 2018. This rapid expansion was and continues to be facilitated by construction of new cross border pipelines as well as expansion of Mexico's national gas grid. According newswire Climate Action Tracker February 2016, the increased use of gas by the power sector has resulted in a slowing down in the rate of growth of emissions.
The EIA's experts expect natural gas consumption by Mexico's private power plants to continue to rise at around 7.9 percent a year to reach 4.9 Bcf/d in 2017 whilst gas consumption by state-owned power utility CFE will reach around 1.2 Bcf/d according to SENER. Much of this increased electricity output will be consumed by households and industry in major cities including Mexico City, Guadalajara and Monterrey.
However, the change in administration in the US threatens this scenario of rising trade. The suggestion of an import tax of around 20 percent on goods crossing into America would have significant depressive ramifications on the Mexican economy and perhaps, invite retaliation. Energy experts predict that in the event of an all-out trade war, gas prices at Henry Hub could fall by around 40 percent to $2 per million British thermal units or lower still should U.S. pipeline gas exports to Mexico be halted. In this event there would be no winners.
Europe
Europe, is enjoying a moderate upturn in demand for gas in spite of the recent aggressive policy of increasing renewables and the drive for improved energy efficiency. Eurostat figures show European gas consumption rising at 4 percent in 2015 to around 400 Bcm (Billion cubic metres) and rising 6 percent in 2016. The beginnings of recovery following the financial crisis owe much to a slight increase in industrial activity across Europe as well as specific factors. For example, France carried out major safety checks on its nuclear reactors, which led to gas replacing nuclear power while reactors were out of action. Surprisingly, in 2016, Italy's gas power plants increased their gas consumption by 12 percent to around 20.9 Bcm according to data from Platts Analytics. Despite Germany's increase in coal imports from America, European greenhouse gas emissions in 2015 were 22 percent lower than in 1990 and have already exceeded the 2020 goal.
The emergence of the US as a major exporter of LNG, combined with a slowdown in Asian demand plus the expected burgeoning increase in Australian supplies between now and 2020 will ensure that the supply glut will continue, that prices may continue to fall and that competition for customers will become acute. US LNG cargoes have arrived at European ports and the very real threat of further US supplies has encouraged Russia's Gazprom, the chief supplier of pipeline gas to Europe, to adjust its prices downwards in order to keep customers and market share. Whilst low prices can expand demand, Karen Sund foresees "European demand as stable and with potential to fall."
Conclusion
With burgeoning supplies of shale gas and LNG, the era of cheap gas on world markets is expected to continue for some time. Technological innovations in the scale of LNG production and import facilities will enable small- sized markets to become customers for LNG and encourage LNG-to- power electricity generation.