At this year's Clinical Trials Europe in Barcelona, the Christine Pierre Lifetime Achievement Award 2019 in association with mdgroup was presented to Andreas Diacon, Founder, Director and CEO at TASK Applied Science (pictured above).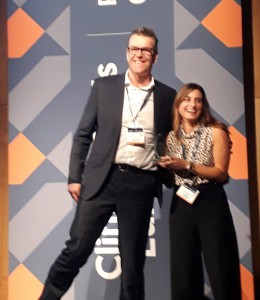 Now in its 5th year, the award celebrates the ground-breaking work and contributions of individuals across the field of clinical trials who are making a positive difference. Tarquin Scadding-Hunt, CEO of mdgroup, presented the award to a colleague of Diacon's (right) as he unfortunately couldn't be at the event.
Diacon was a worthy winner for his work revolutionising the research landscape and drug discovery pipeline for tuberulosis. His nomination explained:
"Andreas Diacon is a Professor of Physiology and Principal Specialist in Pulmonology at the University of Stellenbosch and Tygerberg Academic Hospital, Cape Town, South Africa. He received his MD from the University of Zürich, Switzerland, in 1987, specialized in Internal Medicine and Pulmonology, and earned a PhD from Stellenbosch University in 2007.
Diacon developed an early interest in tuberculosis during training in a former TB sanatorium in Davos in the Swiss Alps, also named the "magic mountain". After migrating to South Africa he started his own anti-tuberculosis drug research. He is the founder and CEO of TASK, an organisation specialising in clinical studies with novel TB treatments, vaccines and diagnostics. Many novel compounds have since been tested at TASK research sites. His main research interests now lie in the techniques and clinical methods for the evaluation of novel anti-tuberculosis agents. He is engaged in various research collaborations within South Africa and with the USA and Europe.
Recently Diacon was named as one of Bill Gates's Heroes in the Field through his contributions and continuing search for better treatment solutions for tuberculosis."
Andreas Diacon joins an illustrious list of previous winners, including:
2018: Christine Pierre, President and Founder of the Society for Clinical Research Sites (SCRS)
2017: Dr Greg Koski, Chariman, Co-Founder & President / Chief Executive Officer, ACRES, and Associate Professor of Anesthesia, Massachusetts General Hospital, Harvard Medical School, USA
2016: Jean Edwards Procurement Director, Europe, Australia & Japan, Eli Lilly
2015: Professor Ken Getz, Director and Associate Professor at CSDD, Tufts University School of Medicine