All roads lead to digital today. Digital technology has become the foundation for everything we do and exists in almost all sectors. However, there is agreement around the world that healthcare is at least a decade behind other industries in thoroughly using this technology. According to PWC research, 'Digital IQ' is a company's acumen at understanding, valuing, and weaving technology throughout the enterprise. While the healthcare industry has a relatively low score of 65%, it boasts more CEOs that actively champion digital than any other industry.
While the digital revolution has permeated the medical world more slowly than other industries, it has finally begun to make a real impact. The rise of digital health has prompted the movement of the Internet of Medical Things (IoMT). Sometimes known as healthcare IoT, it refers to a connected infrastructure of medical devices and software applications that can communicate with various healthcare software systems. It is part of the wider IoT movement rapidly gaining traction in smart homes, manufacturing, energy management and smart cities. A web of digitally-connected physical objects — wearables, smartphones, buildings and even cars — that collect and share data is building.
Managing IoMT Data
IoT in clinical trials is so exciting due to the fact there is a trend towards electronic record keeping and data capture, as well as digital trial management. Mobile devices have proven to be a very useful tool for capturing data from patients in a trial, with mHealth an ever-growing area. Through mobile devices patients can engage in regular surveys pertaining to their treatment and be notified about medication regimes. Additionally, other mobile capabilities such as feedback, gamification and reminders can be channeled to support behavioral change and improve clinical data collection.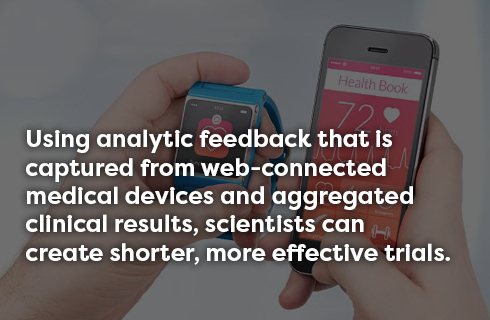 Technological advancements have delivered devices for biological metric tracking - often know as wearables and biosensors. Such devices have primarily targeted the consumer fitness and wellbeing markets, but their utility is also being leveraged for clinical trials. These metric tracking devices offer the capability to collect accurate objective biological sourced data from patients remotely within a study (read about the purpose of big data in digital health here)
According to McKinsey, such technologies enable real-time clinical trial monitoring and facilitate data-sharing between research groups, clinicians, pharmaceutical companies and clinical research organisations (CROs) and the patients themselves. Using analytic feedback that is captured from web-connected medical devices and aggregated clinical results, scientists can create shorter, more effective trials, with results that are valuable and useful to a wide range of stakeholders. As methods of clinical data collection and analysis become more sophisticated, Sponsors stand to make unprecedented progress when conducting a study, helping them overcome one of the biggest challenges in clinical trials.
Connected wearables and devices via a digital health platform
With so much data involved during the clinical trial supply chain, especially with the myriad of wearable and biosensors that can potentially be used in a trial, it is critical that the data is not only collected, but also is done so efficiently and effectively. This is where IoMT comes into the picture.
Firstly, devices must be identified that are both suitable for clinical trials and satisfy regulatory requirements. For data capture and monitoring, these devices must be deployed to sites, and have training provided to both site personnel and patients. Crucially, the devices should then be monitored throughout the trial for usage making sure that faulty devices are dealt with and the correct behavioral messaging is delivered to patients who are not adhering. Therefore, adopting a robust digital platform is crucial to realise the full potential of an IoT healthcare system in a clinical trial.
The benefits of IoMT
In a nutshell, here is how IoT can beneficial throughout the clinical trial chain:
Recruitment: Data collected from an IoT environment enables clinical trial recruiters to target patients far more accurately, drawing from a vast reservoir of sources of online behavioral profiles. This gives them a far better chance finding more qualified candidates and boosting their clinical trial recruitment rates.
Retention: A well run IoT environment should manage patient engagement in such a way that could potentially increase retention. For example, wearables reduce the need for re-admissions and unnecessary in-person visits, allowing patients to participate in clinical trials remotely rather than travelling long distances to sites.
Data Capture: Data generated by devices/biosensors can be used by insurers and employers to better manage health, wellness and healthcare costs. Additionally, pharmaceutical and life sciences companies can run more robust clinical trials and capture data to support outcomes-based reimbursement.
Site study execution and progress: Clinical professionals and their organisations will be spending their time on their core competency– treating patients – rather than wasting time managing processes. They will have access in real time to all the information they need.
Summary
There is no doubt that the Internet of Things is transforming the healthcare industry completely by redefining how apps, devices and people interact and connect with each other in delivering healthcare solutions. IoMT is constantly offering new tools as well as efficiencies that make up an integrated healthcare system with the view of ensuring patients are cared for better, healthcare costs are reduced significantly and treatment outcomes are improved.
Security and privacy are the biggest risks for IoT in healthcare. Nonetheless, the technology industry has come a long way in proving solutions in this area, which should not be a reason not to adopt the technology. In addition, companies will need to interpret and use data streaming from these devices properly, with skillful data scientists and analytic tools creating value in the data captured.
Clinical led improvement, enabled by digital technology, is transforming the delivery of clinical trials, but strategic decisions about investment in digital technology can often be a footnote in board discussions. This needs to change. These decision needs to move center stage. Leaders in the healthcare industry need to widen their understanding of the digital health terrain and the possibilities it offers, particularly to meet the immense productivity challenge ahead, and to gain practical insights that will help avoid expensive mistakes.
Ultimately, the Internet of Things is here to stay, but building and running the kinds of big data analytics applications typically required for IoMT data is no simple task.
Sarah Iqbal is a research scientist with a background in biopharmaceuticals and business entrepreneurship. She is currently the Head of Digital Life Sciences at Biotaware Ltd.
RELATED ARTICLE: Internet of Things in clinical trials: Challenges, opportunities and the critical missing features to fully leverage the digital revolution