This has been a successful year so far on many fronts for the biotech industry. Globally, venture capital funding has already hit record amounts in 2018. Companies have been successful with regulatory filings, approaching the third highest amount of novel drug approvals in FDA history. We see an emerging biotech industry right now that is at its strongest point ever, with an unprecedented amount of biologic technologies being developed to treat rare disease and cancer.
For biotechs on the stock exchanges, however, we have a somewhat different story developing. Until a few weeks ago everything was going great for the small publicly traded biotechs, with gains of 22 percent this year by the close of the third quarter. Then came October. A combination of negative global macro factors and new drug price controls in the US triggered a sell-off of clinical-stage biotechs of 22 percent, reversing all the gains for the year.
Meanwhile, biopharma spending on acquisitions of small R&D-stage biotechs had already reached a record level $32.4 billion. That amount is total cash upfront without the contingent values, suggesting the buy-side is not just talking about how great things they are, they are showing us with significant capital commitments.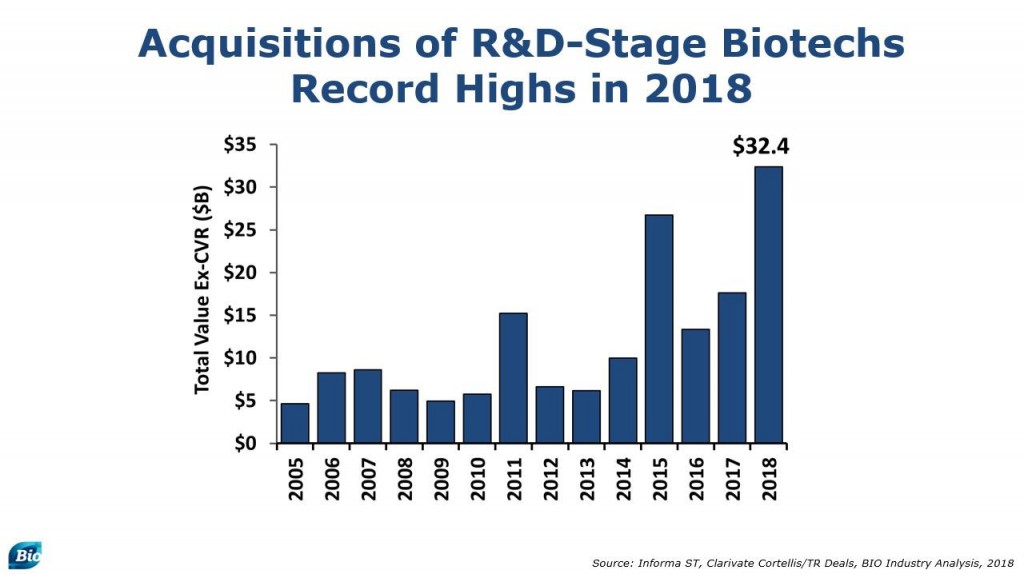 If we step back and look at the biotech acquisitions, private or public, we see most target companies are working at the intersection of cell and gene therapy or antibody platforms. These biologic modalities are currently lending themselves best when applied to oncology and rare disease. These types of diseases have attracted the lion's share, with only a few small exceptions.
Out-licensing by small biotechs has also been strong, and biobuck headline numbers are already hitting an all-time high, reaching $68 billion through the end of October. Aggregate upfronts paid in these licensing transactions may also reach a record.
Due in large part to the continued interest in preclinical biologic deals, we continue to see a large percentage of licensing going to rare diseases and cancer.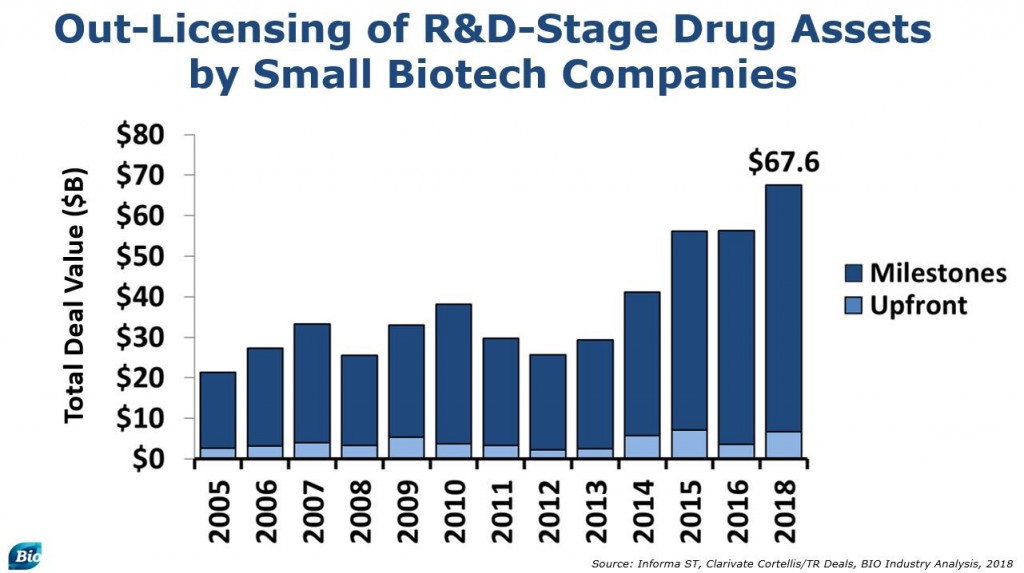 Licensing of products in highly prevalent chronic diseases is vastly underrepresented in recent years. This continues to be the case on the investment side as well, and our investigation into this phenomenon continues.
At the end of October we published our third report this year on highly prevalent chronic diseases, this time covering type 2 diabetes and obesity.

Download the free PDF, BIO Industry Analysis Report.
The findings will likely shock you. Here venture capital and dealmaking has essentially dried up, and clinical activity has slowed greatly. Just consider the pipeline as an example. There are no Phase III programs with new mechanisms of action for both type 2 diabetes and non-rare obesity combined
So for an epidemic that is affecting close to a billion people on our planet, there is a reversal of fortune from what we see in the rest of the industry. Certainly more can be done. Here in Denmark, new ideas and new therapeutic approaches are gaining momentum, and give hope, just as they did with insulin nearly 100 years ago. To hear more about how people here in Scandinavia will innovate in this neglected space, I invite you to look into the panel held on Wednesday at BIO-Europe 2018 in Copenhagen focused on finding solutions to metabolic disorders.
Did you enjoy BIO-Europe 2018? Join us for BIO-Europe Spring in Vienna to ignite powerful partnerships with life science leaders.