10 years after its adoption, the IMO and the shipping industry at large have failed to get the Hong Kong convention ratified.
Support has grown over the last few years, Japan entered the convention in March and Malta acceded to the ship recycling convention at The Marine Protection Committee last week. However, the convention can only be enforced 24 months after ratification by 15 States.
These States need to represent 40% of world merchant shipping by gross tonnage, with a combined maximum annual ship recycling volume not less than 3% of their combined tonnage.
Considering the scope and reasoning behind the convention, failure to ratify it a decade after its adoption is a black mark on the IMO and the shipping industry. With only 12 contracting States party to the Convention, represent less than 30% of world merchant shipping tonnage, this still leaves one of its most notorious sectors of the shipping industry unregulated.
With the above in mind, this article will provide a brief background to ship recycling, the process, threats and the rise of South Asia as a player in the ship recycling industry.
A bit of background
According to InfoMaritime, there were approximately 51,000 vessels in the world merchant fleet as of January 2018. Over the course of 5 years (2014-2018), the total number of ships increased by 6%. The world tonnage increased by 14% over this period, reaching 1.91 billion DWT.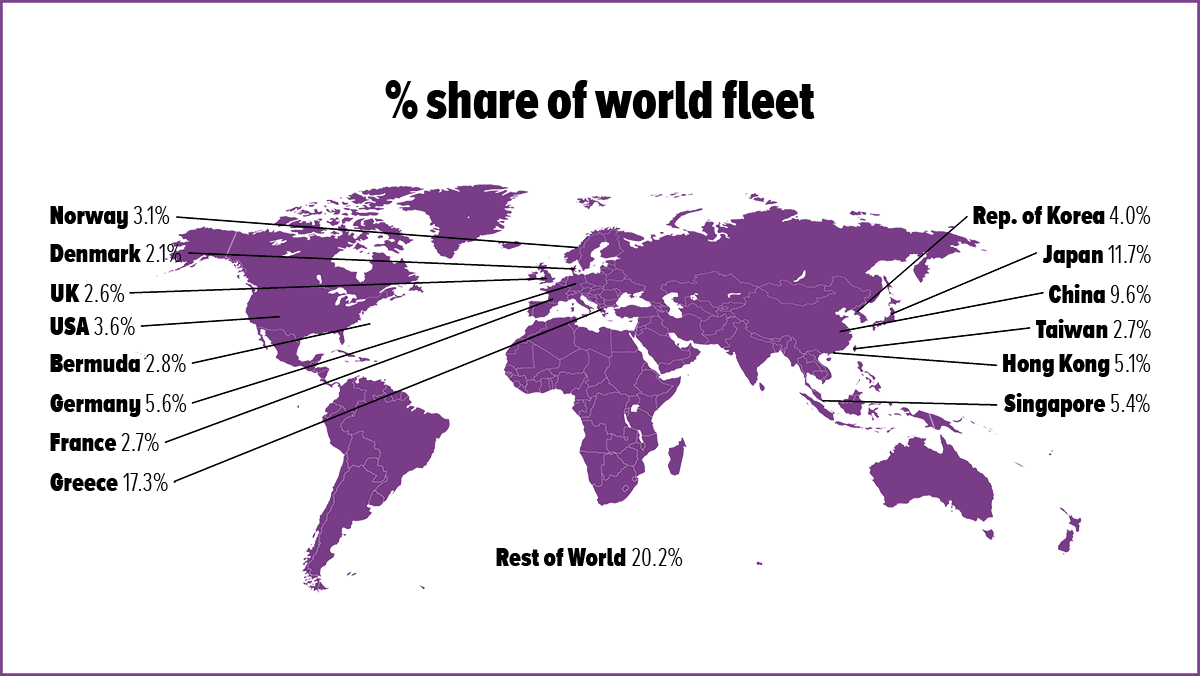 The average life span of a vessel is approximately 20-25 years. Roughly 500 - 700 ships are scrapped each year, and about 2 000 – 3 500 vessels have been scrapped in the last 5 years.
Vessels are generally designed and built with a specific purpose and service life in mind. Most modern vessels will have a planned service life of 25-30 years, but that does not mean they cannot be retired earlier or have their service lives extended.
During its service, a vessel should maintain a level of economic efficiency. In most cases, once a vessel has completed its service life, the costs of maintenance and retrofitting to specifications, standards, and/or new regulatory requirements, makes the continued use of the vessel impractical. Upkeep to counteract corrosion, structural fatigue and mechanical wear and tear can be quite costly. Similarly, retrofitting an older tanker with a double bottom, or a scrubber, can also be expensive and force lengthy down times.
Shipping is a cyclic market though, and the age and condition of a ship will be considered in relation to the markets in which it operates. If rates are high, older vessels will be patched up and sent back to work. Interestingly, the dispatch of LNG carriers for recycling happens at a very low frequency as refurbishment is still economical, the market is stretched, and charter rates are high. If the rates drop, or new regulations come in that are too expensive for retrofitting to be an option, the vessel get scrapped. Some vessels can be sold down-market, but once a vessel become too expensive to operate, the ship will be scrapped.
What is ship recycling?
Ship recycling is the process of dismantling a ship that happens at the end of its life. Ship recycling incorporates all the associated operations throughout the process; including mooring, dismantling, recovery of materials and reprocessing - a modern school of thought considers ship recycling in the design and maintenance of the vessel. The whole process can take between 4 months and 1 year, with approximately 95% of a vessel being salvaged, almost every part of the hull and machine complex being reused or recycled.
In theory, the ship recycling industry should be an environmentally sustainable way of disposing of old and decommissioned vessels, as it claims to indefinitely recycle some materials and reduce waste. In a mod
The re-use or recycling of vessel components is a major source of steel. It reduces the need for mining the and serves as an important economic driver for many countries.
According to the Hong Kong Convention, ship recycling is defined as "the activity of complete or partial dismantling of a ship at a ship recycling facility in order to recover components and materials for reprocessing and re-use, whilst taking care of hazardous and other materials, and includes associated operations such as storage and treatment of components and materials on site, but not their further processing or disposal in separate facilities."
While the ship recycling industry is beneficial from a life-cycle assessment point of view, over the years it has gravitated toward countries with low labour costs, weak regulations on occupational safety, and limited environmental enforcement.
The "global shift" in the industry to countries with comparatively weaker regulatory systems is of concern as ships contain hazardous substances that can have significant detrimental effects on humans and the environment if not dealt with properly.
The growth and shift of power
According to an interim report by Michikazu Kojima and Etsuyo Michida titled The Economic Intergration and Recycling in Asia, records of ship recycling are a bit thin until the 1970s, the earliest time for which statistics can be obtained on trends in the industry. The records kept were very general prior to this time and often contained nothing more than the flag states of the dismantled vessel. Taiwan, Japan, South Korea, China and the United States of America appear to have been the major players in the ship recycling industry until the late 1970s.
A European Commission report on ship dismantling notes that the dismantling of vessels was a common part of a port's function, especially throughout southern Europe from the late 1940s to the 1960s. Lower labour costs and domestic demand for steel meant that vessels were more likely to be scrapped in Japan, Korea and Taiwan during the late 1960s, 1970s and early 1980s.
Ship recycling yards experienced a rapid growth in world demand for services that started in 1982, but this contracted suddenly in the latter half of the 1980s. The ship recycling industry started to recover in 1992, but by that time the major players had changed. South Asian countries such as India, Bangladesh, and Pakistan became the global centre and took over as the leaders in ship recycling.
While in the past 79 nations have had some form of ship recycling activity, the Asian yards now account for over 77% of the industry. Yards in Bangladesh, India and Pakistan account for approximately 65% of the global ship recycling market. China accounts for the additional 11.7%.
The NGO Shipbreaking Platform Annual Report notes that 835 vessels were dismantled in 2017. The top 3 destinations for ship recycling were India (239) Bangladesh (197), and Pakistan (107) - all in South Asia and accounting for 65% of the vessels dismantled worldwide. China (98) and Turkey (133) followed the top three, with just 61 ships scrapped in other countries across the globe.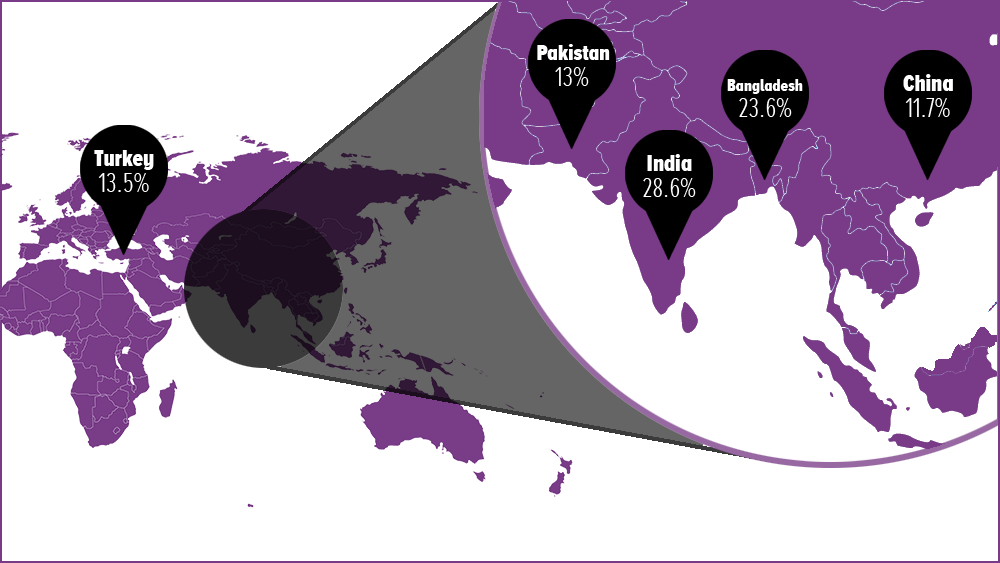 In 2017, of the 260 vessels which were dismantled, 181 (70%) of European vessels to be dismantled ended up in either India, Bangladesh or Pakistan. Only 18 of the dismantled vessels were still sailing under a European flag during their last voyage, and 24 vessels swapped flags to a non-EU flag of convenience just weeks before being beached.
In total, European owners were accountable for approximately 40% of the total tonnage scrapped on the beaches of South Asia.
While the factors vary for the migration of ship recycling to Asia, ship owner looking to maximise profits is the common thread. It's worthwhile also noting that there are few facilities in OECD counties that can handle the largest ships - both from a capacity perspective, and in terms of the facilities having the licence to do so.
These countries have lucrative local domestic markets for steel and other scrap material and have climates conducive to ship recycling most of the year. There is infrastructure to transport the scrap to nearby market places and proximity of the main eastbound trade routes. Exchange rate movements can have benefits too (relative to US dollar and to the currencies of other ship recycling nations).
The two largest contributing factors to the shift in ship recycling to these locations is the access to cheap labour with little regard for regulations. From a regulatory perspective, these locations offer relatively little concern for environmental and social standards. The availability of a low paid labour force, and the unsophisticated (but labour intensive) techniques of ship recycling perhaps make these the two most important factors behind the migration to South Asia.
The process of ship recycling
The process of ship recycling differs from yard to yard. Some ship recycling yards utilise a wharf in port for rough disassembly carried out by heavy equipment, before further breaking down the vessel through more traditional, labour-intensive means. However, the South Asian locations use no port facilities, and literally run the vessel aground at high speed in high water – a process called beaching. The vessel is then cut into pieces and pulled apart by manual labourers.
Hapag-Lloyd have provided a detailed look at the recycling process of the "Heidelberg Express" - A 32-meter-wide, 2,803-TEU vessel. Through recording and monitoring each step of the process, the company avoids "questionable environmental and health-and-safety conditions" in ship recycling.
Several regulations must be followed for dismantling a ship, some of which will be more complex depending on the vessel's ownership and flag State. Some regulations have been adopted by ship recycling yards to ensure that the procedures do not pose any unnecessary risk to human life and focus on eco-friendly ship recycling.
However, in developing countries fewer laws and regulations are bringing great risk to worker health and safety, as well as the environment. Just last week, it was reported that an explosion at a ship recycling yard in Bangladesh killed two workers and severely injured five.
A status report on ship dismantling in South Asia, conducted by NGO Shipbreaking Platform, details the process of ship recycling in India, including a list of the 8 authorities involved in the inspections and the 10 certificates ship recyclers in India must submit before they receive permission for cutting. But the laws and regulations in place are simply not enough.
It is important to note that as of December 2018, China has banned the import of aged and hazardous foreign vessels. This is due to recent pollution from heavy metals, oil and other toxic substances.
Threats and concerns
According to the International Labour Organization (ILO), "Shipbreaking has grown into a major occupational and environmental health problem in the world. It is amongst the most dangerous of occupations, with unacceptably high levels of fatalities, injuries and work-related diseases."
The structural complexity of a vessel means that ship recycling is a difficult process that is mainly carried out in the informal sector, with limited safety controls or inspection, and generates many environmental and safety and health concerns.
A large part of concerns about environmental safety, health and welfare matters in the ship recycling industry have come from investigations into conditions at ship recycling yards in Asia.
In a research piece conducted by Dr. Md. M. Maruf Hossain and Mohammad Mahmudul Islam on Ship Breaking Activities and its Impact on the Coastal Zone of Chittagong, Bangladesh, they reported a "disproportionate local power for ship breakers, especially noticeable in Bangladesh, prevents prospective trade unionists from setting up unions" in the area.
In a House of Commons report on Dismantling Defunct Ships in the UK, Greenpeace described "disposal in poorly regulated facilities in Asia, which lack dry dock facilities and other environmental protection measures and have inadequate health and safety procedures, results in serious damage to the environment and human health. The report described workers removing material, including asbestos, by hand with no protective clothing, using gas torches for cutting metal even where fuel is present, burning cables in the open air with no breathing apparatus and oils and liquid wastes draining directly into the sea."
The same report also notes that "BP Shipping sent one of its very large crew carriers to Pakistan for dismantling but "were so disturbed by what [they] saw there that [they] were determined that [they] would not do it that way in future". As a result, the company now uses sites in China, where it believes the health, safety and environmental conditions are acceptable. It sends members of its own staff to supervise the dismantling and says it is able to audit the way the hazardous waste that arises during the dismantling is dealt with."
Greenpeace noted that "conditions in China were better than those in many other countries, but still nowhere near state of the art."
In summary, there are several threats and issues which are encountered by ship recycling yards which do not adopt responsible ship recycling practices.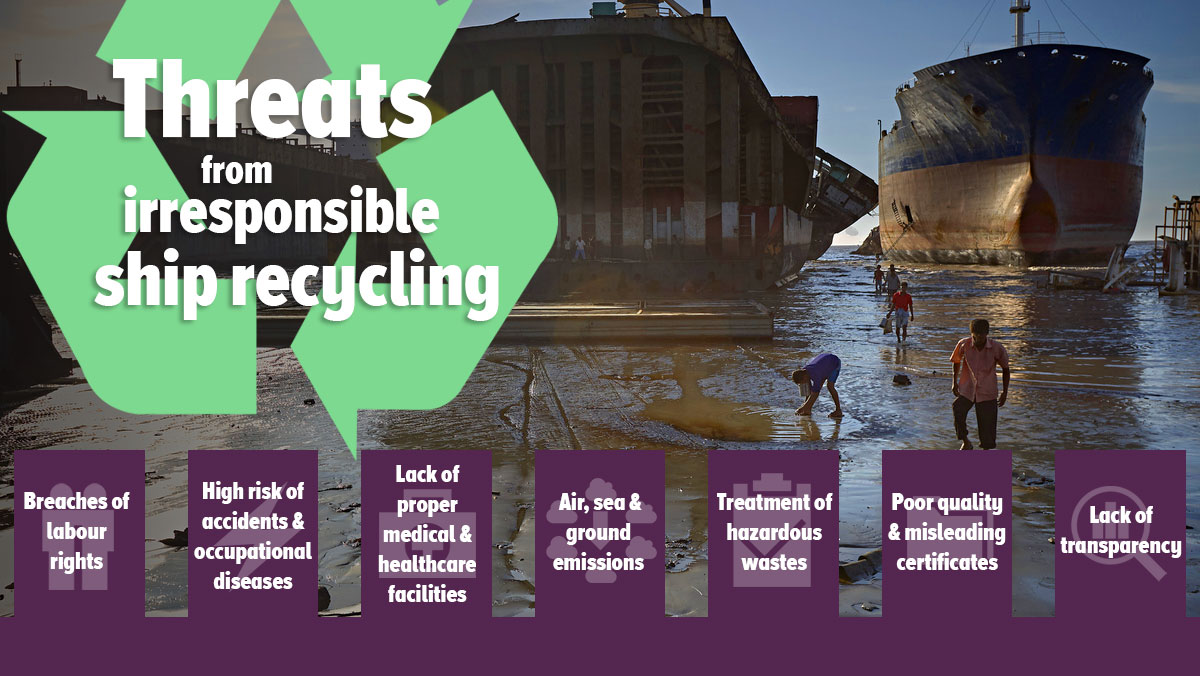 Concern from a human perspective centres around the clear breaches of labour rights with a high risk of accidents, occupational diseases, and lack of proper medical and healthcare facilities. From an environmental perspective the emissions to air, sea and ground in the intertidal zone, poor or no proper treatment of hazardous wastes are clear threats.
Additionally, from an administrative perspective there are concerns about misleading certificates and lack of transparency.
With the exception of ship owners who utilise responsible recycling services, vessels are often sold to scrap dealers known as cash buyers. According to NGO Shipbreaking Platform, as these vessels are brought to their final destination "most, if not all, sales of end-of-life vessels to the beaching yards are carried out with the help of cash buyers. These companies, that specialise in the trade of end-of-life vessels, pay ship owners upfront in cash before the ship reaches its final destination."
By utilising the services of cash buyers, ship owners relieve themselves of any legal or financial risks related to selling a ship for recycling, effectively absolving themselves of any liability for pollution or accidents which may occur due to the irresponsible recycling of the vessel.
"In an attempt to conceal the origin and ownership of the vessel, cash buyers will usually change the flag of the ship to one of the typical last voyage flags and register the vessel under a new name and post box company (often located in a tax haven). Certain flags are known for their poor implementation of international maritime law."

The buck stops... ?
Responsible ship recycling has some difficult hurdles to overcome. Given the complexities for all the parties involved in the process, there will be no silver bullet.
Arguably, the media has played a big part in exposing irresponsible practices, but who picks up the torch from there? Conventions from regulatory bodies need to be adopted. Ensuring that this happens will require social or political to be applied in most cases.
Laws can be put into effect, as in China, which will have a positive effect on the environment, but there will more than likely be adverse social and economic effects. Chinese-flagged ships will be allowed to continue to be dismantled at Chinese yards, however, the Government of China will no longer provide subsidies. With no foreign ships being recycled and local ship recycling yards facing potentially greater competition, there is little doubt that China's 100,000 ship recycling workers will be affected by this decision.
With the above in mind, it is worthwhile considering that China's decision could have significant indirect effects. President of the Beijing-based China National Ship Recycling Association, Xie Dehua, believes that "China's rejection will only push the global waste recycling technologies to make breakthroughs." Desperation is the mother of invention.
Earlier in the year a colleague reported on a presentation given by CEO of Green Ship Recycling Services, Henning Gramann, at GST Europe. He noted that, "the emphasis should not be placed on banning beaching, but on "bringing up any yard, no matter what the method, to an acceptable standard," Gramann said. "Taking this approach would hopefully minimise loss of income to workers reliant on ship breaking for their employment."
In 2016, Maersk committed to investing into Indian ship recycling yards, boosting their operational standards to comply with the company's requirements – believing that improving the standards at the yards will be an opportunity to make a change. Maersk vessels have been sent to ship recycling yards in Alang, India, and an independent research company has been hired to assess environmental impacts.
Maersk believes in a strict interpretation of the Hong Kong Convention regarding health, safety and environmental issues. Recently the company responded to criticism, and tightened "its ship recycling procedures" with regards to the handling of two independent cases related to ship recycling.
The then Head of the Sustainability Council at Maersk, Claus V. Hemmingsen, the Group has responded to these cases noting, "We have actively participated in, and worked directly with the yards in Alang, India, to improve conditions there and to influence the industry as a whole. Therefore, it is regrettable that in spite of these initiatives there are examples of how we have pushed in the opposite direction of our own policy. In the future, we will ensure that our sales contracts contain a very strong incentive for ship recycling to be carried out responsibly."
What is clear is that the buck does stop at the top but goes all the way down. As good as plans or intentions may be, they need to be practiced by all.
For progress to be made for safer, sustainable ship recycling, there will need to be clear alignment by all parties.