In this new series - The Pain Clinic - Kate O'Brien, formerly a senior research nurse and now a site consultant, examines the most common problems facing clinical trials today and what the potential solutions to them are (read the first post here). This week, site selection is the focus.
37% of sites under enrol. 11% of sites fail to enrol a single patient. There's a 30%dropout rate in enrolled patients (Tufts CSSD). So why are the same sites repeatedly selected to conduct clinical trials? How can we improve the site selection process? High quality, experienced sites are out there – how do Sponsors find them?
Currently the site selection process is very much a paper exercise. It is inflexible and relies heavily on information provided by sites without corroboration. Much of the requested information could be collected prior to an onsite visit which then allows the Sponsor to focus on assessing the investigator and site staff's attitude and professionalism.
Site CV
This should contain most of the tick box information:
GCP and IATA training certificates.
Staff members CVs, roles and experience.
Training certificates for EDC systems.
Equipment calibration certificates.
IMP temperature monitoring SOP.
Source data verification SOP.
Details of the electronic system used for patient records.
Number of patients the site has access to.
Details of past performance – percentage recruitment to target, retention rate, FPFV dates met, first global recruits.
How long has the site been involved in trials, and what phase trials are they experienced in conducting.
Audit findings.
Directions to the site, parking information.
Assessing the facility
This then allows the Sponsor to focus on assessing the facility and the staff at the site selection visit. Points to be considered are:
How many staff attend the meeting?
Are the investigators engaged, have they read the Protocol, do they have insightful questions?
The general appearance of the facility, what space is available, are appropriate access restrictions enforced?
Are anonymised search results available?
Are evening and weekend sessions available?
Does the site demonstrate any extra initiatives, do they have a research patient group, how do they support patients on a trial, how do they promote research awareness and patient engagement?
Are comments available from patients who have participated in previous trials? A display of positive comments not only helps to promote research awareness but helps to reassure those who are trial naïve.
Claims around previous performance, numbers recruited/retained should all be verifiable. Sites should now be keeping comprehensive data metrics.
If the Sponsor has worked with the site previously they should check whether key staff have left. The loss of an experienced research nurse or study coordinator can seriously affect performance.
In the UK, sites that have participated in an NIHR portfolio study are entitled to free membership of the Society of Clinical Research Sites.
This organisation offers excellent webinars and training for which it provides certificated evidence of participation. Sites that have completed these show that they are committed to delivering research at the highest standard.
The Rule of P's
The Sponsor needs to be able to get an impression of the sites attitude. Are they genuinely interested in furthering medical knowledge and helping to develop new treatments, or are they "in it for the money"? Below is a tool that I developed to highlight the standards sites should aim for.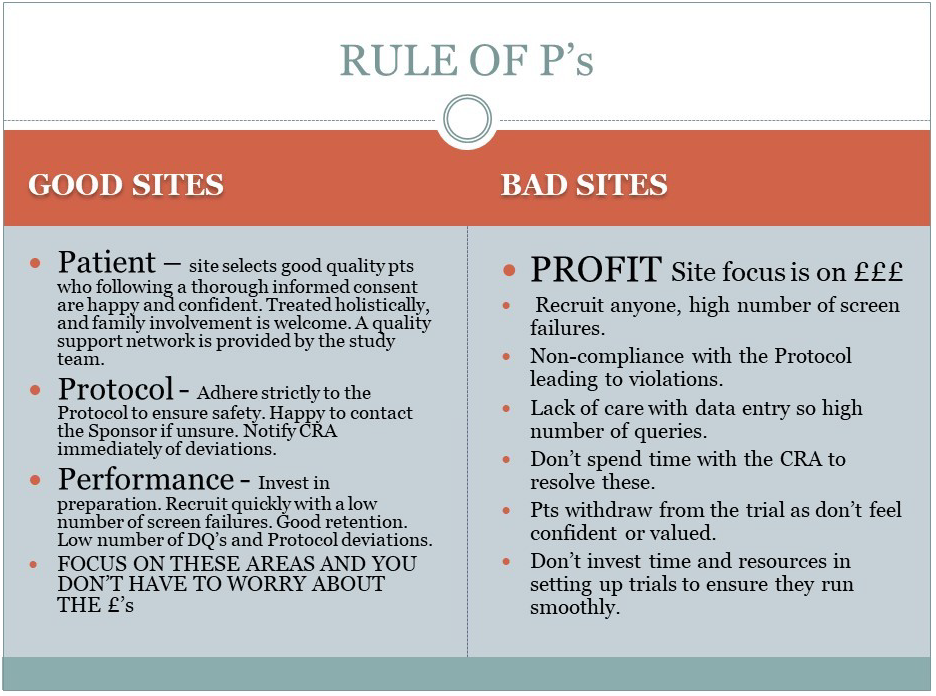 No site should be expected to run clinical trials at a financial loss, but the focus should be on conducting trials to a high standard, providing excellent quality care to patients and delivering data as per Protocol. If these criteria are met then the financial aspect is taken care of.
These are the sites that will recruit well, selecting the appropriate patients. They may employ pre-screening visits, or a pre-consent discussion to ensure the patients enter the trial confident and fully informed.
Conclusion
In order to effect change and ensure that patients are receiving the best quality care, Sponsors need to become more rigorous in the site selection process. It is important to verify a sites claims regarding previous achievements as well as predicted recruitment figures. Sponsors need to be open to selecting sites that they have not worked with previously as opposed to staying with those that they are familiar with, who perform at a lower level. Excellent sites are available but they need to be given the opportunity to demonstrate what they can do.