This whitepaper explores how to source, manage, visualize and act on data to improve performance in clinical trials. Download it here.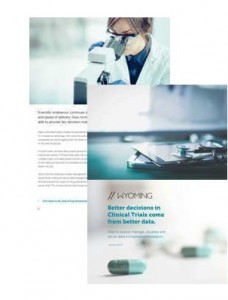 Scientific endeavour continues its relentless pursuit of greater drug efficacy and speed of delivery. Now more than ever it is crucial that clinical trials data is able to provide key decision-makers with insight just as quickly and effectively.
Rapid, actionable data is widely recognised as the basis for competitive advantage. Yet, many life sciences companies are still struggling with the sheer complexity of the data landscape.
In recent years we have seen a rapid explosion in the volume and variety of clinical trials data, with more complex trials, more data points, and the introduction of new data sources such as wearables and electronic health records.
Add to that the challenge of data management. A recent study looking at clinical data management in life sciences and its impact on drug development has shown that 77% of respondents cited issues loading data into their EDC applications, blaming either the systems themselves or integration issues as the primary reasons.
The challenge it seems is that poor data quality, siloed data, lack of standardization or effective data management as well as a lack of well-designed visualization tools all can slow down decision-making. While the data may be there, the ability to use it effectively to optimize a clinical trial may not.
Those with the will and the means to unify their approach to gathering, structuring and visualizing data will be the future winners as the volume and complexity of data shows no signs of slowing down.
This whitepaper looks at a step-by-step approach to managing clinical data workflow. Download the free whitepaper here.
Sponsored by