"One should not aim at being possibly understood, but aim at being impossible to misunderstand." Quintilian
Clinical trials are inherently a collaborative effort between many different teams and therefore communication skills are essential. As part of the recent PCT Digital Week, Isabelle Naëije, Assoc. Global Trial Director at Novartis presented a case study on how to make communication an ally to achieve your goals. Here we pick out some of the key highlights, or you can watch the full presentation on-demand here.
Naëije first looks more generally at the role of communication in project management, explaining that every good project manager needs a certain set of skills, including communication, organization and planning, conflict management, negotiation and influence, leadership, and team building and motivation. These skills can help with the 10 project management knowledge areas:
1. Project integration management
2. Project scope management
3. Project time management
4. Project cost management
5. Project quality management
6. Project human resource management
7. Project communication management
8. Project risk management
9. Project procurement management
10. Project stakeholder management
Each of these skills and project management knowledge areas are needed at different points during a project. Naëije explains: "The project goes through five phases - initiating, planning, executing, monitoring and controlling, and closing - and communication is key to them all." - as the slide below shows.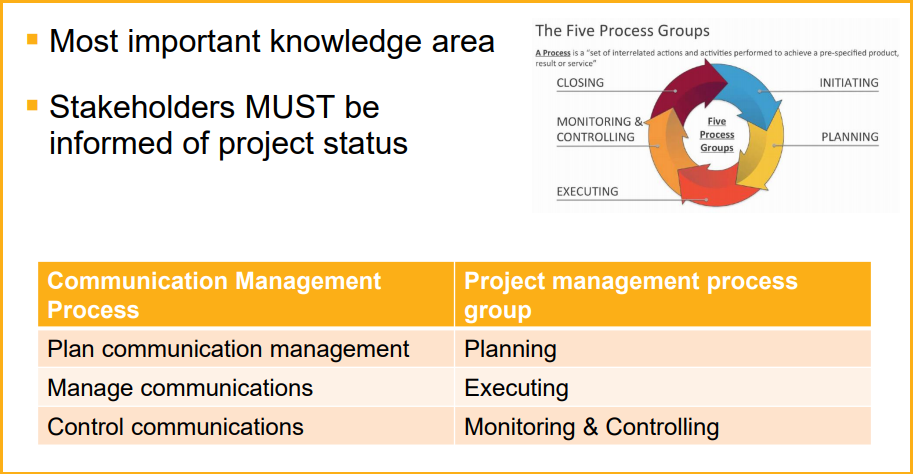 Communication management
After establishing that communication is essential to project management, Naëije goes on to look at the tools and techniques that can be used to improve and maximize your skills. Effective communication does not equal efficient communication. Whilst effective is providing the info in the right format at the right time, efficient is providing only the info which is needed at the time. It is important not to create noise.
To ensure you are communicating efficiently, there are a number of questions you need to ask:
What is the best way of communicating? Is it a face to face meeting? An email? Or even an automated update?
How many lines of communication do you have? Should you follow a centralized, decentralized or distributed system?
What is the best way of getting project information to the project team and stakeholders?
How will you report on performance? Should project information be collected and distributed in dashboards, status reports, forecasts?
Naëije goes on to look more closely at how these skills and techniques can be used in the clinical trial space, including managing communication, writing for e-reading, real-world communication and the challenges associated with the process of drug development. Watch the full presentation on-demand here.