By: Monica
Boeger 
Inspiration overload! I can hardly gather all of my excited
thoughts after spending the afternoon with the talented Digital Media students
at Curie High School in Chicago.
As I walked into their classroom, I could see the motivation
and feel the enthusiastic vibe. I was immediately in aw of their
state-of-the-art computers with the latest design software, screen-printing
equipment, green screens, photography cameras, 3D printers and everything else I
wished for when I was in high school. These students blew my mind with their
knowledge and talent. They were at a level I didn't reach until at least my sophomore
year of college.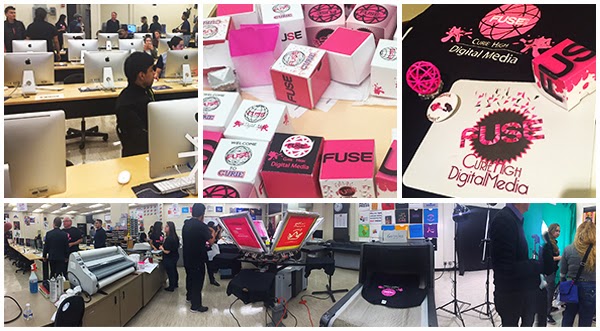 The students and I both felt inspired and a sense of
admiration as they presented their work to me and I gave them my feedback. They
showed me everything from digital illustrations and packaging design to 3D printing
and augmented reality. I learned so much from their talent and hope I passed
inspiration on to them through stories of my design education and career
experiences.
With today's technology and the accessibility these Digital
Media students have at their finger tips, it's apparent to me that the next
generation of designers and digital marketers will be that much more well-versed
by the time they enter the working world.
As a passionate designer, I'm looking forward to the future
of our industry. When I think about how far I've come with guidance from my
mentors along the way, it makes me want to help inspire the next generation of
designers to be all they can be and motivate them to grow in their career any
way that I can.
The first thing I'm doing when I get back to Denver is
telling my boss that I'm starting a Student Outreach program.
About the Author:
Monica is a Senior Designer at Fruition,
a digital agency in Denver, Colorado. Monica has over eight years of
professional experience in the Graphic Design and Marketing industry.
Previously, she worked as Art Director in New York City where she developed and
oversaw the creative direction of digital and print campaigns for high profile
clients and music artists in the Entertainment industry.