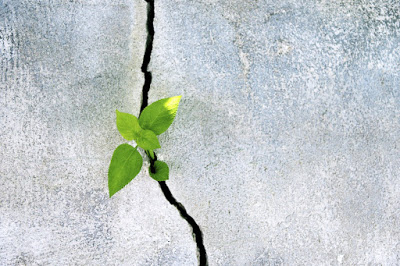 By Kitty Hart, Director, CAPSULE
If you've attended FUSE in the past, you know there are a lot
of presentations on innovation in design and brand strategy. But as I am
wrapping up Day 1 of the conference, I notice each and every speaker has amplified this topic. Amplified so much that the word INNOVATION is actually
swirling around in my head with big, fat capital letters.
I fully acknowledge innovation is not a new topic. A
lot of people would even say it's a tired buzzword. But the fact is innovation
has never been more important. Innovation today means success for
your brand tomorrow, next week, next year and so on. So, it was great to hear
our speakers confirm you can't just say you're
innovative if you're not really walking the walk. 
My previous blog post touched on change that comes along with natural trepidation. Well, often times, innovation
is the change most needed. But rather than hesitation, this change can be exhilarating if you have the right perspective. Our speakers offered the following advice.
Innovation requires
optimism.
Xavi Cortadellas shared some amazing innovation coming out
of Gatorade. Combining technology, sports science and a strong commitment to
athletes, Gatorade has created a customized fuel solution I never would have
thought possible. Achieving innovation for Gatorade meant committing to big ideas with positivity and optimism. Always asking, 'what if''
allowed them to innovate and create a new product line that affects behavior of
athletes and pushes them out in front of a very competitive category. 
Doug Healy of PepsiCo/Quaker Foods supported this topic as he shared how they use
consumer insights to inform innovative design solutions. Throughout Doug's talk
he continually reminded us that diversity of opinions actually makes us
smarter. When creating, it's important to collaborate with others who think differently from us. And, when providing feedback, don't be prescriptive.
The creative mind works on stimulus, not specific direction. Each practice noted by Doug is positive in nature. Positivity and optimism generates innovative thinking and successful outcomes. 
Innovation requires relentless behavior and provocative thinking.
Leah
Newcomb, Associate Manager of Foresight & Trends at Altria shared a bit
about her role in providing trend analysis and
insights. In order to do her job, Leah says she has to be relentless and
provocative. She also believes innovation and foresight is everyone's responsibility
within the organization. Always be curious.
Dr.
Antonia Ward of Stylus went on to say that future-focused innovative thinking should
make you uncomfortable. If it doesn't, you're not thinking big enough.
And
Stephen Gates, of Citi, put the exclamation point on this topic when he
acknowledged many brands and businesses push
innovation only as far as the scope of the current project, limiting its
effectiveness.
Innovation requires stepping out of your invisibility.
I always enjoy hearing from my good friend, Stephen Baird,
Chair of the Trademark and IP practice at Winthrop & Weinstine. Stephen
provided great advice on building, owning and protecting brands. In doing so,
he shared a bit about a brand he and his team at W&W have developed '
Duets Blog
. Six years ago, Stephen and his
team decided they wanted to create a blog. Yes, a law practice with a blog. At
the time, this was unheard of. The content would be created for people like us - brand owners and
leaders. Readers looking for thought leadership on protecting brands. While criticized at first by certain naysayers, the blog took off and has been recognized as one of the most visited blogs on the topic of intellectual property law. If that validation wasn't enough, Stephen was pleased to get an endorsement from author, Seth Godin. Having learned
about the Duets Blog, Seth congratulated Stephen for this innovative approach. Creating this content and digital communication approach put this law practice in front of new audiences, allowing them to step out of their invisibility.
Innovation requires leaders, not managers.
Last, we got to hear from Stephen Gates of Citi a second time. Clearly, those who missed Stephen's morning presentation were informed this second opportunity should not be missed. It was standing room only. 
In his second presentation, Stephen hammered home the truth that
innovation requires leaders, not managers. Managers handle deadlines, make
excuses and are commodities. Leaders handle people, bring change and are critical assets. 
In all, Day 1 has delivered actionable insights and inspiration. I'm not surprised. FUSE always delivers what we need most. With this blog post complete before 5pm, I can now sit back, relax and listen to Stefan Sagmeister and Mauro Porcini at the fireside chat. Fabulous day.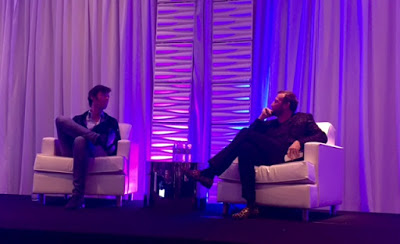 Design icons, Stefan Sagmeister and Mauro Porcini
Director of Client Experience