Merck's BD&L Boston Innovation Hub sparked to life five years ago and was the first of the hubs to be formed at Merck. Before that, all of Merck's business development and licensing functions were run through its New Jersey and Pennsylvania campuses. "Having a team of business development folks in Cambridge/Boston for the ease of being able to meet with companies and be part of the ecosystem was a big first step," says Lizabeth Leveille, head of Merck's Boston Innovation Hub.
Each of Merck's hubs—now operating in Boston, San Francisco, Asia and London—performs search and evaluation and handles the nuts and bolts of business development transactions. "We can find the opportunities, and lead negotiations through to deal signature all from here," says Leveille. "Being able to walk down the street and have face-to-face connections is invaluable. Things can get done pretty quickly." Merck's Innovation Hubs handle partnerships around assets through clinical proof-of-concept in their geographies. Later-stage deals run through the company's New Jersey headquarters, where the business development team is closer to the clinical and commercial organization.
With research teams from Merck Research Laboratories (MRL) co-located with the hubs, the partnering team can stay connected with research as well as external opportunities across each of Merck's therapeutic areas of interest, says Leveille. Merck's partnering organization reviews roughly 1,300 search and evaluation opportunities each year with potential partners. "But this only counts where we've seen a non-confidential summary of what a company is doing," says Leveille. "It doesn't include the one-on-one, over-coffee discussions that we have in the areas where we have our innovation hubs. We're out in the community, and many times we hear about companies while they're still in stealth mode. We often talk to new companies with one or two employees, just getting started, about what they're working on, what their missions are."
Through its Innovation Hubs Merck gets to form relationships with new companies as early as possible, in addition to meeting with local VCs like Third Rock or Flagship to get to know their new portfolio companies.
"We won't often strike such an early deal but we're knowledgeable about what they're working on. Maybe we have some insight that could be helpful, and maybe we do partner earlier rather than later," she says. The Innovation Hub team's community outreach extends beyond potential partners.  The group works with academic funds such as the Yale Blavatnik Biomedical Accelerator Fund to help with grant proposal evaluation, for example. "There's no strings attached and it's all non-confidential, but we can give them feedback about what they're working on and help to fuel the kind of innovation that the industry may be interested in going forward."
Leveille says the team sees no shortage of opportunities in areas like oncology, but would like to see more innovation elsewhere. "The biggest gap right now is in neuroscience, where there's a lack of treatments that work on the underlying cause of disease—most of what's available are drugs that treat disease symptoms," she says. "We see a lack of outside opportunities in neuro. The neuroscience area would benefit from investing in discovery of new biomarkers and disease segmentation," much in the way oncology has evolved over the past decade, says Leveille. There are also very few companies in the infectious disease area. A lot of pharmas have left that space, says Leveille, "and so early-stage biotechs come to us as one of the only companies left in that area, and they ask for our advice. We try to give feedback to focus their work in the right space, hopefully providing benefit to those early-stage companies."
'Sky high' valuations
Leveille has been on the biopharma partnering buyside for 15 years; prior to joining Merck she spent nine years in strategic alliances at the Novartis Institute for Biomedical Research. "The biggest thing we're seeing in pharma partnering right now is that because there's a lot of money out there from private investors and because the IPO window is wide open, we see a lot of companies demanding deal terms that are sky high, especially for very early stage molecules." Merck's response is often "come back to us when there's more data," she says.
It's not like the company has been idle, however. Leveille points to the recent acquisition of Tilos Therapeutics in the TGF-beta area (the upfront terms were not disclosed but the deal could be worth up to $773 million, including earn-outs), as well as an alliance with Skyhawk Therapeutics in RNA splicing that could be worth up to $600 million per program as recent deals from the Boston Innovation Hub. "We're getting things done but in an environment where companies have easier access to capital, you can see we'd do more if it made sense financially."
Merck & Co. Acquisitions: July 2016–June 2019 – Targeting Immuno-Oncology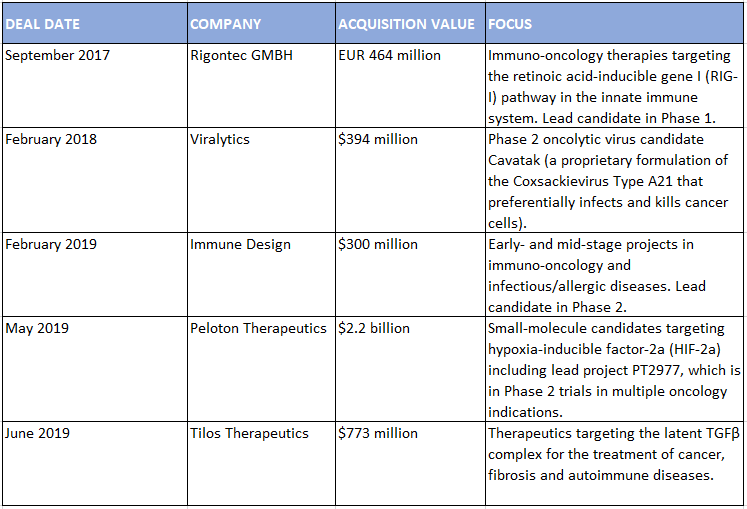 SOURCE: Strategic Transactions
Select Merck & Co. Alliances: July 2017–June 2019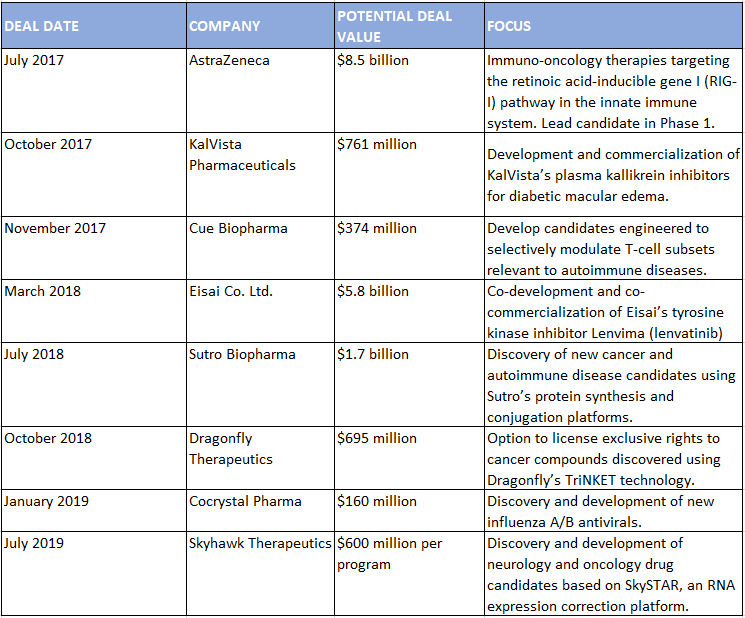 SOURCE: Strategic Transactions
Chris Morrison has covered the biopharmaceutical industry for 20 years as a writer and editor for several industry publications. He is a former editor of In Vivo: The Business and Medicine Report and "The Pink Sheet" where he focused on trends in biopharmaceutical finance, business development, and research and development. Chris contributes to a variety of publications, including In Vivo, Datamonitor, Nature Biotechnology, and Nature Reviews Drug Discovery.
Read his most recent report, The Ultimate Biopharma Dealmakers Report for Alliances and M&A's where he analyzes the latest game-changing deals and what they indicate for the future of the biopharma industry.