KNect365 conducted a survey investigating the adoption of emerging trends in the clinical trials industry. 214 professionals across CROs (29%), pharma and biotech (28%), consultancies, medical device companies and technology providers (26%) investigator sites (6%) and academia (4%) completed the survey.
While exploring how organisations are currently innovating early clinical development, the survey revealed interesting insights.
Download the full State of the Industry Report 2019 here.
Trial designs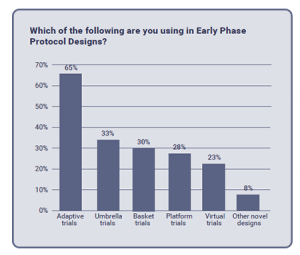 in Early Phase Protocols
Adaptive trials have proven to be most common, while being currently used in Early Phase Protocol Designs by 65% of survey respondents. Umbrella, Basket and Platform trials showed to be popular, however less so. Close percentages between them suggest that each may be currently viewed as preferred alternatives in study designs. Less than 25% of respondents claimed to be using virtual trials, although, in its introduction to the report, Citeline forecasts that global adoption of this approach is still yet to come.
Utilizing new technologies
Wearables and biosensors are now commonly used in clinical trial processes to improve data acquisition and quality, but appear to still be finding their feet, particularly in Europe. Only 30% of the survey respondents stated that they are using or planning to use them in phase I and phase IIa trials.
As an emerging trend, AI has been increasingly seen as a great opportunity to optimize clinical trials. However, the debate begins around the ways it can be best utilized.
When asked which role AI could play in early clinical development, the majority of respondents selected predictive analytics (55%) and patient identification and clinical profiles (52%). Interestingly, less than half believed that AI could be applied to novel biomarkers and less than a third of respondents picked patient stratification. This could indicate a distrust in the capability of machine learning in these areas at this current time.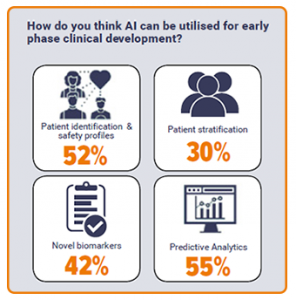 The benefits of patient-centricity in ECD
Participants were asked what successful patient-centricity in early phase studies mean to them. Responses were diverse although split evenly between improved efficiency and having better patient relations.
Here is a selection of comments from those who answered:
"Collaboration and empowerment"
"Engagement in the promise of our technology to destigmatise their suffering"
"Fast interaction between patient, trial center, lab and study monitoring"
"High retention rates and high PRO data entry compliance"
"Less burden to patients and better compliance, therefore improving safety and giving better data quality and outcomes"
"Identifying the right patient for the right trail"