KNect365 Life Sciences recently (June 2019) conducted a survey of microbiome therapeutics professionals from around the world on how they saw the future landscape of the emerging field. The 89 respondents, representing pharma and biotech (38%), academia (20%), service and technology providers (18%) and CROs/CDMOs (9%), offered a number of insights on emerging technologies within the industry and here we take a deep dive into that data. Download the full Future Landscape of Microbiome Therapeutics report here.
The importance of technology in microbiome therapeutic strategy is clear – indeed when asked to rate its importance on a scale of 1-10 (with 1 being not at all important and 10 being critical), the average response was 8.17. What is also clear is that investing in technology should be done as early as possible. 51% of respondents say it is most critical to invest at the discovery/target identification stage, and a further 21% at pre-clinical, with just 6% saying they wait until manufacturing and commercialization.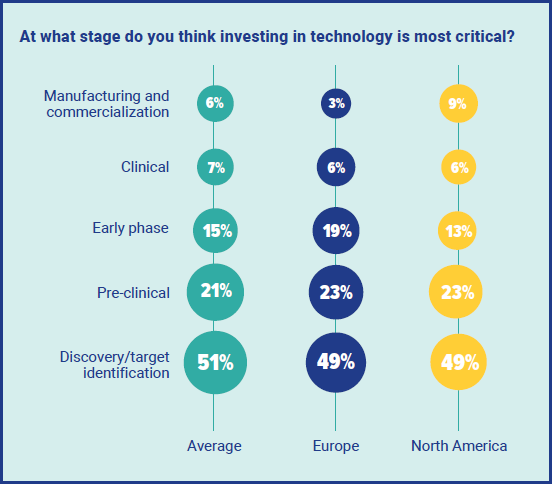 As with any relatively new field of research, there are numerous challenges that still need to be overcome at every stage of microbiome therapeutics, and a range of different technologies offer potential solutions for many of these.
When asked about the biggest challenge respondents are facing specifically with metagenomic sequencing, 34% said annotation, making it by far the biggest issue, with the second highest – DNA extraction – picked out by just 16% of respondents.

A range of analytical techniques are being used in-house, with data analyses with bioinformatics (43%) the most common, closely followed by technologies for sample collection and standardization (35%). Interestingly, significantly more North American than European respondents are using bioinformatics (45% vs 35%) and 16S in-house (28% vs 19%).
The debate between 16S or metagenomics is something the industry is tackling at the moment, and when asked which is better suited to microbiome studies it is clear that much uncertainty remains, with 50% of respondents saying they are unsure. Of the remaining respondents, just 9% thought 16S is better suited compared to 41% for metagenomics. The reasons given for this were varied and included:
"16s as a means of identifying can be misleading."
"16S is not resolutive enough."
"16S provides only a glimpse at identifying the population, not the possible products produced by the population."
"Biases inherent in 16S based approaches."
"Genetic expression is fundamental to understanding."
"Metagenomics offers much more specificity and the ability to extrapolate functions."
"Throughput and large population interactions can't be modelled as effectively on 16S."
Sample collection and standardization is another area that has the potential to be revolutionized by new technologies, with 42% of respondents stating that stabilization methods is the area where the biggest improvements can be made, followed by contamination risks (27%) and transport for large scale studies (15%).