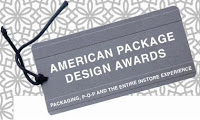 The editors of Graphic Design USA invite you to join the thousands of creative professionals who have been recognized by its national design competitions over four decades. The goal of these competitions is to focus attention on areas of growth and opportunity, to recognize the best work being done in those arenas, and to emphasize the value that graphic design brings to business and society.
The American Package Design Awards is the fastest growing of these programs.
The reason is simple if profound: Marketers and retailers are challenged as never before to convey their message and promote their brand. This annual competition celebrates well-designed graphics, of course, but more importantly the power of design to advance the brand promise and to forge an emotional link with the buyer at the moment of truth.
Winners receive an embossed Certificate of Excellence for each piece selected and become eligible for reproduction in our American Package Design Awards Annual that will appear in March 2011 in print AND online on our popular website winners gallery.
Presented by Graphic Design USA
Sponsored by Neenah Paper
Entry Deadline: December 10, 2010
ENTER NOW!

CLICK HERE TO DOWNLOAD AN ENTRY FORM
QUESTIONS
212.696.4380
awards@gdusa.com