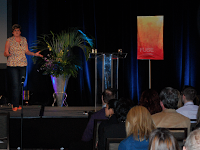 Glee was our wake up call on the morning of day two.
It all started with a dedication to Glee, amusing and attention getting. Then we went into a trend discussion which included some Gaga and finished with an "Imported from Detroit." If this wasn't enough, we jumped feet first into a talk by Andrew Pek on adaptation, creativity and entrepreneurship.
If you missed the morning, here are the emotions you missed:
Chills on a couple occasions due to some great video content.
Laughter at a number of moments, because that's always a good feeling.
Silent wonder as we watched The Edge and other guitar artists jam.
Wonder as we listened to a conversation about scent and smelled jelly beans.
The vibration of collective creation, inspired by Andrew Pek.
If you don't like emotion, then here's the rational stuff you missed:
What does your brand smell like? Spend some time stewing on that one by Tracy Pepe.
What is netiquette and why is Korea teaching their children Internet etiquette?
What is innovative? Relevant, widely dispersed and unique. Is Twitter innovative?
How do we coach people to harness their own creative energy? Challenging? Yes.
The morning at FUSE has started out with a bounty of emotion and rational conversation. If you missed it, there are no make up notes. If you're here, you know what I mean.