This post originally appeared on the Front End of Innovation Blog.
Fact:
Women buy (products made by men)
Over 10,000 working hours and more than 1500 women worldwide were involved in a unique research study, which analyzed female tech-preferences and how to best embrace these insights within product development.
This masterclass will present the results of a 3-year design research program called "female interaction" co-financed by the Danish Governments program for user-driven innovation - a cross disciplinary project bringing together scientists, designers and innovation experts from 3 leading tech companies: Bang & Olufsen, GN Netcom and Danfoss.
In this Webinar, you'll learn:
Womenomics Trends Data: Female business insights and the innovation potential overseen in the (tech) industry
Made by Men, Bought by Women:  How does a  female's approach to technology differ from a male's?
Female Interaction Principles for Making the Female Tech Approach Operational:  Go beyond pink
4 Female Tech User Profiles: Ways to avoid stereotypic gendered thinking and tools to enhance user focus
Case study Illustrating Potential for User-experience Innovation: How  to redesign a specific tech-product (a mobile headset from Jabra) based on insights from female values and a female approach to technology
Female Innovation Strategy Outline: How to meet the preferences of the female users and consumers through innovative research & design process
Presenter: 
Klaus Schroeder, Design-Director & Partner, Head of Female Interaction Research

Space is limited! Register today!


Details
Date: Wed, Jan 11, 2012 
Time: 12:00 PM EST 
Duration: 1 hour 
Host(s): Front End of Innovation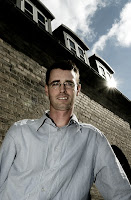 Klaus Schroeder
is design director and partner at
design-people.dk
' an international Danish design consultancy specialised in advanced interaction design. Klaus Schroeder holds a Master degree in Industrial design from Hochschule f??r Bildende K??nste, Braunschweig. Klaus combines successful and award winning international design results for the industry with research in the field of interaction and user-experience design and he serves as lecturer and an appointed examiner at different Design Schools.
As head of the 3-year long 'Female Interaction' design research project, co-financed by the Danish Government's program for user-driven innovation, Klaus Schroeder has become an authority within the field of gendered innovation and gender specific design and has advised both in the United Nations and the European Union.