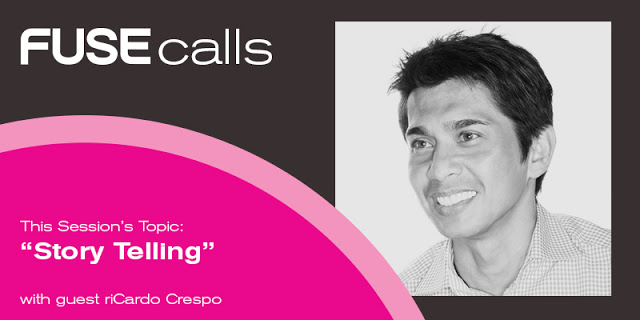 <b'Don't tell me who you are. Tell me why you are.' ' riCardo Crespo
In our second edition of the <a href="http://bit.ly/1SSv9mv"'FUSE Calls" podcast series, Informa
Creative Director Dan Madinabeitia sat down with riCardo Crespo, Chief Creative
Officer and Brand Design Lead withTh13teen and Jackknife Design, to talk about
storytelling.
FUSE Calls is a series of interviews where the FUSE team
literally picks up the phone and calls disruptive design and brand strategy
leaders across the globe - some of whom will be speaking at our upcoming FUSE
2016 Conference in Miami this spring. Dan will also be dialing in to speak with
the very esteemed members of our FUSE community. Our goal is to share insight,
promote design-thinking and hopefully inspire anyone interested in branding and
design as it relates to strategic vision. 
In this session of FUSE Calls, riCardo shared key insights
into how storytelling is so important when it comes to design and brand strategy.
According to riCardo, storytelling is a key aspect to the branding paradigm. In fact, attributes of storytelling are great metaphors to inform best practices in
design, brand strategy & development.
'As a formally trained Designer and Art Director, what I've
found is through my design career, I was actually designing moments in a story
that I was inadvertently telling,' he said. 'And as I became more tenured in
the business, it became clearer and clearer to me how story and storytelling had
many attributes that were very similar to branding.'
Want to hear more on
the topic of storytelling? Don't miss FUSE 2016
April 4-6 in Miami, FL. For more information about the conference or to
register, visit the website: http://bit.ly/1Xy2dzg


Interviewer Dan Madinabeitia is Creative Director and Brand
Advisor at Informa, the Global Information Corporation responsible for
facilitating business events such as FUSE 2016.