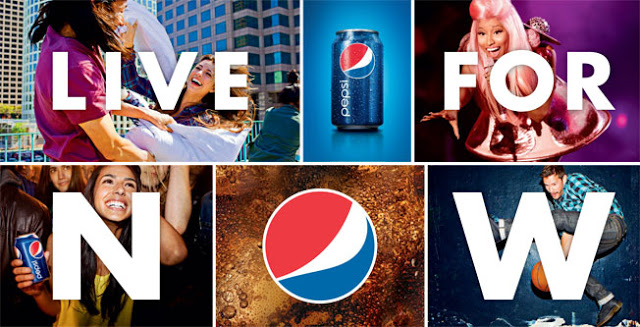 Photo from pepsico.com
Day 2 of
#FUSE16
has a pulse that builds off of yesterday's post, '
The Problem with Authenticity,</i' which highlighted the issue of genuine authenticity vs. curated identity. If you need further (much more professional) expertise this topic, kindly show yourself into the office of Todd Henry, who killed his talk today on Harnessing the Power of your Authentic Voice (full presentation here).
So now that we've recognized the importance of authenticity, and we did the complex work of simply discovering who we are, now we are ready to turn back to our outside world. Back to the data, back to our consumers. And guess what ya'll?! We finally know who we are and we're excited to tell you ALL ABOUT IT.
This may be the appropriate time to dig up our notes from Stephen Gates, as he said, 'So many brands are sitting there talking to themselves.'
Knowing our story and knowing how to tell our story is definitely critically important. But when that complexity of the world begins to boil up again, let's not forget what brought us into the business in the first place: we saw a problem. We discovered some pain point that we became intensely passionate about relieving for' [wait for it] ' people. And just as authenticity comes from deep within the human spirit, emotional intelligence is right next door.
This morning we reminded ourselves of the quote from Howard Schultz (Starbucks), <i'In this ever-changing society, the most powerful and enduring brands are built from the heart. Their foundations are stronger because they are built with the strength of the human spirit, not an ad campaign.'
This idea of EQ being the new IQ isn't quite a new conversation. But as we learned from many of the speakers today, emotional intelligence is one of those simple things that we often forget triggers everything else that we need. If we don't have EQ, we won't have empathy. If we don't have empathy, we won't know how to anticipate needs. If we don't know how to anticipate needs, we won't be be relevant. And if we aren't relevant, we serve zero purpose.
The levels of EQ that we saw unfold throughout the day were big doses of straight inspiration:
The EQ on Design-Led Innovation, with Mauro Porcini:
Mauro's framework for
design innovation within PepsiCo
literally starts and ends with emotion. The first moment with a brand he describes as the 'Visceral Relation.' That emotional and impulsive wow-effect that inspires action and purchase. Next is the 'Interactive Relation,' being the the engagement and quality time spent using and interacting with the brand. And lastly, the 'Expressive Relation,' which is the pride and ownership consumers take over their established relationship with the brand. Each layer, an emotional relationship.
The EQ on Developing Your Authentic Voice, with Todd Henry:
I tapped into this quite a bit yesterday, but anyone who's gone through any form of brand/business soul-searching will know it takes a great amount of EQ to find (and develop) your authentic voice. Todd gave a
fantastic presentation
, and provided the master equation of an authentic voice: Identity + Vision + Mastery. He further demonstrated that without mastery, you're not credible. Without vision, you're not clear. Without identity, you're not compelling. And finally, (I'll add my own to finish it off): Without EQ, you're doomed for all three!
The EQ on Purpose as a Vehicle for Transformation, with Tupperware & FutureBrand:
Over the last 70 years, product innovation is not something Tupperware has struggled to deliver. But they did recently get to a point of needing to address modern misperceptions with the brand, and rediscover their own reason for being. Enter Confidence. A mission to own the conversation around confidence, as well as the activation of confidence through women (and men) everywhere.  It's not only about the colorful bowls and parties anymore, it's around having the EQ to realize your purpose, and the confidence to make it reality.
I thank all the speakers of
#FUSE16
Day 2 for enlightening our minds with your impressive amounts of EQ, and also all the attendees that I've gotten to meet and learn from.

Lauren Sobolik
LinkedIn
Snapchat @laur2.0 *follow the FUSE coverage!