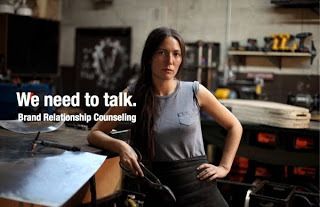 In the weeks leading up to FUSE 2011, we're going to be hearing from the speakers! In the final week leading up to FUSE 2011 we spoke with Agnete Enga, Product Designer and Paulette Bluhm-Sauriol, Communication Designer from Smart Design. Agnete and Paulette will be presenting "We Need to Talk" at this year's FUSE conference. To learn more about FUSE, download the brochure here!
About "We Need To Talk":<br /'We need to talk'' No one likes to hear this in a relationship but for Agnete Enga, Product Designer and Paulette Bluhm-Sauriol, Communication Designer from Smart Design, these words are essential. Companies are really struggling to connect with the female market, and by opening up a healthier dialogue with women, they believe your brand's connection with women can be stronger.
But how do you get her attention, and more importantly, her long-lasting commitment? It's simple: Have a meaningful relationship with her.
Okay, that's not simple, which is why 'we need to talk' at Fuse this year in Chicago. As experts on designing experiences that women love, Agnete and Paulette will share essential relationship advice to boost communication between your brand and the world's largest business opportunity ' women.
Agnete and Paulette were kind enough to share some time with us an record an interview for our FUSE Speaker Spotlight podcast series. Listen to the interview here. To see examples if some of the work discussed in the podcast visit the following links:
Cardinal Endura Scrubs
OXO Tot Sprout Chair
More about Femme Den
Music for this week's FUSE podcast was contributed by Audiobrain.
About Smart Design:
Improving daily life, that's what Smart Design strives to achieve with each and every design challenge presented. Through purposeful innovation and design leadership, we have delivered hundreds of products enabling enjoyable and satisfying consumer experiences time and again.
In 2010 Smart Design was named National Design Award winner for Product Design and we have been listed as one of Fast Company's Most Innovative Companies.
Smart Design has a 31-year history of turning insight and innovation into successful consumer products, communications, and brands. Our multi-disciplinary approach brings together experts in product, graphic, and interaction design, business factors, engineering, and design research to ensure that our solutions connect with people. Smart Design's consistent results are delivered by an international staff of 130 ' working in teams across offices in New York, San Francisco, and Barcelona.
The Femme Den is an internal collective at Smart Design that is paving the way for a deeper understanding around design and gender. Our work stimulates positive change through engaging clients and the design community in a fresh dialog on this universal topic.
Learn more at www.smartdesignworldwide.com and hear more from Agnete Enga and Paulette Bluhm-Sauriol on Tuesday, April 12, 2011 in the Cultural Anthropology, Insights & Trends track at FUSE 2011.