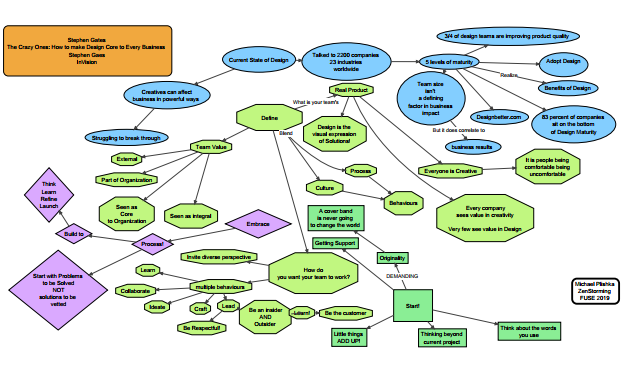 I want to share some thoughts on the FUSE conference but not in the form of written linear description. While watching the various presenters, I summarized my experience of the presenters in the form of concept maps. (Get the PDF of all the presentations here)
The purpose of this was to get beyond the words and instead focus on the concepts and the relationships between them.
Personally, I find myself being surprised when I revisit the maps. Some things become clearer, some things become new. I even find myself questioning if more or less meaning is veiled in the interwoven web of shapes, arrows and word.
"The greatest value of a picture is when it forces us
to notice what we never expected to see."
-John Tukey
I would hope that these maps prompt you to see something unexpected.
"Can the same image prompt different stories and memories in different people?
That's a good test for a "super-graphic." "
- Edward Tufte
I hope that they inspire each of us to remember different stories and memories about the presenters, about FUSE.
If you have any questions, comments, clarifications, or just want to discuss the content and the conference, please drop me a line. Or even better, sit down with colleagues who weren't at FUSE and see what insights they have.
Here's to designing a better world!
These diagrams were created using VUE (Visual Understanding Environment), an open source tool developed by Tufts University (http://vue.tufts.edu/). They were done on-the-fly, in real time, during the conference. Please forgive any typographic or transcription errors. In some cases, sessions ran in parallel, so, obviously I was not able to create maps for every session. 
About the Author: Michael Plishka is the President of ZenStorming ™, an Innovation and Design Consultancy. Please feel free to drop him a line at michael@zenstorming.com