The morning keynote sessions in the opening symposium of FUSE 2011 raised a number of questions. John Silva, President & Creative Director of DuPuis Group asked, how can be escape parity? Mauro Porcini, Head of Global Strategic Design at 3M asked how can you spread design innovation throughout a company? And Marco Beghin of Moleskine America asked 'How do we exist on the digital analog continuum?'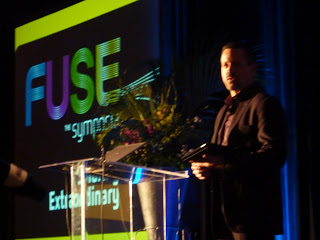 Starting off the day, John Silva explored parity. First asking "Is parity always bad?" it can be helpful when you're in 'not losing' survival mode, but it isn't the recipe for winning. Silva's recipe for avoid "the grind" is as follows:
1. Have a meaningful consumer insight
2. Have a real point of difference
3. Have inspired, emotive creativity
4. Use collaboration, wisdom and courage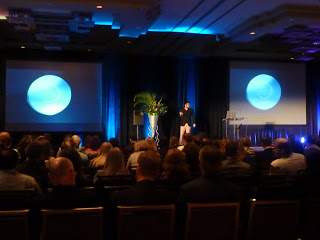 Mauro Porcini was up next asking "Who do you design for?" The answer needs to be not "consumers," but users and ideally someone you love. Brands should seek to create tangible solutions as well as intangible inspiration. Start with the "wow" aspect of visceral impact, continue with an interactive experience. This should lead to spontaneous, word of mouth spreading of the brand story.
Marco Beghin was up next discussing the digital analog continuum, and the way the things we carry with us in the world become shorthand for who we are. Using his own Moleskine notebook and a projector to tell his story, Marco explored the way technology and tradition interact. Moleskine tries to design for the modern nomad.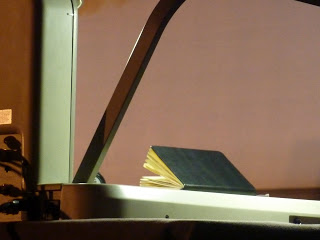 Taking it one step further, Karim Rashid wrapped up the morning general session by discussing the way the physical world is becoming a seamless extension of the digital world. From movement of more to less, the dematerialization of most of the world's goods (from money to holiday gifts) to the way virtual innovation has lead to increased opportunities for individualization in everyday life. Says Rashid "You could argue that you no longer need anything physical in the world, unless it creates an enhanced experience."
Increased technology allows for more opportunities for creativity and technology has increased the boundaries of creation. 92% of the world's products are made by machines. As a result machines can even custom build objects any way they can be imagined. The future as Rashid sees it is one of humanization and personalization in an increasingly industrial age.