A cure for Alzheimer's disease may rest in a small molecule, Antroquinonol®, which was discovered in a rare Taiwanese mushroom called Antrodia Camphorata. Golden Biotechnology Corporation (GBC), a Taiwanese company focused on identifying and synthesizing bioactive compounds in traditional medicines, has found a way to synthesize the compound and suggests that Antroquinonol has the potential to be a platform therapeutic with broad applications through clinical results.
Dubbed Hocena®, Antroquinonol has demonstrated its ability to cross the blood-brain barrier, reduce inflammation, and improve vascular diseases and metabolic disorders. "For example, Antroquinonol exhibits metabolic effects by regulating the AMPK and mTOR pathways, which regulate the downstream pathways of cholesterol, fatty acid synthesis, and lipogenesis," says Dr. Today Su, chief executive officer of GBC. Those combined capabilities may imply that Hocena could offer a better solution than the single-action compounds the industry has developed so far.
Early studies, for instance, indicate Hocena improves learning and memory and reduces amyloid-beta levels and inflammation in the brains of transgenic mice. Specifically, "It mediates the increase of Nrf2 to protect against oxidative damage caused by injury and inflammation, and the decrease of histone deacetylase-2 to prevent cognitive and behavioral impairment," Dr. Su adds. "Pre-clinical studies are ongoing in Australia under the guidance of Johnson & Johnson (J&J)."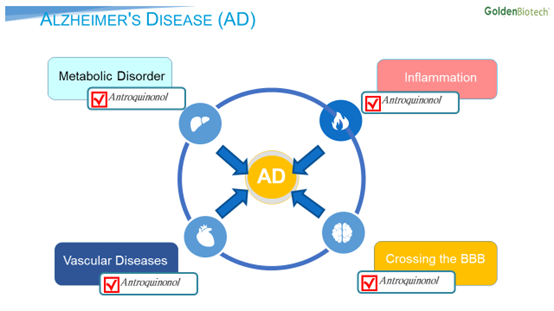 Alzheimer's history of failures
So far, no drug has adequately addressed Alzheimer's disease. As Dr. Su suggests, "The recent failure of aducanumab in the Biogen/Eisai Phase III trial is merely an expensive step to better understand the complexity of the mechanism of Alzheimer's disease. In past years, approaches like J&J's atabecestat, Merck's verubecestat, Eli Lilly's solanezumab, and Pfizer's bapineeuzumab, each of which targeted a single factor, reported disappointing outcomes. In contrast, we believe Hocena's multiple, simultaneous, and synergistic actions may enable positive outcomes."
Hocena as a platform therapeutic
Hocena has multiple applications and has been granted more than 120 patents in 40 markets, including the US, EU, Japan, South Korea, Taiwan, and China, for its structure and preparation, as well as applications in oncology, cardio-metabolic syndrome, autoimmune disease, neurodegenerative disease, and liver and lung disease. In addition, Hocena holds orphan drug designations in the US and EU for pancreatic cancer, and in the US alone for acute myeloid leukemia (AML) and hepatocellular carcinoma (HCC).
In 2016, Hocena won the Advance Queensland Johnson & Johnson QuickFire Challenge for its Alzheimer's application. Since then, GBC has designed Phase II trials in collaboration with scientists worldwide. "This study is currently in the preclinical stage in Queensland. Since Hocena already has passed human safety tests in previous studies, it can proceed directly to efficacy tests," Dr. Su says.
Already, GBC has conducted Phase II trials for Non-Small cell lung cancer (NSCLC) in the US and Taiwan; Phase I/II trials for pancreatic cancer in the US, Korea, Taiwan, and soon in EU; and Phase II trials for hyperlipidemia, atopic dermatitis, and hepatitis B in Taiwan. In January 2019, GBC received approval from Russia to launch a Phase II clinical trial of Hocena for AML.
"Preliminary results from the NSCLC and hyperlipidemia trials can be shared upon request, after signing a confidentiality agreement," Dr. Su says. The NSCLC trial focuses on stage IV NSCLC patients who had failed more than two lines of anti-cancer therapy. Results showed Hocena extended overall survival (OS) beyond 48 weeks, increased progression-free survival (PFS), and improved disease control.
The trial for hyperlipidemia and related diseases showed Hocena reduced low-density lipoprotein (LDL-C) and triglyceride (TG), along with arterial stiffness (as measured by the brachial-ankle Pulse Wave Velocity). One sixth of the fatty liver disease patients recovered to a normal state.
Partnering opportunities
GBC has developed the screening technology to identify bioactive compounds from herbs, plants, and fungi, and continues to build its drug development pipeline through increased R&D activity, including pharmacology, toxicology, and clinical trials.
GBC has many programs including oncology, cardio-metabolic syndromes, and autoimmune disease. However, GBC's immediate focus is Alzheimer's disease.
"We are seeking out-licensing and/or co-developing opportunities to further clinical development and commercialization of Hocena," Dr. Su says. Opportunities include partnering to advance the broader research, development, and commercialization of Hocena, as well as participation in disease-specific programs.