Lung cancer is one of the most common tumors and about 28,000 new cases will be diagnosed in the United States this year. According to the American Cancer Society, lung cancer is by far the leading cause of cancer death among both men and women, making up almost 25% of all cancer deaths. Each year, more people die of lung cancer than of colon, breast, and prostate cancers combined. About 85% of these are classified as non-small cell lung cancer (NSCLC) and the majority of newly diagnosed patients present with metastatic disease.
On a brighter note, the past few months have been highlighted by the approval of several new brands for the treatment of patients with metastatic non-small cell lung cancer (mNSCLC) that target specific types of genetic abnormalities. These recent approvals include brands that target RET (rearranged during transfection) and MET (hepatocyte growth factor) in mNSCLC. These products also have other applications. For example, Retevmo™ is also approved for patients with metastatic medullary thyroid cancer (MTC) with RET gene fusions or RET point mutations. Gavreto™ is also in development for this indication. These RET inhibitors are also undergoing clinical investigation for other solid tumors. Other products are also in clinical development for patients with mNSCLC expressing MET amplification or exon 14 skipping mutations, including Cabometyx® (cabozantinib).
Meanwhile, several other "tumor-agnostic" biomarkers (i.e., those that target a specific genetic abnormality, but across multiple tumor types) also have important implications for the management of mNSCLC. These are indicated for any solid tumor expressing the particular abnormality (unless otherwise noted below) and this group includes recent FDA approvals as well. More products are in clinical development targeting these types of abnormalities including:
TMB (tumor mutation burden)
NTRK (neurotropin-tropomyosin receptor kinase)
MSI (microsatellite instability) and MMR (mismatch repair)
All of these recent approvals are summarized below:
Table 1: Novel Biomarkers with Applications in mNSCLC and Recently Approved Brands
Gene
Indication/Target
Approved Brands
Approval Date
RET
RET gene fusions
Retevmo™ (selpercatanib)
May 8, 2020
Gavreto™ (pralsetinib)
September 7, 2020
MET
MET exon 14 skipping mutations
Tabrecta® (capmatinib)
May 6, 2020
TMB*
Tumor Mutation Burden-High
Keytruda® (pembrolizumab)
June 16, 2020
NTRK
NTRK gene fusions
Vitravki® (larotrectinib)
November 6, 2018
Rozlytrek® (entrectinib)
August 15, 2019
MSI/MMR**
MSI-High (MSI-H) or MMR-Deficient (dMMR)
Keytruda® (pembrolizumab)
May 23, 2017 (any MSI-H/dMMR tumor)     June 29, 2020 (1st line mCRC)***
MSI-H or dMMR (mCRC)
Opdivo® (nivolumab)           Yervoy® (ipilimumab)
July 10, 2018
*Keytruda was approved for TMB-High solid tumors in June 2020  **Keytruda is also indicated in combination with Lenvima® (lenvatinib) for patients with advanced endometrial cancer that is not MSI-H or dMMR ***mCRC - metastatic colorectal cancer
At Prognos, we have been evaluating trends in testing for these novel biomarkers, particularly among patients with mNSCLC. We leveraged our database of more than 50,000 annual patients diagnosed with mNSCLC, including laboratory/biomarker data with results from multiple sources. Based on our analysis, testing rates for all of these biomarkers among mNSCLC diagnosed patients has been increasing over the past six calendar quarters (Q1 2019 - Q2 2020), as shown in Figure 1. In particular, for 2020 year-to-date we have observed the sharpest rate of increase for RET, TMB and MSI/MMR, with increases also seen in testing for MET and MET Exon 14. This also takes into account the fact that overall testing rates experienced a temporarily sharp decline in March-April of this year due to the COVID19 pandemic as seen in Prognos' lab testing trends during this period.
Figure 1: Quarterly Biomarker Testing Rates in mNSCLC (Q1 2019 - Q2 2020)
As our prior research suggests, the approval of a novel targeted therapy typically leads to an increase in testing for the applicable biomarker. Given this, the results are not necessarily surprising and coincide with the recent approvals of brands for these particular molecular targets. We anticipate that testing rates for these novel biomarkers will continue to grow, as hematologists/oncologists expand adoption of these newly-launched brands and as other products gain FDA approval.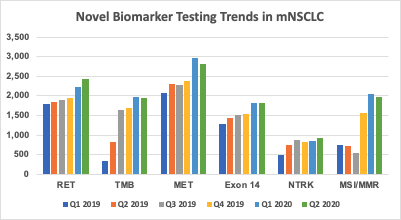 Finally, other biomarkers are emerging for the management of mNSCLC that include KRAS G12C mutations, and exon 20 insertion mutations EGFR/HER2, and other HER2 mutations. The entry of even more targeted therapies for mNSCLC harboring these biomarkers should offer extra promising treatment options for patients. Due to the current availability of multiple targeted therapies, clinicians routinely test for other biomarkers (e.g., ALK, EGFR, BRAF, ROS1 and PD-L1) for this patient population. With the addition of more targeted therapies, the need for expanded and comprehensive testing will continue to increase.
Awareness of the testing available for these biomarkers is an essential part of the manufacturer's education and outreach to clinicians so that patients have the opportunity for a better health outcome.
For more information on how Prognos works with pharmaceutical companies on testing trends and patterns, please visit prognoshealth.com.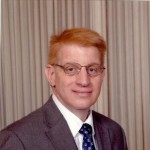 About the Author: Bill Bowman, Senior Clinical Solutions Architect for Oncology at Prognos Health and has an extensive industry background in oncology and data analytics, with prior experience at a number of leading pharmaceutical companies and consulting agencies.