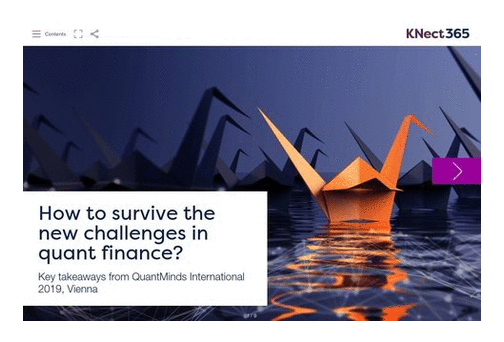 Click to read How to survive the new challenges in quant finance? - QM Q2 2019
If there's one thing we've learnt from this year's QuantMinds International, Vienna, it is that machine learning is the hottest thing in quant finance at the moment.
This May, we've heard some incredible presentations on the use cases of machine learning, it's limitations, and even how to set it up! It is clear to us that the role of the quant has changed irreversibly, and the new tasks need new skills and new faces. Furthermore, the rise of alternative data, crypto, and blockchain, open up whole new avenues for quants to walk.
So in this eMagazine, we cover these crucial topics with some of the most innovative leaders in this sector, and learn how they deal with these new challenges.
We hope you enjoy!
Featured in this eMagazine:
Marcos López de Prado, Adjunct Professor of Financial Machine Learning, Cornell University
Wim Schoutens, Professor of Financial Engineering, University of Leuven
Erdem Ultanir, Quantitative Credit Risk Analytics Lead, Barclays
Katia Babbar, Founder, AI Wealth Technologies
Jessica James, Managing Director, Senior Quantitative Researcher,Commerzbank AG
Birgit Rudloff, Professor of Mathematics for Economics and Business, Vienna University
Oliver Cooke, Managing Director, Head of Selby Jennings – North America, Phaidon International
Sylvain Forté, CEO, SESAMm
Guillaume Garchery, Head of Quantitative Research and Development, La Française Investment Solutions
Alexandru Agachi, Co-Founder and Chief Operating Officer, Empiric Capital
Andrew Mann, Co-Founder, Coinstrats
David Fauchier, Founder and Chief Investment Officer, Cambrial Capital
Paul Pop, Co-Founder, Neurolabs
Silvio Micali, Professor at the Massachusetts Institute of Technology, and Founder of Algorand
Alexandre Antonov, Director, Standard Chartered Bank
Bruno Dupire, Head of Quantitative Research, Bloomberg