I picked up some clothes from the dry cleaners the other day and I saw this as I started pulling off the plastic.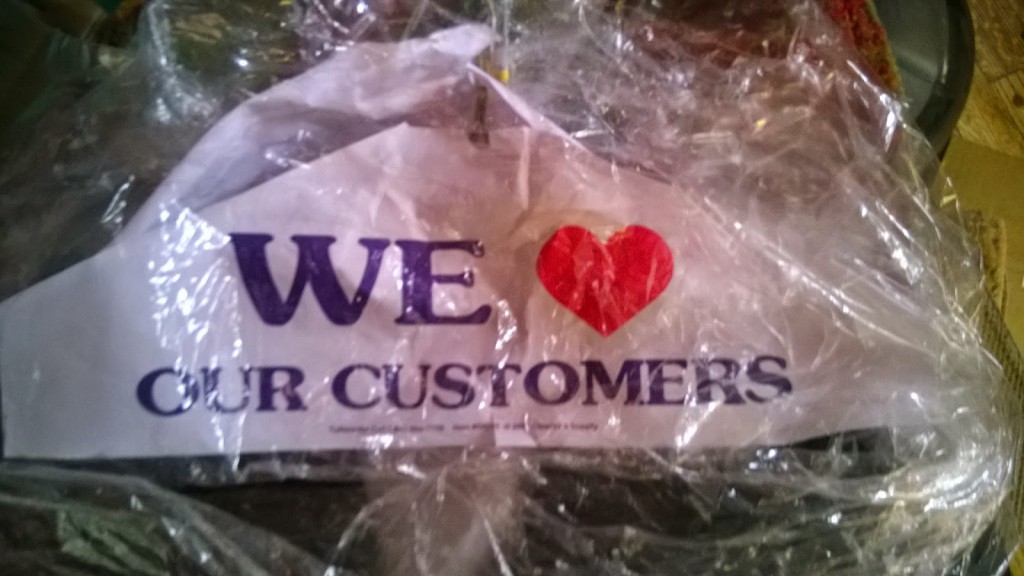 It got me to thinking...
Who doesn't love their customers?
Everybody loves their customers, right?
Maybe not.  I began thinking about customer reward programs I am in.  In multiple cases, the companies started messing with the programs.  They changed the quantity of points required to be able to get rewarded, or they changed how many points each transaction was worth, or they limited what I was able to buy, when, and get rewarded for it.
I all these cases, at the root it wasn't about "I love you so much.  What can I do for you?"  It was clearly, "I love you so much I'm going to sell you this product you don't want or need, and give you bonus points, but you won't get anything for buying what you really want."
"What can I do for you?" is clearly a disposition of love. The latter, at best is a lousy friendship, at worst a parasitic relationship.
"What can i do for You?" is centered on the other.  Its focus is not on self, it's on giving one's self to the other - in this case, the person who is the customer.
"I want you to..." is about, well, me.  It's not about the other person's needs, it's not about being available, it's not about being sensitive to the situation the person is dealing with.
"What can I do for you?" is the question that will inevitably arise when an empathy based design approach is used.
When time is taken to understand the person,  her struggles, the context of her life, her wants and needs, only then is there enough information present to start (re)designing, a rewards program.  It's ultimately about people, about designing experiences that make people feel special, that they matter.  The focus can't be on collecting data, or optimizing profits, even though those are part of the equation.  The focus is on creating a relationship that ultimately isn't measured by a company saying, "We Love Our Customers" as much as it is by a person saying, "I Love that Company!
To learn more about designing mutually rewarding relationships with customers, be sure to check out FUSE in Chicago.  Hope to see you there!
~
About the Author
Michael Plishka is the President of 
ZenStorming
(TM), a design and innovation consultancy. He can be followed on Twitter 
@Plish
 and through 
LinkedIn
.
'