All roads are leading to digital today and that includes healthcare. It is time to disrupt clinical trials at all levels, from recruitment, consent, retention, data capture to site study execution.
In last month's article, we started the discussion on the Internet of Medical Things (IoMT) in clinical trials and the various elements to understand in relation to it. One such element was having a robust digital health platform as the fundamental structure in adopting IoT.
It has been argued that healthcare is perhaps the best place for Internet of Things applications. Connected devices have the potential to increase access to providers, improve the quality of care thanks to more accurate patient information, and allow patients to take more control over their overall health. In addition, the Internet of Medical Things is changing the clinical trial process, making it more efficient and cost-effective, therefore reducing the time it takes to research new treatments.
Stakeholders are looking for better ways to conduct clinical trials. Implementing Electronic Clinical Outcome Assessments (eCOA) for example, can improve data, reduce costs, and increase participation rates. Similarly, the adoption of digital health on an IoMT platform can creates limitless opportunity, as the image below shows.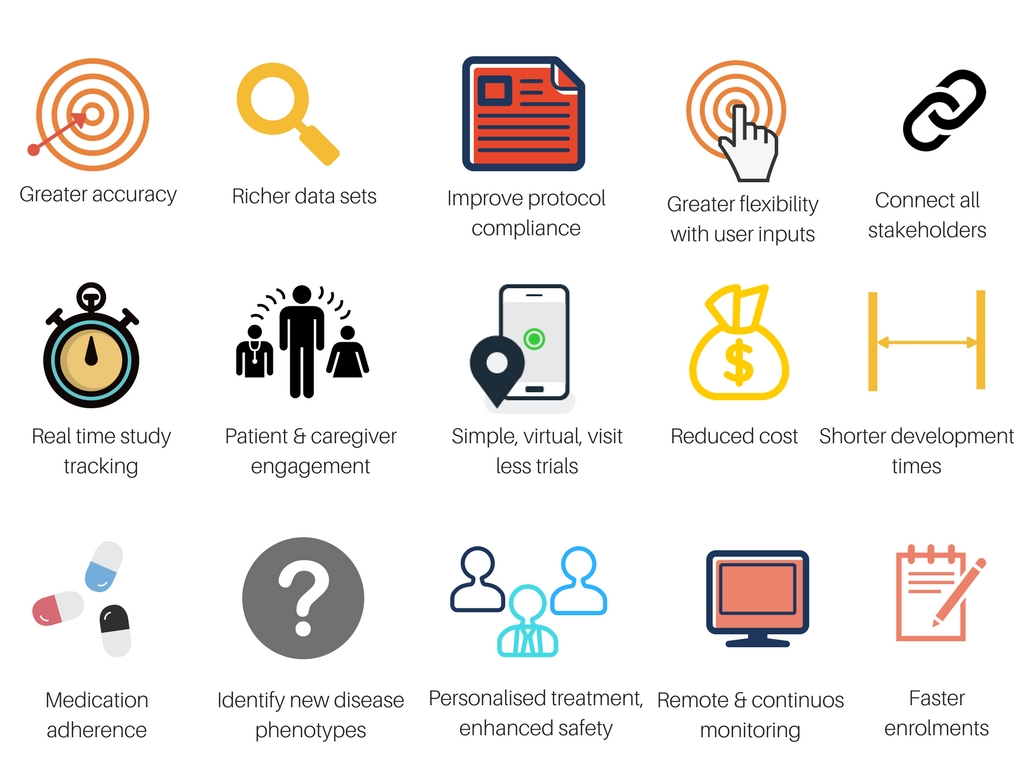 Smart technology sensors, medical devices and wearables have received a similar initial response from clinical researchers. Some are beginning to use them to collect biometric data on trial subjects, using the devices to collect better data and improve the patient experience. These devices can connect to the internet, gather their own data, analyze that data, and transmit it to other machines wirelessly.
Bringing clinical trials into the 21st century creates opportunities for all important stakeholders in the industry, as the table below shows.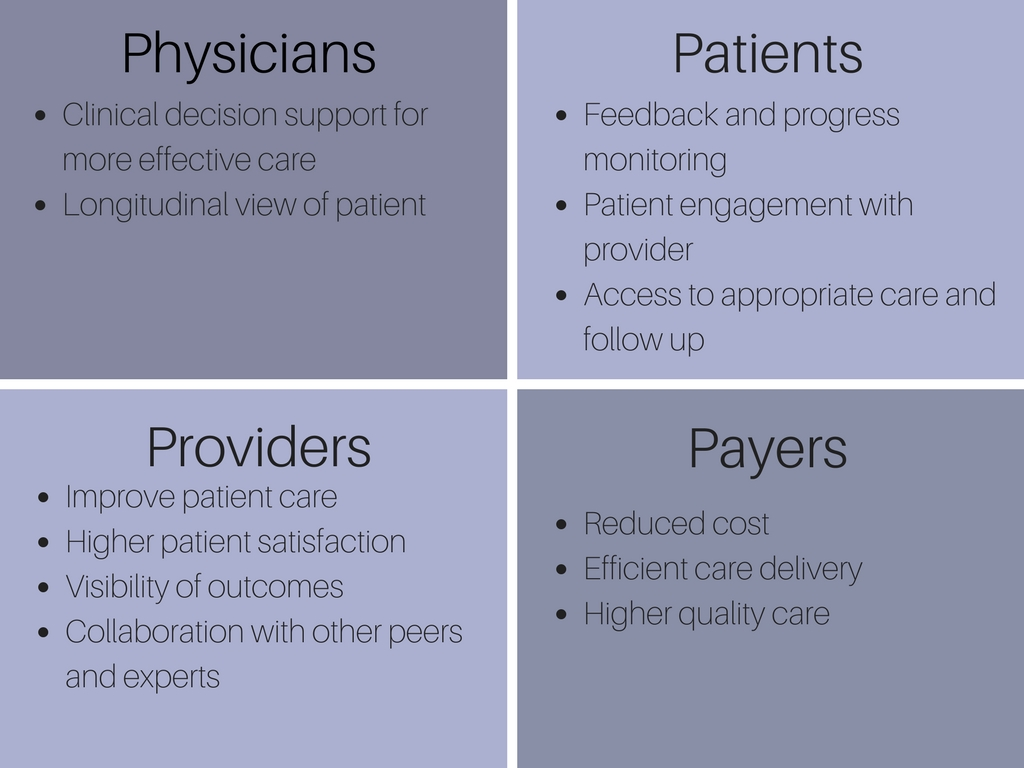 What is slowing the digital revolution?
1. Lack of long term user engagement
Smart devices and wearable technology managed within a digital health platform can significantly increase patient retention by fully engaging with them throughout the trial. However, the very fact that patient retention is at an average of just 50% after 14 months of a study, shows the engagement isn't there yet.
2. Lack of data validity and reliability
Clinicians and data scientists need to make clear the correlation of all data captured. The precision and accuracy of the data captured from the smart devices needs to be valid to show reliability of measurement. How and when this data is captured from the participants of the trial is important to determine outcomes in the clinical study.
3. Psychological resistance to technology
If a change project involving new technology is not carefully managed, the resulting change may be of such magnitude that the organisation cannot cope. As a natural safeguard, stakeholders tend to resist change that can be perceived as a great leap, preferring small steps where uncertainty of the outcome is at a minimum.
4. 'Pilot-itis'
'Pilot-itis' is the inability to break out of pilot stage. Successful pilots of mHealth, wearable technology and biosensors are in abundance. However, even with promising results, most clinical trials have been slow to reach scale. The solution is to build for scale and sustainability from the start. To plan for scalability and universal access from the start, prioritize the integration of content and services.
The challenges of managing IoT in digital health
1. Data correlation with clinical significance
Data being captured from smart devices needs to show consistency and accuracy to describe a practical importance of a treatment in a clinical study.
2. Isolated data and lack of actionable data
Our health systems are not fine-tuned to deal with multiple morbidities because we do not share information across the system. There are reams of public and private sector information, but most are stored in silo and not being used. Now the question is, can we - in a trustworthy way - unleash the power of this big data?
3. Commercial vs medical grade solutions/devices
There are many commercial devices on the market - i.e. consumer wearable technology that is being used to capture, track and monitor patients' physiological data. The rules and requirement of using such consumer devices, in which data is not regulated, versus medical grade devices, in which data is regulated, need to be streamlined or the intent of using the respective devices needs to be clearly stated.
4. Multiplicity of solutions- interchangeability and interoperability
With the different platforms - iOS vs Android for example - and different devices - Apple vs Android - one needs to be sure that the software and hardware are able to interoperate in order to include all demographics participating within a clinical study.
5. Security and privacy
Security is a huge umbrella, but it is the paramount within Internet of Things connectivity. It is essential to make sure that the IoMT device or server has proper authorization to send or receive that stream of data. In addition, encryption between devices and servers is crucial.
6. Connectivity Challenges
With connected IoT devices, reliable connection, bandwidth and signaling is essential for collecting and routing data between devices. Devices may be talking to a server to collect data, or the server may be talking to the devices, or maybe those devices are talking to one another. One needs to be confident that that stream of data is going to arrive at its destination every time.
7. Regulations
As with any software used in the healthcare setting, it will be important to consider whether any such technology is a medical device under the relevant legislation and guidance. In addition, it is important to understand the data privacy and security regulations that encompasses the digital health industry.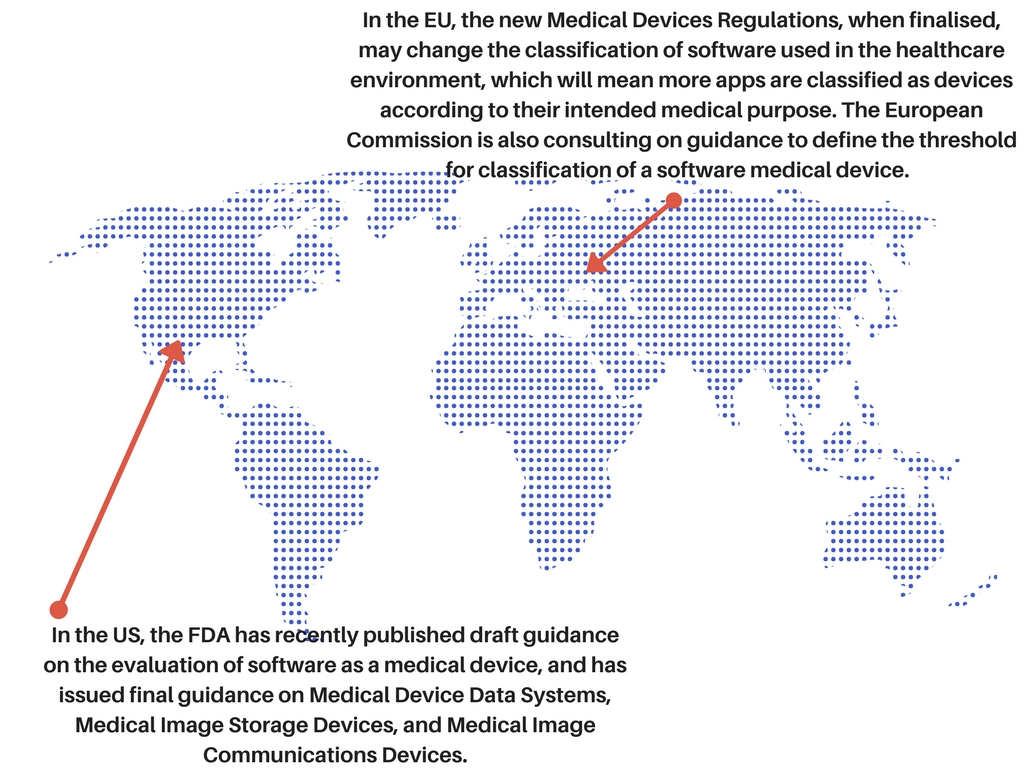 In terms of data security and privacy, HIPAA, Safe Harbor and EU Data Protection are the guidelines to follow in terms of compliance.
At the moment, there are no established standards specific to digital health and so auditing suppliers for data risk is a bespoke (but necessary) process. Therefore, technology vendors use the necessary regulations as a guide to assure that they are utilising good processes for managing their electronic records and other documents. Due to the nature of the industry evolving regulation will help drive adoption of mHealth-based research models.
Summary
The Internet of Things has already begun to permeate clinical trials. It is not as mainstream as it is in other sectors because the technology is still evolving and advances still need to be made. Clinical researchers have also had a history of being hesitant to adopt new technology, as the accuracy of the data collected in clinical trials is critical and there is no room for error. With time, we will see its presence grow exponentially as more clinicians begin to realize the immense potential that smart devices and in turn IoT have in clinical research.
Sarah Iqbal is a research scientist with a background in biopharmaceuticals and business entrepreneurship. She is currently the Head of Digital Life Sciences at Biotaware Ltd, a connected health company with expertise in mobile app design and development, wearables integration and cloud server tech in clinical trials and consumer well-being industry. If your organization is looking to make sense of the data it collects from the Internet of Things, check out expert insights and user stories to understand your IoT strategy.