The following is an abstract from the paper Temporal and Spatial Patterns of Ship Traffic in the Canadian Arctic from 1990 to 2015. Fill in the form to download the full paper.

Abstract:

The limited availability of consistent, longitudinal data sources for marine traffic in Arctic Canada has presented significant challenges for researchers, policy makers, and planners. Temporally and spatially accurate shipping data that reveal historical and current traffic trends are vital to plan safe shipping corridors, develop infrastructure, plan and manage protected areas, and understand the potential environmental and cultural impacts of change, as well as for sovereignty and safety considerations.

This study uses a recently developed geospatial database of ship traffic to provide the first synthesized overview of the spatial and temporal variability of different vessel types in Arctic Canada during the 26-year period from 1990 to 2015. This examination shows that, overall, the distance travelled by ships in Arctic Canada nearly tripled (from 364 179 km in 1990 to 918 266 km in 2015), that the largest proportion of ship traffic in the region is from general cargo vessels and government icebreakers (including research ships), and that the fastest growing vessel type by far is pleasure craft (private yachts).

Spatial shifts in vessel activity over the last quarter century have favoured areas with active mine sites, as well as the southern route of the Northwest Passage. As a result, some communities, including Baker Lake, Chesterfield Inlet, Pond Inlet, and Cambridge Bay, are experiencing greater increases in ship traffic.

Download the full text now.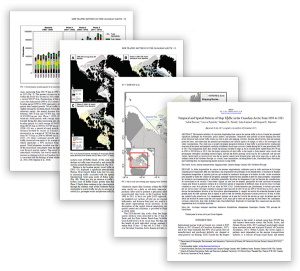 This paper is reproduced with the kind permission of co-author Jackie Dawson, Canada Research Chair in Environment, Society and Policy and Associate Professor at the University of Ottawa. The paper was originally published in Arctic, the journal of the Arctic Institute of North America - a multi-disciplinary, peer-reviewed publication covering the latest scientific research on the polar and subpolar regions. You can find out more about the journal here.

Authors: Jackie Dawson, Larissa Pizzolato, Stephen E.L. Howell, Luke Copland, Margaret E. Johnston.