On Tuesday, the much-anticipated Apple Watch was
finally revealed alongside the new iPhone 6. 
It's easy to dismiss this as just another new tech product launch in an
overly crowded market, with other companies like Samsung, LG, and Motorola who
have already made their mark in the space.  But, don't be so easy to judge - if you look
closely at the Apple Watch, you can see the tech giant executed some seriously
innovative ideas that are set to impact the future of technology design.
Here are some key design takeaways from the Apple Watch,
according to
Fast
Company
:
Security Over Ease Of
Use: Apple talked a great deal about payments in their launch presentation-
how NFC (or near field communication) chips in their new iPhones and Apple
Watch will enable you to make a credit card payment by holding your phone or
watch against a payment plate. But, it's not that simple - if it were this
simple, you could check out with a wave of your hand. Apple is still having you
confirm every payment with the iPhone's Touch ID thumbprint sensor. This extra
step will mean that paying for things won't be as simple as making a gesture
and credit card companies will have to continue keeping a close eye on card
security.
Customizable Products
Are Here to Stay: The Apple Watch can be customized a many different ways
including the band, the hardware, and the digital watchface. And, Apple isn't
the first electronics company to offer a mass customizable
product, but it has been a one-size-fits-all company. For over 10 years,  the company's has offered a product in a
small handful of colors. The Apple Watch admits that a few colors is no longer
enough because it's no longer just an electronic ' it's a fashion statement.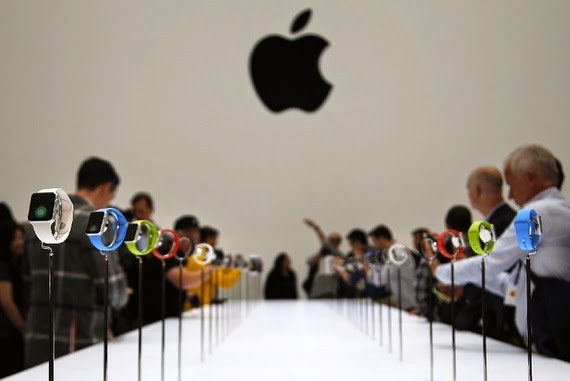 Gadgets Get Luxurious:
Apple has released its first product made of gold. Not just gold paint
(like the Kardashian phone) but 18-carat gold around the bezel.  As our gadgets become fashion
accessories--and in this case, jewelry even--they will naturally adopt the
glitzy materials used for centuries in those fields.
Digital Can Be Intimate:
 Apple's most surprising feature of their
new watch called 'Digital Touch' connects us on a very physical, intimate
level.  By accessing your contacts, you cannot
just message them, but draw them a quick scribble, send them a series of taps,
even share your heartbeat, which will pulse away on their wrist. 
About the Author:
Amanda Ciccatelli, Social Media Strategist of the Marketing Division at IIR USA, has a background in digital and
print journalism, covering a variety of topics in business strategy, marketing,
and technology. Amanda is the Editor at Large for several of IIR's blogs
including Next Big Design, Customers 1st, Digital Impact, STEAM Accelerator and ProjectWorld and World Congress for Business
Analysts, and a regular contributor to Front End of Innovation and The Market Research Event,.
She previously worked at Technology Marketing Corporation as a Web Editor where
she covered breaking news and feature stories in the technology industry. She
can be reached at aciccatelli@iirusa.com. Follow her at @AmandaCicc.