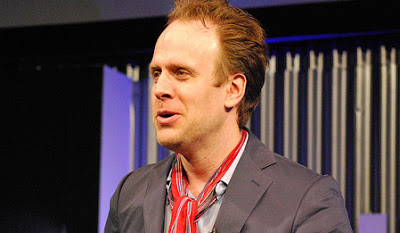 Magnus Lindkvist, Futurologist. 
Well, first tweet in the morning was a thought, "a FUSE start to
the day almost replaces the need for coffee, almost." Magnus must have
been listening because he opened with a Swedish rock concert of thought
provoking, inspirational and laugh out loud stories. 
Here's a perspective on some of his most memorable points -- to bring
back to your office and summarize for your team. 
// Make Some Enemies //
Organizations don't like to make enemies unless they are competitors.
Having people out there who don't like what you're doing, in life in general,
is not comfortable. It is built into the human condition to want approval from
our surrounding communities. Making enemies is not an easy lesson to employ. Here
is an idea; start with people who don't care what others think about them and
then create places where making enemies is okay. And, ask your team, how many
people will think this is odd? How many people will HATE this idea? Do this
before you ask how many will LIKE it.
// Failure Recycling //
Using music in a few of his stories, Magnus gave us an emotionally
engaging view of recycling what seemed to be bad ideas. "We tried that and
it failed" was turned on its head to be a positive phrase worth seeking.
The song "Torn" was his marvelous example to inspire recycling
failures. Why don't we hear more about failures? Can we have a failure
conference? Think about it, a safe place where presenters can feel free to
share failures for others to learn from and advance forward. Do you have
failure reviews in your world? Are they structured to go beyond learning and
add "what will you do next with this failure of an idea?" 
// Don't Compete, Create //
Magnus uses the idea of "Copy / Paste" in the world to
exemplify the opposite of innovation. He helps us all see how trying hard to
compete means we look at competitors too much and fail to look at the
opportunities to create. Creating means we have to find new spaces and new
opportunities where nothing exists. It exemplifies the idea of new to the world
ideas, or new to the world of failed ideas, perhaps. Is your innovation process
and team designed to compete with your peer companies and brands? Or, is your
process designed to create new?
// Be a Silly Dancer // 
With a video that started with one odd dancer and many people gawking,
Magnus gave us some inspiration for being different. When was the last time you
did something other people considered odd? Try it and see what people do, just
as experimentation and a way to free your way of thinking. Then allow someone
to take video. Dare your team. It was inspirational and even if you end up
feeling wrong, the exercise is still a success. Think about it. 
// Everything We Know //
Magnus title's his speech; "Everything we know is wrong!" and
he made an amusing case for why. He had the audience thinking about what we
know today and what the future looks like. Sometimes a speech by a futurist can
seem to center around the same ideas and trends. Magnus did something more
compelling; he made us think about how to design a different future, without
using the classic quotes or stereotypical methods. 
He ended it like a politician, with music and a message. How many people
wanted to vote 'Magnus for President'? How many people in the audience wanted
to move to Sweden?
Count me as one.
Aaron Keller
Managing Principal
Capsule