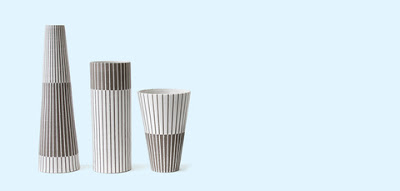 One Collective Voice = Voice of reason + Voice of emotion. 
Jonathan Adler, Style Craft Joy, he presented us with an amusing,
cheeky, yummy design, envious lifestyle, and a focus on craft. Jonathan starts
FUSE with a love for the design craft.
Had a lot of fun in his 20s and got fired from every job. Remembered his
odd dream and wanted to be a potter. He didn't have any prospects on a career,
so why not? He became his own kind of potter. Bright and bold stuff was where
he started along with optimism and clean design. But, made no money until
opened a store in 1998. 
His assistant said something brilliant when commenting on a stroke of
Jonathan's. "It just looks like it is supposed to be that way."
Then he asked, why can't I make other stuff, perhaps textiles?
Needlepoint and pottery are cousins in some way and both were in need of new
imagination. This seemed to be the start of something as he continued down the
path of designing everything, applying his complex yet simple view of the craft
of design with a big D. Exemplified in this quote by Jonathan, "Something is
lost when you don't use your paws."
When designing a restaurant he creates a narrative and a muse.
He invented a fictitious muse, "Mrs. Parker this and Mrs. Parker
that." Then, near the end of it all, "I am so over Mrs. Parker, what
is Mr. Parker like?" Well, the restaurant is named: Mr. Parker.
Jonathan, you have let us see into your world and mind. It wasn't as
scary as some might have thought. It was beautiful, crafty, amusing and
inspirational.
Now to the two most memorable quotes.
"Design is a great way to let your id run wild." -- Jonathan
Adler.
"'That's not on-brand' is the biggest creativity destroying phrase
in the history of mankind." -- Jonathan Adler. 
Anyone have a favorite from these two?
My favorite is the first, and here's an addition.
Just say NO to drugs kids, take Design instead.
Thank you,
Aaron Keller
Managing Principal
Capsule