Informa Connect Life Sciences recently (June 2019) conducted a survey of microbiome therapeutics professionals from around the world on how they saw the future landscape of the emerging field. The 89 respondents, representing pharma and biotech (38%), academia (20%), service and technology providers (18%) and CROs/CDMOs (9%), offered a number of insights on manufacturing and commercialization within the industry and here we take a deep dive into that data. Download the full Future Landscape of Microbiome Therapeutics report here.
As with any emerging field, manufacturing, scaling up and commercialization are key obstacles facing the microbiome therapeutics industry. When asked what the biggest challenge respondents are facing specifically around manufacturing and scaling up, three issues dominated. The importance of viability, potency and purity was the biggest challenged for 30% of respondents, followed by creating new standards (25%) and limited choice of CDMOs for certain types of bacteria (20%).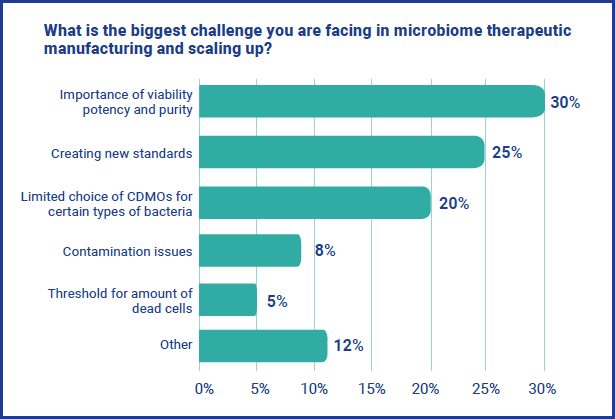 On the commercial side, respondents were asked about the most important early considerations to developing a successful commercial strategy, and a number of different ideas emerged – including the following:
"Checking there is a market; and that microbes can provide a solution/substantial improve health."
"Regulatory strategy"
"Not neglecting importance of understanding MoA. Not taking safety of commensal bacteria as granted."
"Standardization and high throughput."
"Technical expertise within the company and willingness to understand the science at the senior levels of marketing."
"Understanding the market for a specific disease and how it is currently being treated."
"Understanding the threshold pricing of your potential product."
Collaboration and Outsourcing
In any field, partnerships and collaboration is usually essential to the success of manufacturing and commercialization, and this is particularly true for newer therapeutics. We asked respondents about whether they are currently developing their manufacturing/commercialization capabilities internally or externally and interestingly, the response from Europeans and North Americans was very different. Whilst the majority (56%) of respondents based in Europe are developing capabilities entirely internally, just 19% of North Americans are. In contrast, 52% of North American respondents are using both internal and external capabilities, versus just 13% of Europeans.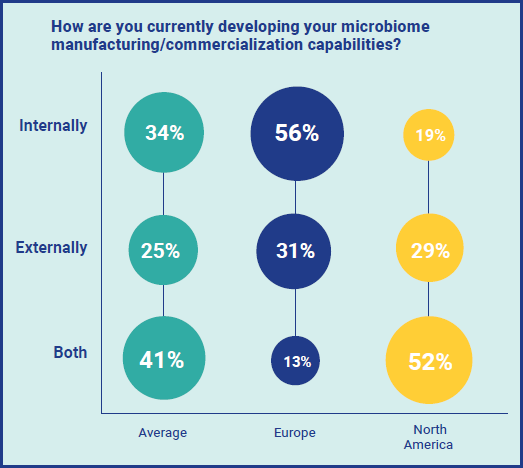 These results were reflected again when respondents were asked what percentage of their R&D analytics/CMC analytics/release testing they expect to outsource to a contract laboratory services provider in the next 5 years. Whilst results were similar in both Europe and North America for 'None', there was a wide gap between those who expect it to be over 50% - with just 8% of European respondents, against 32% of North Americans. These opposing strategies could reflect the stage that the industry is at in the different regions, or perhaps the types of company focusing on microbiome therapeutics on each side of the North Atlantic.

When asked more specifically about which partners respondents are currently working with on their manufacturing/commercialization capabilities, most are working with CDMOs (55%), with a third working with CROs (34%) and 28% with other partners.
Looking to the Future
Manufacturing and commercialization are central to the success of microbiome therapeutics, and professionals offered some interesting responses to questions about the future of the industry. The majority (60%) of respondents see North America as the most exciting geographical area for microbiome therapeutics at the moment, compared to just 28% backing Europe.
The question of the first type of microbiome therapeutic product to achieve marketing approval is central to the future of the industry and we asked respondents for their predictions. A probiotic was the most common response, followed by C. difficile treatment, FMT and an acne product.