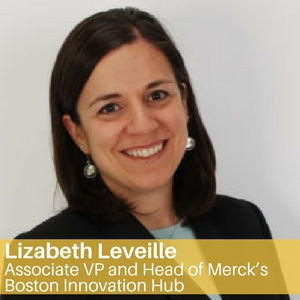 Three years ago, Merck started a conversation with Just Biotherapeutics. The company had just formed, had a staff of three, no labs and no intellectual property. "The founders had many years of industry experience and we knew they were the right people to execute their idea," explains Lizabeth Leveille, Associate VP and Head of Merck's Boston Innovation Hub. "We participated in their Series A financing and formed a collaboration to help them reach their goals faster."
Since then, Merck's global Business Development & Licensing team has closed more than 100 business transactions. While more than 50 percent of Merck's collaborations are preclinical, deals as early as the one with Just Biotherapeutics are rare. That collaboration underscores the flexibility Merck brings as it seeks out novel, game-changing approaches to solving serious, unmet, medical needs.
In that collaboration, like the rest of its partnerships, Merck prefers a hands-on approach. "A close working relationship is essential for most of our collaborations," Leveille says. Commitment and excitement on both sides is vital. "If you don't see that alignment of purpose and mutual excitement, it's a red flag," which should cause both partners to rethink the wisdom of working together.
In the Just Biotherapeutics collaboration, "We contributed ideas and resources, so our internal scientists work closely with theirs, making the partnership beneficial for both companies.  This sharing of ideas and resources still allows Just Biotherapeutics the ability to collaborate with others in industry," Leveille says.
Merck's objective, she says, is to invest its internal resources in ways that help achieve mutual goals. "How the partners work together really is based on listening," she says. "We're very open to how we work with external partners. When a company approaches us with a great opportunity to treat a particular condition we discuss the science, but I also want to get to know the company, its stage of development and what it needs from us."
Solve unmet needs…in any area
The key to getting Merck's attention is to have a highly differentiated product that makes a substantial difference in patients' lives. Having clinical data helps, but isn't strictly necessary. The specific therapeutic area is less important than having a novel solution that solves real problems. "That doesn't narrow it down much," Leveille admits. Internally, Merck is most active in:
Oncology/Immuno-oncology
Immunology
Cardiometabolic disease
Infectious diseases and vaccines
Neuroscience
"We want to focus on products with the potential to make major improvements in patients' lives," Leveille reiterates. That means collaborating with companies that are discovering new molecules or mechanisms of action that treat the underlying disease, substantially improve quality of life or significantly extend patients' lives far beyond the incremental improvements of one to three months. Ideally, these approaches also will have data behind them.
Diagnostics are a key aspect of Merck's immuno-oncology research. Many of the partnerships in this space are led out of the New Jersey-based BD&L team.  Merck is exploring diagnostic assays to help identify patients who will be most responsive to its immuno-oncology drug Keytruda®, which targets PD-1. There are more than 500 clinical trials underway for Keytruda, many of which are combining Keytruda with partner assets.
"Call us and talk, no matter what your program focus," Leveille urges. "We're opportunistic. For example, while we don't have a formal ophthalmology R&D franchise, we're seeking partners because of the great unmet needs in areas like diabetic macular edema, where patients who don't respond to the current standard of care have no treatment options."
"It's never too early to talk"
It's never too early to talk with business development teams at the Boston Innovation Hub or Merck's other sites in New Jersey, San Francisco, London, Shanghai and Japan, Leveille says. Early-stage discovery is the engine that enables companies to make critical discoveries to tackle serious diseases. "We may not collaborate today," but discussions can shape development programs that make them more attractive for future collaborations with Merck or other companies.
"The people you meet initially through the Innovation Hubs will remain with you through deal closure," Leveille says. These teams comprise experienced BD professionals; many hold PhD or MD degrees. "They know this space and Merck's interests.
"Here in the Boston/Cambridge environment, we have a great opportunity to help the biotech ecosystem," Leveille continues. Recently she represented Merck in a two-month course at the Broad Institute. It brought volunteers from big pharma and local venture funds to train graduate students to translate their lab work to patients. That included how to work with business development groups, seek financing, and generally how to form their own companies.
For young and emerging companies, "I advise talking with as many business development groups as possible. Get as much advice as you can on where to go and how to design the research to reach the next inflection point so it's attractive to investors or potential partners. Don't worry about talking with us too early, we are happy to provide advice or constructive feedback."
Join Lizabeth Leveille at BioPharm America™, September 26 -27 in Boston, MA for her panel What's the next big thing on pharma's wish list?