Just 37% of companies involved in clinical trials are currently utilizing mHealth technologies, a recent KNect365 survey has revealed.
Based on 261 responses representing pharma, CROs and service providers split across North America, Europe and Asia, the survey results offer an insight into perceptions and implementation of technological innovations in clinical trials today. The results reveal mHealth to be one of the brightest hopes within clinical trials, but also that a number of challenges first need to be overcome before full implementation.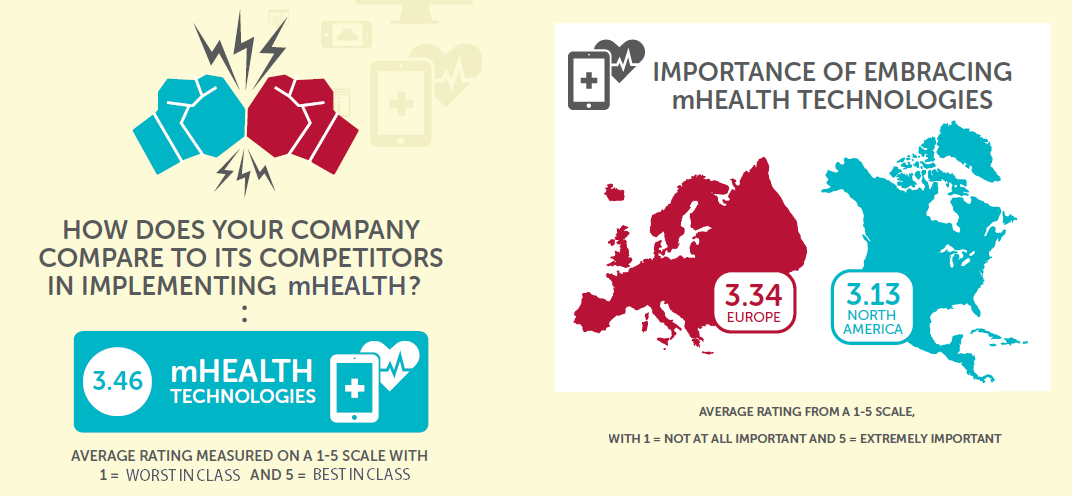 Of those surveyed, four separate technologies are predominantly used. More than two-thirds (68%) of those who currently use mHealth in clinical trials use mobile apps, followed by half using monitoring devices (a glucometer for example). Less common are activity trackers such as FitBits (35%), and drug delivery devices such as insulin pumps (29%). Interestingly, though current usage is relatively low, those companies that are utilizing mHealth consider that they are doing so well compared to competitors. Indeed, 50% believe they are above average or best in class in implementing mHealth technologies, whilst just 14% consider themselves below average.  
Embracing mHealth in the next two years
There is clearly a belief within the industry that mHealth technologies will play a key role in the future of clinical trials. A massive 94% of companies are looking to increase their utilization of mHealth in the future, higher than both Big Data (86%) and cloud technology for EMRs (84%). Additionally, companies rate the importance of embracing mHealth as somewhere between moderately and very important.

Interestingly 55% of North American companies are 'very likely' to increase their use of mHealth in the next two years, compared to just 33% in Europe. Rather than a difference in intent to adopt such technology, this may reflect the stage at which companies are at on the different sides of the Atlantic. North American companies currently utilize mHealth tech more than European ones (39% vs 33%) and this perhaps shows that the US is further along in the process of adoption, and therefore more ready to increase it in the near future. The report reveals that the primary benefit that companies see for adopting mHealth technologies is real-time data acquisition (36%), followed closely by increased patient compliance (30%) and improved data quality (25%).  
Concerns and challenges of mHealth adoption
With utilization of mHealth still relatively low, it is understandable that companies still have a number of concerns around the technology. Data security is the primary concern for almost a third of respondents (32%), whilst difficulty in incorporation (29%) and resistance from patients or physicians (23%) are both considerable worries.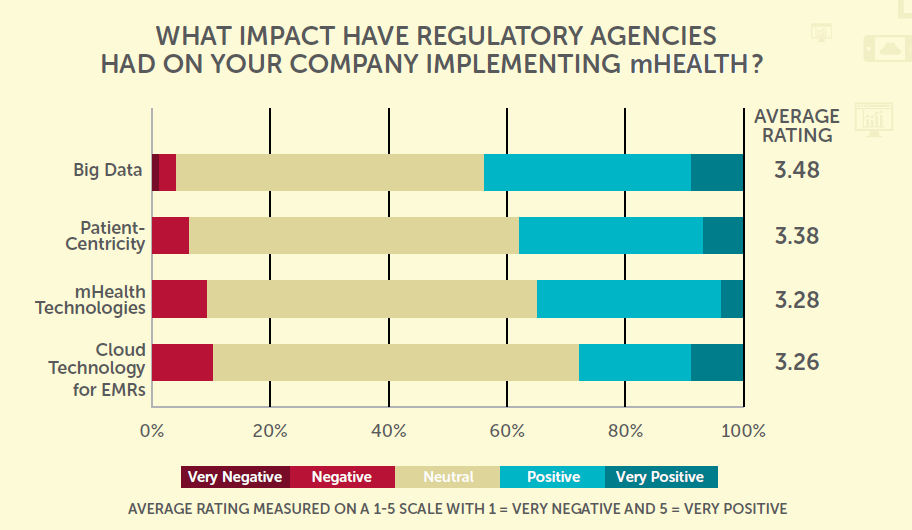 Regulatory concerns are frequently cited as a challenge to innovation within health sciences, but in terms of the technological adoption within clinical trials, the view of regulations is largely positive. 90% of companies see the impact of regulatory agencies on the implementation of mHealth technologies as either neutral or positive. At the other end of the spectrum, interestingly whilst just 9% of European companies see regulators in negative light, whilst a significantly higher 16% do in North America.  
Conclusions
Overall from the results of the survey, it is clear that there is a strong desire to invest in mHealth in clinical trials in both the short and long-term. However, low current utilization rates and wide ranging concerns show that a number of challenges still need to be met before the full benefits of such technologies will be seen.