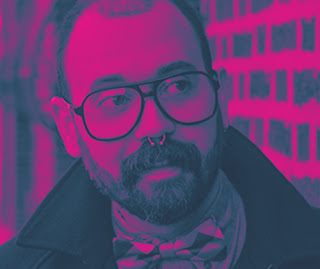 FUSE Muse
December 18 | Raymond Forbes-Schieche

lost in thought
with Raymond Forbes-Schieche

Brand & Design Strategy, & Former Design Director, Univision Communications Inc.

I'm inspired by the city of New York'.

To me, brilliant is unexpected and unafraid.

My favorite app is 'a really fun and smart game called Two Dots'.

When I'm having a creative block I 'listen to music, read a book, do anything but design or look at design-related things'.

My favorite brand is </strong'right now, AirBnB. 'They're doing amazing, wonderful things for both guests and hosts'some stuff that many of us are not even aware of!
My favorite color is </strong'Gray'.

My dream project is 'Packaging Design (single DVD or box set) for Criterion Collection'.

The best advice I ever received was "Trust in your decisions."

The very next thing on my to-do list is Call National Grid'.

My dream collaborator is 'the artist Rosemarie Trockel'.

 

I think the Kardashians are very 2012'. At least once, everyone should 'try something they said they'd never try before'.

The best way to unwind after a long day is 'with a glass of whiskey.

If I had a one year sabbatical, I would travel the world with my husband'.

The most overused word in meetings today is 'upwardly mobile'.

At FUSE 2015, I can't wait to learn new things and meet awesome, creative people'.

At the moment, I'm obsessed with Apple Music's curated playlists'.

I'd define my personal style as "Dirty Hipster Executive".'

My tools of the trade are </strong'my brand new iMac', iPhone, external drive, headphones, tote bag, and coffee.

The biggest thing that has changed since I started in the industry is </strong'the transition from print to digital'.

I'm happiest when 'I'm satisfied with the work I've done.

I lead by </strong'inspiring others and (hopefully) setting a good example'.

I wish I could ''start my own Design Studio...

I'm proud that </strong'I make bold decisions and quite often "go with my gut".'

My playlist is pretty erratic'.

You can usually find me 'at home, Trophy Bar, or at Bossa Nova Civic Club'.

The last stamp on my passport was</strong' Czech Republic.

The next stamp on my passport is </strong'Sweden'.

When I look back on my career I 'feel incredibly lucky, and sometimes wonder how I got here'.

I still hope to 'own my own bar'.

?? 2015 IIR Holdings, LTD. All Rights Reserved.