Although our lives revolve around screens of all sizes, many
of us still find satisfaction in writing something down on a piece of paper. A
popular type of paper we all know and love, Post-it Notes are often a key part
of individual and collaborative design-focused work sessions. In fact, a
designer's brainstorming process can often include thoughts, designs,
inspirations, colors on a lot of Post-it Notes, but organizing all of those notes
can cause quite a headache.
Luckily, the Post-it Brand from 3M has taken digitized the
analog collaboration experience with its latest iPhone app,
Post-it
Plus
, all about blurring the line between real Post-its and virtual ones. The
app captures physical brainstorm sessions, storyboards, project plans, and
other projects and makes them digital, so you can work more efficiently.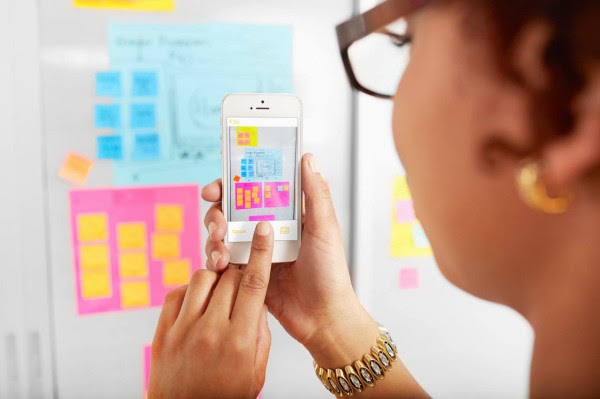 After covering Post-it Notes full of creative ideas, using Post-it
Plus designers can snap a photo and the app visually recognizes each note,
according to
Fast
Company
. As a second screen experience for a bulletin board covered in
notes, the app lets you use your iPhone or iPad to take a picture of up to 50
notes, and then creates digital replicas of the notes. Each one then is stored
separately in the app, making it easy to move them around and rearrange, giving
you the same control you'd have if you were standing in front of the wall
of Post-its.
Captured Post-it Notes snap onto project or topic-specific
virtual whiteboards, and different users can combine their boards, allowing for
team collaboration. Finished boards can be shared via text, email, and social
media, or exported to PDF, PowerPoint, and Excel.
While optical recognition is nothing new, the Post-it Plus
App has innovative organizational abilities to distinguish it as a useful tool
for design teams. Give it a try, and
download
the app
!
About the Author:
Amanda Ciccatelli, Social Media Strategist of the Marketing Division at IIR USA, has a background in digital and
print journalism, covering a variety of topics in business strategy, marketing,
and technology. Amanda is the Editor at Large for several of IIR's blogs
including Next Big Design, Customers 1st, Digital Impact, STEAM Accelerator and ProjectWorld and World Congress for Business
Analysts, and a regular contributor to Front End of Innovation and The Market Research Event,.
She previously worked at Technology Marketing Corporation as a Web Editor where
she covered breaking news and feature stories in the technology industry. She
can be reached at aciccatelli@iirusa.com. Follow her at @AmandaCicc.