KNect365 recently conducted one of the biggest surveys of its kind of clinical trial professionals asking about the most hyped areas of clinical trials today and whether they are actually impacting the way studies are run. 199 clinical trial professionals from pharma and biotechs (24%), CROs (23%), service providers (21%), consultancies (11%), sites (6%), academia (5%) and patient groups (2%) completed the survey, largely split between North America (55%) and Europe (33%).
A large section of the survey explored perceptions, implementation, benefits and challenges of patient-centricity. Here we dive into this data to pick out key trends of where the industry is at with patient-centric approaches.
Download the full Beyond the Hype in Clinical Trials industry report here.
The patient-centricity gap
Patient-centricity is clearly something the industry as a whole thinks is important – indeed, 78% of respondents rated it as 'very' or 'extremely important' that their company embraces the practice.
However, there is a disparity between the importance being placed on it and the actual implementation and execution of patient-centric practices. This is shown when respondents were asked to rate how well their own company implements patient-centric practices (from '1 – not at all well' to '10 – perfectly') and the average rating was just 6.73 out of 10 - well below the average importance rating of 8.32. We are calling this the patient-centricity gap.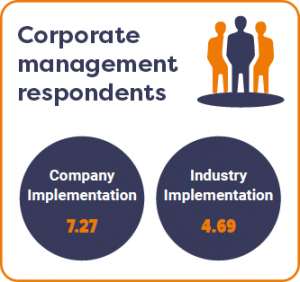 Even more startlingly, respondents rated the industry as a whole's use of patient-centricity at an average of just 4.97. Clearly respondents rate patient-centricity as hugely important in clinical trials, and even though they see their own company as ahead of the curve compared to others, still see it lagging behind where it should be.
This disparity is even more stark when look when looking at just corporate management respondents, who were the group that gave the highest average score when rating their own company's implementation – 7.27 – and the lowest rating for the wider industry's implementation – an average of just 4.69.
The benefits, measurement and challenges of patient-centricity
One potential explanation for this disparity between importance placed on patient-centricity and the implementation of it can be seen in the responses to questions around the benefits, measurement metrics and challenges of patient-centric approaches. The responses to questions on each of these three areas, produced very evenly split answers, potentially suggesting a lack of clarity around exactly what patient-centricity offers clinical trials and how that should be measured. Without this clarity, it will inevitably be more difficult to implement such an approach in an effective way.
Benefits of patient-centricity
Respondents were asked what they saw as the primary benefit to a patient-centric approach, with greater patient engagement coming out on top with 38% of responses. However, the split of answers was fairly even, with higher patient retention and increased patient compliance both taking 21% and more successful patient recruitment 16%.
Of those who thought something other was the primary benefit, answers included:
- "All of the above, but overall more patients participating in clinical trials. Referrals are stronger than cold calls!"
- "Greater patient safety."
- "Better medical benefit for the patient and better strategies for drug development."
- "All of the above plus patients learning from the research.
- "Being able to get to know what the patients really need and to work around this by setting up the trials."
- "Patient-centricity and patient engagement has the potential to create a more efficient, de-risked clinical trials enterprise."
- "Better clinical trial data."
Measurement metrics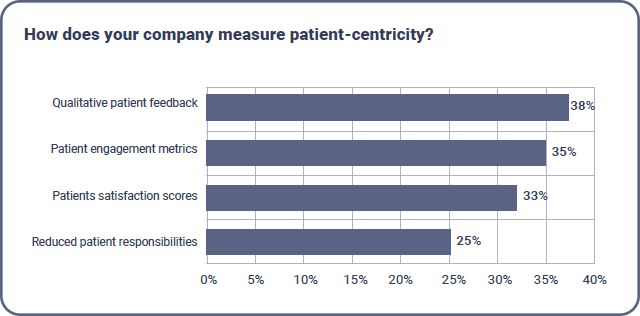 When it comes to measuring the effects of patient-centricity, responses were again varied, as the graph above shows. Worryingly, there were several responses stating that their company doesn't actually measure patient-centricity despite engaging in the practices. Other responses touched on number of the proportion of inquiries that resulted in enrolments, site feedback and retention rates.
Drawbacks of a patient-centric approach
When asked which areas are most adversely affected when implementing a patient-centric approach, the below chart shows the very even distribution of answers between time, cost and efficiency.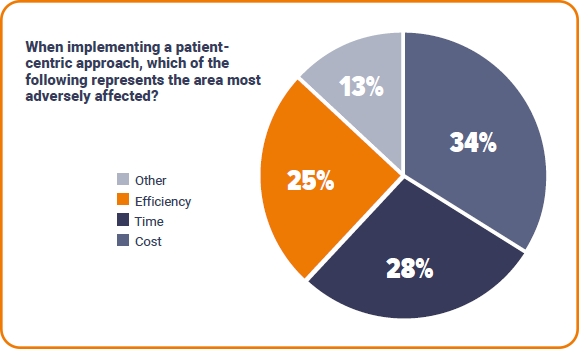 However, of all the questions in the survey that offered open answer boxes, it was this one that prompted the biggest response. 13% of respondents stated that something 'other' was the area most negatively affected by patient-centricity. Whilst a proportion of these responses were along the lines of 'if patient-centricity is successful enough in planning, these criteria should not be affected', the majority were expanding on other issues:
- "Patient-centric practices involve a change in organizational paradigms. The largest challenge is driving change. All the areas above potentially benefit if we as an industry can modify our behaviour."
- "Knowledge - training and support (change management) for teams implementing a patient-centric approach."
- "Internal perceptions."
- "Bureaucracy."
- "Design and technology."
- "Managing training and change with staff."
- "Companies DO NOT WANT TO SPEND MONEY to get things done in the most efficacious ways, they simply want to cut costs so they appear competitive in the industry. the industry is eating itself alive by cost cutting and using inexperienced personnel, most with absolutely NO PATIENT CONTACT EXPERIENCE to work on clinical trials based in hospitals or clinics where patients (the REAL PEOPLE) and clinical staff try to work together to achieve good healthcare outcomes. IT'S NOT ALL ABOUT THE SPONSOR, it's about what works FOR THE PATIENTS AND THE CLINICIANS."
It is clear that those in the clinical trials industry still see a number of drawbacks to implementing a patient-centric approach – which goes a long way to explaining why it is seen as so important yet is not being executed to the same level. Whilst this disparity is stark, it is also apparent that the industry knows this, with 84% of respondents saying that their company would be 'likely' or 'very likely' to increase its emphasis on patient-centricity in the next two years.