Dr Julie Vallortigara, Research Officer at Ataxia UK, discusses insights from the recent KNect365 Life Sciences report on the state of patient-centricity in clinical trials and the role patients play at the charity. 
Ataxia UK is a charity combining cutting-edge research with a patient-centric approach to care for those affected by the ataxias - a group of rare neurological disorders.
"Overall the figures from the report reflect my vision of how companies working in clinical trials should perceive and put into practice patient-centricity in their future studies.
From my experience at conferences, and meeting companies and partners, the concept of patient-centricity becoming simply an industry buzzword very much resonates. In many cases it's spoken of in presentations, but not done in practice. I think the discrepancy between 79% of companies rating patient-centricity as a meaningful initiative (see image below) and the lack of measurements done to put patients at the centre (36%), is proof of what I see and hear at meetings. It probably means that the intention is there, but no action is yet being taken to achieve the patient-centricity that everyone claims to already be doing.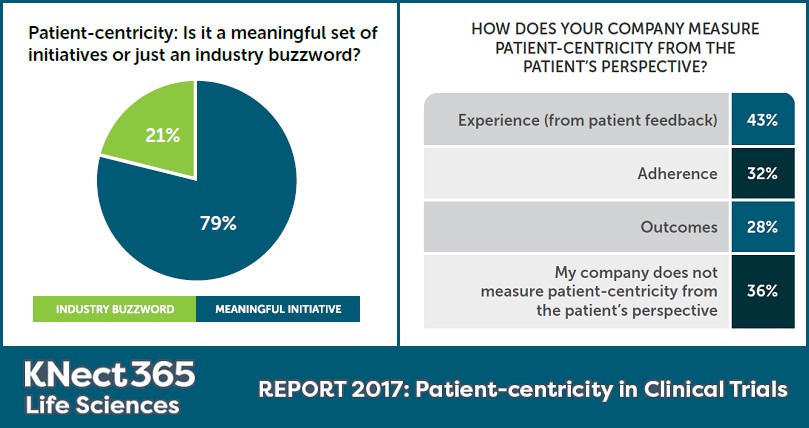 Download the full Patient-centricity in Clinical Trials report
Another strong figure for me is that 48% of companies are getting input from patient advocacy groups. This is what patient groups like Ataxia UK are trying to achieve by talking to partners, sharing knowledge, expertise and resources, including patient perspectives, and helping with patient recruitment for clinical trials, in order to make sure that the patient's interest is top priority when a new trial is open. It is therefore rather reassuring and encouraging that respondents think patient groups can play such an important role.
The responses to how patient-centric initiatives should be driven are also very interesting. The fact that initiatives coming from both patient and clinician are seen as being the most appropriate is a good indication to take into account when moving things forward.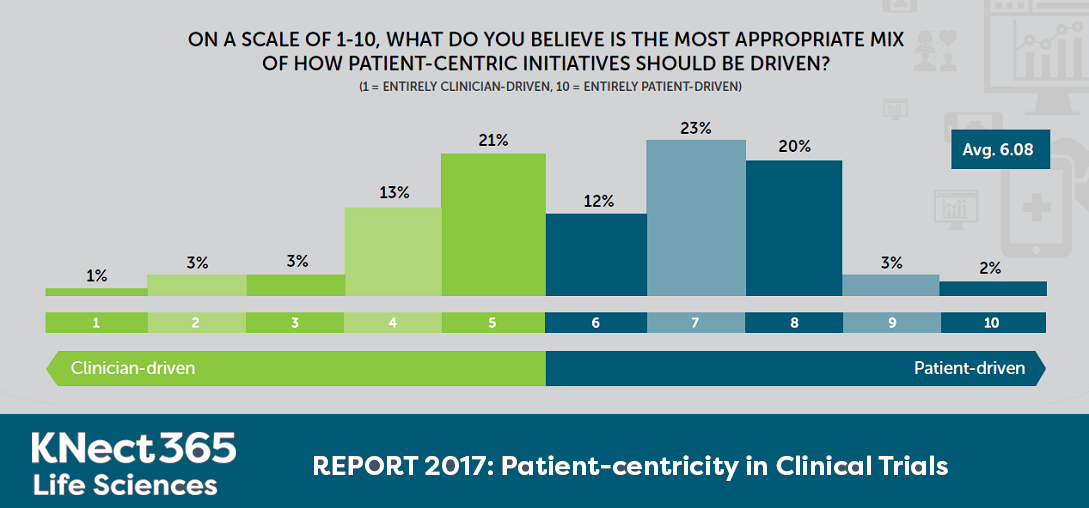 At Ataxia UK, we are working with both patients and clinicians, and we strongly believe in this approach. We have specialist clinics that act as Centres of Excellence where patients with ataxia receive appropriate treatment and care, and where everything is also in place to run trials, including an experienced clinical team and a cohort of patients to recruit from.
Choosing such sites for a clinical study where patients and clinicians know each other and can work together, will certainly help with patient engagement, retention, adapted outcome measures and overall a positive experience for patients taking part in the trial.
One figure that surprises me is the prediction about the importance patients themselves will place on patient-centricity in two years' time. It seems there is a big difference in perception between North American (62%) and European (41%) respondents; I'm not sure how to interpret this or the cause of such a gap. Since we have more companies now running multi-centre trials between the US and Europe, it will be interesting to investigate this further and make sure the patient perspective in future trial design and outcome measures is taken into account for all study sites.
In general, the figures about how much importance will be given to patient-centricity by key players are lower than I expected, and I would hope they are underestimated. Once again, working with patients makes me think that their interest and motivation in having more patient-centric trials will continue to grow, enabling their voice to be heard."