by Bruce Hellman, CEO and Co-founder, uMotif
The adoption of digital patient-reported real-world evidence has been slowed by a number of factors. From patient and healthcare professional (HCP) acceptance, engagement, readiness and compliance, to overall technology availability. But the world has changed since these technologies were first introduced. Many of these factors are now just perceptions to be challenged. Bruce Hellman takes five common myths, and busts them one by one.
Myth 1 – Older patients don't use technology
The perception is that only younger generations are likely to own and be comfortable using smartphone technology and that older people prefer to use technology from previous generations. This has led to a widely-held suspicion that mandating use of smartphone technology for patient-reported evidence may negatively impact study populations.
Reality Check:
Record numbers of 'older people' are embracing smart devices1 and have just as much to gain from this technology, and possibly more, compared to younger people. Smartphones offer great potential in improving the quality of life for seniors in the areas of healthcare, independent living, reduced isolation, closer ties to family and friends, and more.2
The Evidence:
Whilst 'older people' may take longer to adopt technology in their daily lives, research shows that once online they engage at a high level with digital devices and content. In fact, 76% of smartphone-owning older adults use the internet several times a day or more.3
6.4 million 55-65 year olds are regular Facebook users, with 500,000 new over 55s expected to join Facebook in 2018. The largest demographic except for 16-34 year olds.4
In a recent study '100 for Parkinson's', thousands of participants used a Parkinson's Tracker App (disclosure, the project was powered by uMotif), to track their condition. Usage data shows that use of the technology was age agnostic:

The mean age of the user group was not a barrier of interaction with the app, allaying fears that technology-based interventions are not appropriate for an older age group.
Analysis by project partner IQVIA (then IMS Health) showed that the >70 age group tracked as often as other age groups.
Data from the recent Cloudy with a Chance of Pain study, collected using the uMotif app, highlights that higher engagement was associated with increased age.5
Myth 2 – HCPs are too busy to use additional technologies
The pace of a healthcare professional's working life is often quoted as a hurdle to adding further technological solutions to the healthcare and clinical trial mix. Many early internet-based technologies were introduced to clinical research at a time when many HCPs might not have been 'au fait' with using the internet for personal purposes, let alone in a professional capacity. The life of an HCP now demands the use of mobile technologies and internet-based solutions on a daily basis.
Reality Check:
The doctors and healthcare professionals of today grew up in a digital world. Doctors are already using their smartphones on a daily basis to search for statistics, determine drug dosages and communicate with their clinical teams. Physicians believe in the usefulness of e-health6 and recognise the advantage of a smartphone – it's a combination of formulary, textbook and torch in a handy pocket-size container. Our experience has been that as long as the technology adds value to the HCP and helps them with their 'job to be done', supporting their patients, then it will be adopted.
The Evidence:
Approximately 80% of physicians already use mobile devices and medical apps7
97% of doctors are now using WhatsApp to communicate at work8.
Using health tracking technology can improve outcomes and quality of life for patients with cancer9
Myth 3 – People are uncomfortable sharing their health data
It's sometimes said that people don't want their health data to be shared or used, a myth perpetuated due to concerns around security and data finding its way into the 'wrong hands'. Recent events in the news surrounding the impact of social media and hacking scandals have exacerbated the public perception here. Let's be clear: Personal data must be secure and must only be shared with express approval.
Reality Check:
Today's world sees individuals happily sharing their opinions, photos and locations every day on platforms such as social media, typically in exchange for similar information on their friends and families. Individuals decide their comfort level in sharing personal information, including health data, when certain aspects are confirmed: Purpose, Benefit and Security. The key to gaining greater adoption and acceptance is to provide value to the participant and highlight the value contributed through their data. Whether it be tracking of symptoms, feedback on an individual's progress or the contribution to greater understanding and management of a condition to help patients with similar conditions, engaged participants are more likely to submit data on a regular basis and remain compliant to study requirements.
The Evidence:
92% of American social media users with a medical condition agree with sharing their health data to help research. With 94% open to sharing their health data to help patients like themselves.10
9 out of 10 people in the UK would like to take part in clinical research11
Our experience of running virtual and observational studies with over 18,000 participants across the world is that people do want to share their data, when they know how it will be used to make a difference and drive new insights. Just one of those 18,000 asked for more information about data usage – we published our response so all participants were aware. Participants feedback included:

"I'm all for this app. Not only helpful to you, but helpful for me" Trial participant using the uMotif platform12
"I love it. It's easy to use and I look forward to completing it every day. It's an attractive design and always works. I hope the research from it helps all people with Parkinson's." 100 For Parkinson's study participant13
Myth 4 – The regulatory world is not ready for Bring Your Own Device (BYOD)
This long-held myth is perpetuated by concerns ranging from consistency to data acceptance. When it comes to Patient Reported Outcome measures (PROs), it is vital that questions are well understood by trial participants and that they measure outcomes effectively and consistently14. The traditional challenge for BYOD has been that for an ePRO instrument to be a consistent and valid measure for research, the format needs to consistently match the original paper version and this has not always been possible across varying device types. Sponsors ultimately need to be confident that regulators will accept data collected using mobile technologies owned by the study participant.
Reality Check:
When migrating a PRO to an electronic format, especially one that would be used across multiple devices in a BYOD setting, it is important to ensure that the way a patient understands and completes the measure is not affected. Formal assessments of the use of BYOD to collect PRO data show equivalence versus paper and standard provisioned device models. 15
On top of this, over half the world's population are now online – with the number set to rise.
Potential clinical trial participants are likely to have access to a mobile device that supports a validated ePRO technology and can be leveraged for data submission. In fact, the participant most likely has already pre-selected the device type and size that works best for them. Supplying an additional device has the potential to confuse and disengage the target patient population.
The Evidence:
Latest draft guidance for industry from the FDA includes: "Sponsors and other regulated entities may use mobile technology during the course of a clinical investigation to capture, record, or transmit data directly from study participants". The recommendations (in this guide) "apply to mobile technology used in a clinical investigation whether that technology is provided by the sponsor or owned by the study participant" (ie bring your own device).16
A series of best practice papers and training is available from the ePRO consortium on good practice to ensure equivalence between electronic and paper PRO measures17 – e.g. for response scales.
A study examining clinical trial costs and barriers for drug development, conducted by Eastern Research Group under contract to the US Department of Health and Human Services, found wider use of mobile technologies as one of the most effective means of reducing trial costs across therapeutic areas and clinical trial phases.18
A survey of respondents based in North America, Europe, and Asia revealed that more than 35% of companies are employing mHealth technologies in their clinical trials and 94% plan to increase the utilization in the near future.19
Myth 5 – It's so difficult to get people to stick with a clinical trial
So this myth has elements of truth to it. Challenges around patient recruitment and retention are associated with many of the costs and delays faced by clinical research sponsors. Typically, sponsors are approaching this issue by targeting over-enrolment, at significant cost, in order to ensure sufficient data for submission to regulators.
Reality Check:
A report carried out by One Research suggests a consensus amongst interviewees of a drop out rate of 15% was widely accepted across therapeutic areas, but that trials would be over-enrolled to an even greater extent, in order to mitigate the risk of rendering data invalid20. This said, a more concerted effort to achieve higher retention and reduce unnecessary costs is achievable and demonstrated through data from some of our recent studies. Making research more patient-friendly through continuous patient engagement married with modern, easy to use technological solutions can deliver the results the industry is looking for.
The Evidence:
Engaged patients lead to more data capture – 66% say they entered more data as they enjoyed using the uMotif app on the Cloudy with a Chance of Pain study21
More complete data can be captured – 89% of patients achieved full data completion, capturing more than 25,000 data points using the uMotif app for a recent study investigating sleep and Rheumatoid Arthritis22
Using the right technology solution can actually speed up clinical research – we saw the minimum study data volume being achieved 33% faster than anticipated due to high patient engagement (12 vs 18 months)23.
The world is ever-changing and technological and regulatory advances mean that clinical research is going through its moment of rapid digitisation, fuelled by the ubiquitous smartphone. We are seeing that patients who are engaged with their condition and engaged with their research project capture more data. The research of the future will offer patients direct benefits in exchange for their contribution, with the potential to support them in managing their conditions.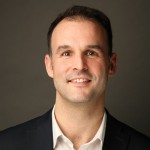 About the Author:
Bruce Hellman is CEO and Co-founder of uMotif
References
[1] Rise of the Social Seniors revealed - https://www.ofcom.org.uk/about-ofcom/latest/features-and-news/rise-social-seniors
[2] Motivations and obstacles to smartphone use by the elderly: developing a research framework - https://www.researchgate.net/publication/262425507_Motivations_and_obstacles_to_smartphone_use_by_the_elderly_developing_a_research_framework
[3] Tech Adoption Climbs Among Older Adults - http://www.pewinternet.org/2017/05/17/barriers-to-adoption-and-attitudes-towards-technology/
[4] Is Facebook for old people? Over-55s flock in as the young leave -https://www.theguardian.com/technology/2018/feb/12/is-facebook-for-old-people-over-55s-flock-in-as-the-young-leave
[5] Higher engagement was associated with increased age, with a difference of more than 5 years between the median age of those who were in the low-engagement (47, IQR: 39-57), or tourist clusters (49, IQR: 40-58), and those who were in the high-engagement cluster (median 56 years, IQR: 47-63) - https://mhealth.jmir.org/2017/11/e168#ref29
[6] Implementing technology in healthcare: insights from physicians - https://bmcmedinformdecismak.biomedcentral.com/articles/10.1186/s12911-017-0489-2
[7] The Impact of Technology on Healthcare - https://www.aimseducation.edu/blog/the-impact-of-technology-on-healthcare/
[8] Outdated technology is putting patients at risk - but there's an app for that - https://health.spectator.co.uk/outdated-technology-is-putting-patients-at-risk-but-theres-an-app-for-that/
[9] https://jamanetwork.com/journals/jama/fullarticle/2630810
[10] Social Networking Sites and the Continuously Learning Health System: A Survey - https://nam.edu/wp-content/uploads/2015/06/VSRT-PatientDataSharing.pdf
[11] https://www.nihr.ac.uk/news/nine-out-of-ten-people-would-take-part-in-clinical-research/2377
[12] Trial participant feedback from uMotif user
[13] Trial participant feedback from uMotif user
[14] FDA - [1] Food and Drug Administration. Guidance for Industry: Patient-Reported Outcome Measures – Use in Medical Product Development to Support Labeling Claims, 2009. Available from: http://www.fda.gov/downloads/Drugs/.../Guidances/UCM193282.pdf
[15] ICON - https://www.valueinhealthjournal.com/article/S1098-3015(17)33615-X/pdf
[16] Use of Electronic Records and Electronic Signatures in Clinical Investigations Under 21 CFR Part 11 -Guidance for Industry June 2017 - https://www.fda.gov/downloads/drugs/guidancecomplianceregulatoryinformation/guidances/ucm563785.pdf
[17] Critical Path Institute -https://c-path.org/wp-content/uploads/2018/09/BestPractices2_Response_Scales.pdf
[18] Examination of Clinical Trial Costs and Barriers for Drug Development - https://www.aspe.hhs.gov/report/examination-clinical-trial-costs-and-barriers-drug-development
[19] Technological Innovations in Clinical Trials Report - https://www.knect365.com/clinical-trials-innovation/article/e3d64458-2494-490a-b831-8f12abc467ad/mhealth-clinical-trials-adoption
[20] Improving Standards of Patient Recruitment & Retention - https://www.oneresearch.co.uk/2014/10/12/improving-standards-of-patient-recruitment-and-retention-in-clinical-trials/
[21] Bespoke quality of experience questionnaire from Cloudy with a Chance of Pain participants, 2016
[22] uMotif internal data – final study results yet to be published. Protocol reference: Quality of life, sleep and rheumatoid arthritis (QUASAR): a protocol for a prospective UK mHealth study to investigate the relationship between sleep and quality of life in adults with rheumatoid arthritis - https://bmjopen.bmj.com/content/8/1/e018752
[23] uMotif internal data – final study results yet to be published. Protocol reference: Quality of life, sleep and rheumatoid arthritis (QUASAR): a protocol for a prospective UK mHealth study to investigate the relationship between sleep and quality of life in adults with rheumatoid arthritis - https://bmjopen.bmj.com/content/8/1/e018752