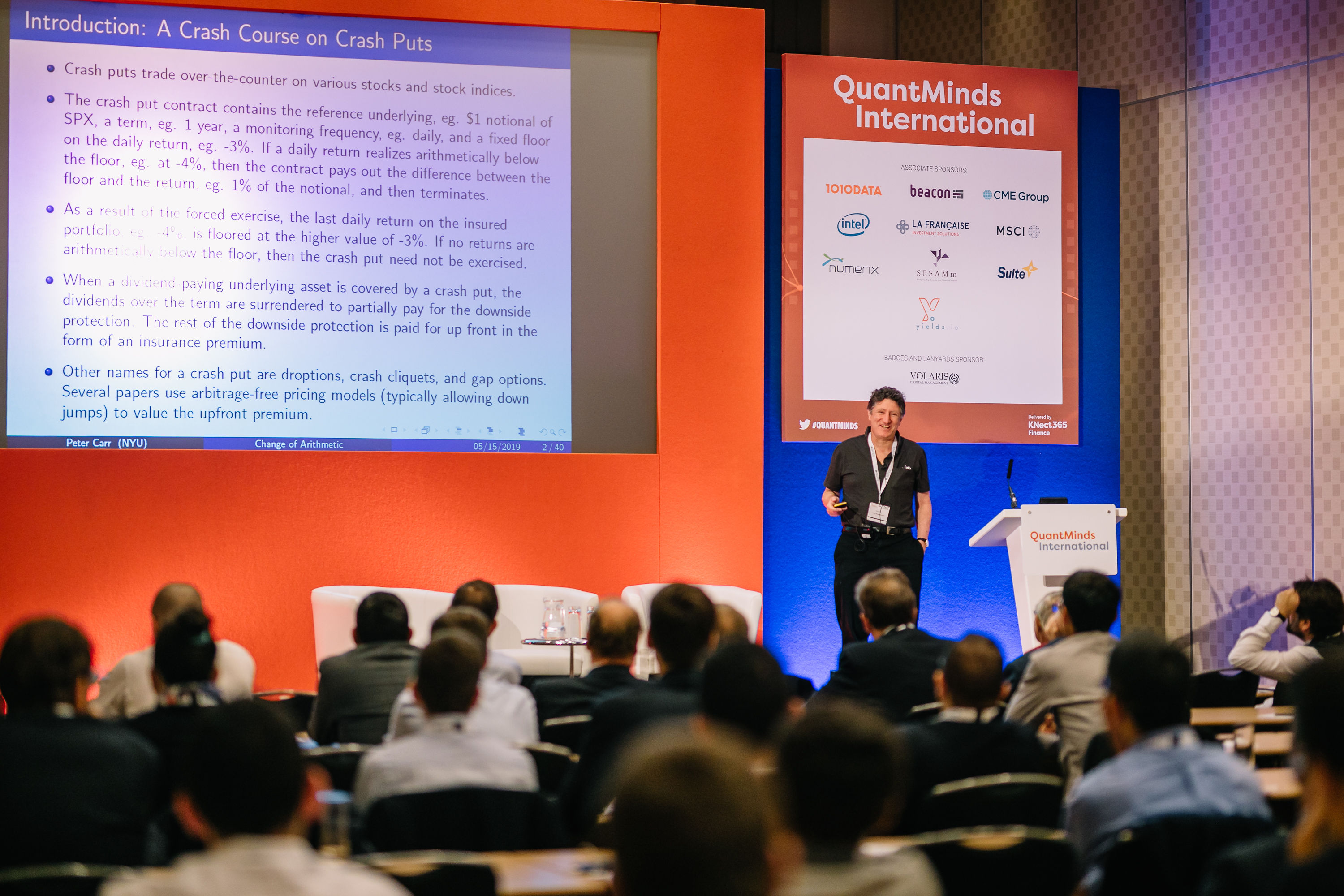 I have just learnt about the passing of the wonderful Peter Carr, Chair of the Finance and Risk Engineering Department at NYU Tandon School of Engineering.  He was a regular and very popular contributor to our QuantMinds gatherings. He spoke almost every year and his sessions were always a highlight – he often presented to packed rooms and was found in-between sessions, deep in conversation with fellow quants- sharing ideas, listening to their challenges and offering advice.
Peter was a very kind, thoughtful and supportive man as well as having one of the brightest and biggest brains in the quant finance community.  I will always remember the many research calls and meetings I had with him where he took the time to patiently explain the latest developments in quant finance to me (an English graduate with no formal mathematical training!).  He was always there to offer advice and support- I remember how he was so keen for us to host QuantMinds in NY that he was even looking into hosting it at his university!
I have spent the day talking with my former and current QuantMinds teammates, swapping memories and expressing sadness at Peter's passing.  Julian Kirby who produced QuantMinds (then called Global Derivatives Trading and Risk Management) 20 years ago, Vincent Beard who worked with Peter in 2019 & 2020 and Sophie Milton who was the QuantMinds producer in 2021.  We all remember you fondly.  You will be missed by us all Peter.
I wanted to take the chance to share these two photos from 2019 QuantMinds- one of Peter presenting on the main stage to a packed room and another of Peter clearly enjoying giving his presentation to the fascinated quants in the room.  This was the last time we saw you in person before the pandemic turned things digital.
I would welcome suggestions from fellow quants on how we can honour Peter's memory at QuantMinds in November this year.  Please do get in touch to share memories or offer suggestions on Victoria.chatterton@informa.com