As part of Partnerships in Clinical Trials Digital Week 2018 Dr Hilde Vanaken, Clinical Innovation Director at Janssen, presented a session exploring the challenge of patient adherence and how various smart adherence tools offer opportunities in clinical trials. As with any new technology there are implementation considerations and barriers that also need to be overcome. Here we pick out some of the key highlights. Watch the full webinar presentation, as well as five other on-demand webinars, here.
Why is adherence important?
Currently 20-50% of patients are non-adherent to medicine, depending on the patient and disease. This impacts not only the patient - suboptimal therapeutic effects, more side effects, disease progressions or ultimately death – but also the site. Indeed, it can lead to incorrect assessments, increased medication doses, additional medication prescriptions and incorrect conclusions in clinical trials. Therefore, improving adherence is clearly a big problem, and one that can be helped with smart tools.
Smart adherence tools
Dr Vanaken first points out that just as there are a wide range of types of medicine, so there are many different types of tool. In the presentation she's goes into brief detail about the many options in the image below.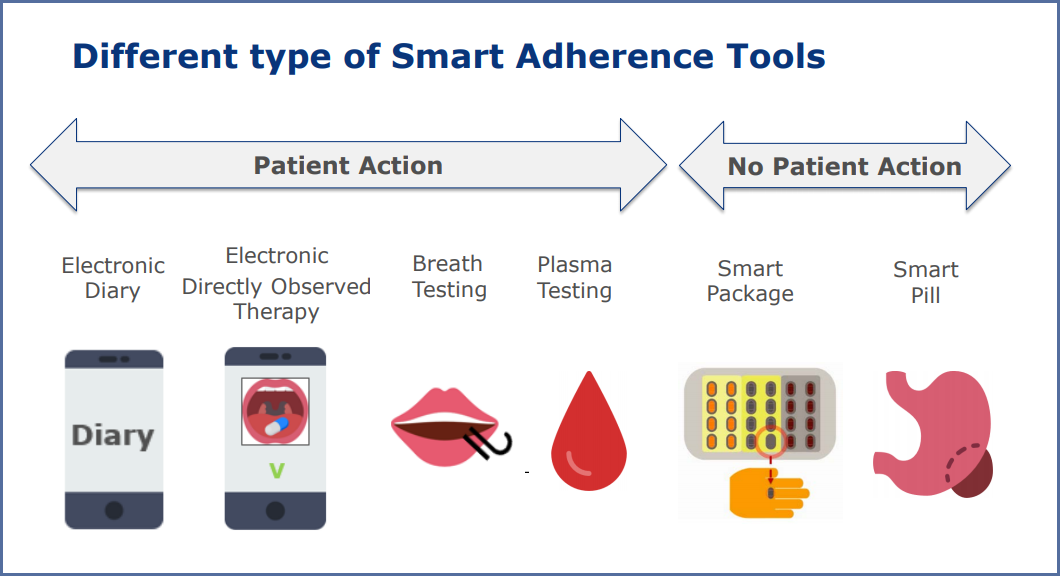 Dr Vanaken takes smart packages that record the removal of a pill from the blister pack as an example. These add a computer chip and electronic circuit to a traditional paper package, recording the date, time and position of each pill removal, as well as the temperature, humidity and so on that the pills are being stored. Though it only measures if the pill has been removed rather than if it has actually been taken, Dr Vanaken explains that 96% of patients who remove a pill from the packaging will go on to take it.
Such smart packages offer numerous benefits:
- Improved adherence & retention
- Improved data quality & accuracy
- Direct insight in what is happening at home
- Improved patient safety
- Insight in more data
- Improved traceability & anti-counterfeiting
- Potential to set up adherence models
- Decreased clinical site workload
- Decreased patient workload
- Decreased on-site monitoring activities
- Increased flexibility in study design
However, as with any new technology, there are development challenges and considerations that need to be taken into account.
- Battery – the shelf life of battery needs to be considered, especially as it is usually turned on when the package is first manufactured. The medicine is often stored in a wide range of temperatures, whilst most batteries cannot function in temperatures lower than -20C.
- Flexibility – the electronic circuit needs to be very flexible because of the way pills are popped out of blister packets.
- Data connectivity – how are you going to connect your packaging and transmit the data? Different options impact battery shelf life differently. Transmission of data in certain regions can also be tricky if there is not strong enough connectivity.
- Privacy and security – any time data is recorded and transmitted privacy must be considered.
- Patent and Freedom to Operate – whenever developing a new smart technology it is important to check IP around all its features.
Additionally implementation challenges such as regulatory requirements, environmental impact, import and export requirements, read out mechanism, cultural and personal differences, and development timelines and cost must be taken into account.
In the presentation, Dr Vanaken goes on to discuss Janssen's smart package activities and adherence technologies. Watch the full webinar presentation, as well as five other on-demand webinars, here.