Dr Stephen Nabarro, Head of Clinical Operations and Data Management at Cancer Research UK Centre for Drug Development, discusses insights from the recent KNect365 Life Sciences report on the state of patient-centricity in clinical trials and the role patients play at the charity. 
At Cancer Research UK involving patients and carers in our work is now embedded within day to day working.  The biggest challenge we have faced so far has been around the culture shift and education of staff within the Charity.  Creating a central team with PPI expertise to coach and advise staff, as well as using both a top-down (strategy/director buy-in) and bottom-up approach (patient involvement advocates and staff training) we have been able to increase the number of patient involvement activities we run from 33 in 2014/15 to 107 2016/17. However, we recognise we still have a way to go and as such have recently launched an ambitious patient involvement strategy.
We agree with the observation that the industry lacks a common approach, and even a common definition of patient-centricity. We really need an equivalent of TransCelerate who have standardised many aspects of delivering clinical trials, such as how to conduct risk based monitoring. PFMD appear well placed to drive consistent implementation of patient involvement in clinical trials so Cancer Research UK is supportive of this initiative.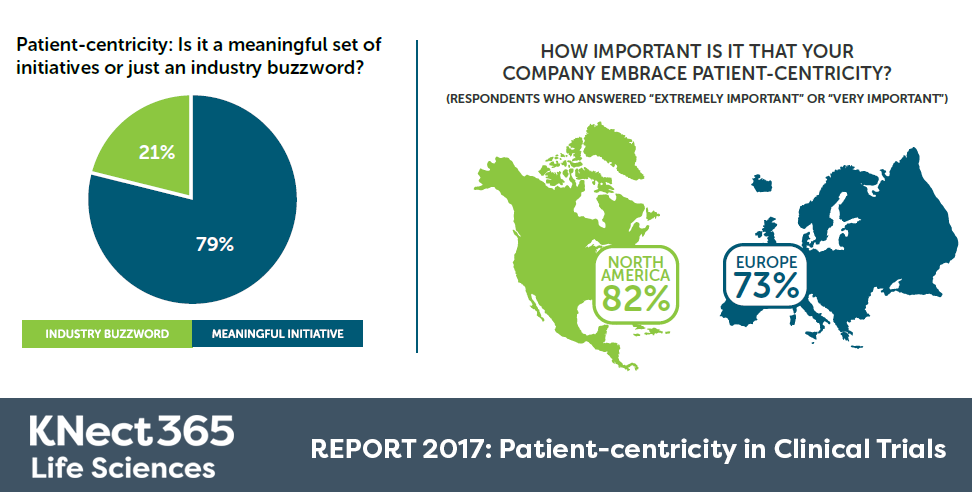 To win over the doubting 21% who view patient-centricity as a meaningless buzzword, our challenge is to find ways to quantify the impact of patient involvement initiatives – both for patients and for the business.
It is refreshing to see in the report that 77% of respondents view it as extremely or very important that their company embraces patient-centricity, but we feel that one battle the industry faces is the question 'what does a truly patient-centric trial look like?'. Is it a trial where interventions and medications are delivered at the patient's convenience after work? Where the visit schedule has been truly optimised to ensure minimal time and invasiveness to patients?  Where nurses and doctors visit patients at home rather see them in hospital?
If this is the case how can we implement this for early phase trials of novel IMPs that we deliver at CRUK's Centre for Drug Development? How can health services across Europe and America adapt to deliver trials in this way? Will the cost implications of delivering trials like this deliver adequate ROI to the Sponsor?
In contrast to the 29% of respondents who do not consult with patients, we are fortunate at Cancer Research UK because we have a patient sounding board who input into all our patient involvement initiatives.
Continued technological advances in clinical trials will inevitably make trials more patient-centric, but will also require more consultation with patients up front to ensure the technology is patient-friendly.  However, for certain populations, does using technology actually make a trial less patient-centric? Does it exclude patients from participating?  How can Sponsors get this balance right?