In May 2019 we surveyed clinical trials professionals on how they see the hottest issues in the industry today, from partnerships and outsourcing, to operations and technology. 214 industry insiders responded, largely from pharma and biotech (28%), CROs (29%) and consultancies or service/technology provider (26%), from Europe (66%), North America (17%) and Asia (13%). The rich data from the survey reveals unique insights into the state of the industry today – the toughest challenges and biggest areas for potential. Here we explore how respondents are integrating technology into their clinical trials and the challenges they are facing. 
Engaging patients through technology
Technology is clearly changing the way clinical trials are run, though there are still significant and wide ranging challenges that need to be overcome before tech inevitably transforms studies over the coming years. Engaging patients to improve recruitment and retention rates is an area many are looking to embrace technology for. Indeed, commenting on the results of the survey, Citeline noted that "patient-centric approaches are expected to reap many benefits and technologies are key to realizing these benefits".

This is backed up by the data, with 63% of respondents saying that technology is 'very' or 'extremely' important to their company's patient engagement strategy. Interestingly this number varied quite significantly between location, with respondents from Asia putting the biggest emphasis on technology's importance in patient engagement (85% responding 'very' or 'extremely' important).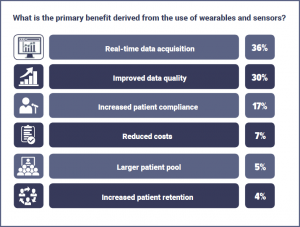 The use of wearables is a more developed technology than many others in clinical trials, and is already having an impact in a wide variety of areas. This is reflected by the data, with respondents split when asked about the primary benefit derived from the use of wearables and sensors. Real time data acquisition was the most common response with 36%, closely followed by improved data quality (30%) and increased patient compliance (17%).
However, interestingly, the same points seen by many as benefits are also seen as concerns around the use of wearables. Data privacy and security (35%), data quality (22%), patient or physician resistance (18%) and difficulty in incorporation (16%) all rated highly as the primary concern.
"Wearables and sensors improve real-time data acquisition and, for some respondents, data quality. However, data quality remains a concern for some, which is second only to data privacy/security concerns." - Citeline
When respondents are saying that data acquisition is the primary benefit and at the same time data privacy is the primary concern, there is clearly work still to be done around the use of wearables in clinical trials.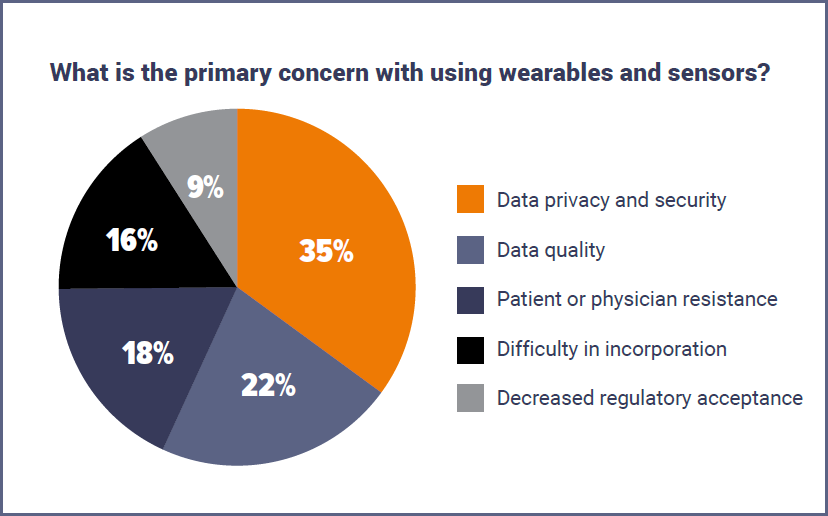 The challenges with Artificial Intelligence in clinical trials
Artificial Intelligence is seen as a technology that could revolutionize virtually every industry, and clinical trials are no different. As machine learning improves, it has the potential to transform the analysis of the vast amounts of big data being produced in studies.
As we previously explored (Is AI really understood in the clinical trials industry?), the industry is still at the early stages of implementation, with just 18% of respondents saying their company currently uses AI 'often' or 'fully' in clinical trials, compared to 55% that are rarely or not using it at all.  Indeed, respondents saw a wide range of limitations to the current use of AI, with data standards and safety the most common response, followed by regulatory acceptance and cost. Other selected responses included: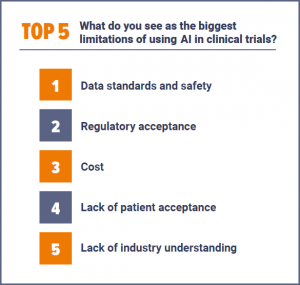 • Access to existing knowledge bases to inform developing AI technologies.
• AI could emphasize correlation but must be verified by a proper clinical trial with randomization.
• AI is not able to adjust unpredictable bottlenecks that experienced managers can predict as well as manage.
• Challenge to correlate genetic variability and predictive analytics.
• Ensuring that it is not creating assumptions that could negatively impact the research being attempted.
• I do not think most people understand the meaning of it, the term is being used indiscriminately. It is a buzzword, and this is not helpful.
• Loss of personal interactions/care.
• To understand why associations are detected (know "the reasoning" of the machines).
Despite the current limitations and low usage of AI in clinical trials, 54% of respondents say that their company is 'likely' or 'certain' to increase its use of AI in the next two years. Respondents see the primary benefits of this increased implementation as patient recruitment and predictive analysis, followed by electronic health records and novel biomarkers. As Citeline explains:
"Currently, AI is seldom used in trials, but increase usage is anticipated during the next two years. Robotic Process Automation (RPA), Natural Language Processing (NLP) and eHealth records offer the largest benefits, presumably for data management. For early phase studies, AI utilization may serve a more analytical role for patient identification/stratification and predictive purposes."
Overall, it is clear that there is great hope around the potential of new technologies in clinical trials, with the vast majority of companies are increasing their implementation - particularly of wearables and AI. However, with an array of challenges and concerns around the tech, progress is slower than many had hoped.
There are content streams on both Technology and Artificial Intelligence at Clinical Trials Europe in Barcelona on 19 - 21 November 2019. Explore the agenda or book your pass.