Real innovation comes from uncovering real insights. Understanding needs, purchasing behaviour and changing lifestyles of your consumers is critical to being able to deliver on their future needs. It requires the collaboration of the entire customer team - from insights creators to marketing folks to category management leaders.
100% focused on the collaboration to drive the action, The International Shopper Insights in Action Event experience brings together the right mix of stories and experiences offering a diversity of expertise:
' Uniting more than 35 countries and 300 attendees to explore, debate and respond to the evolving shopper ecosystem
' Content you can count on by the leading minds in shopper research, marketing and category management
' The right mix of keynote speakers offer you the growth and diversity you need to power the next great phase of shopper-marketing excellence
' 100% all new business cases, never repurposed or repeated
' The right people - 70% of our attendees are from FMCGs and mega retailers
Download the programme to see the full speaker faculty and agenda details. Last Chance to Save ??300 ends this week - Register by This Friday, August 3rd, 2012.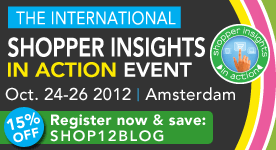 Register Today:
Online: www.shopperinsightsintl.com
Call: +1.941.554.3500
Email: register@iirusa.com