Digitalisation has become a vital part of the maritime industry, ultimately aimed at making the industry more innovative and efficient.
Data goes hand in hand with digitalisation and as the maritime industry has tested and adopted new digital technologies, the quantity and quality of the data available about shipping has increased exponentially. Data that has the potential to optimise operations through increasingly sophisticated analytics and visualization tools.
The digital twin ship is a concept whereby a digital representation of a vessel, its processes, systems and potential scenarios are realised through continuous data collection. Technological developments such as sensors, communication pathways, connectivity and control systems have all enabled the realisation of the digital twin in shipping.
The continuous improvement of these technologies has allowed the building of models for production, operations, predictive maintenance and a host of other potential applications - allowing the refinement of designs, testing of new features and evaluation of performance, safety and integrity. Perhaps the most exciting, and ambitious, of these applications is automation.
The digital twin & automation
The uptake of digital's role within the shipping industry has been slow. Some may say this is due to the shipping industry's struggle with technology acceptance and technology adoption (yes, there is a difference), but the more measured response to this is that innovation takes time.
It is never a singular moment or event, and is the product of vision, experimentation and the drive to succeed.
Technology is a driver, and enabler, for innovation. As it has penetrated through to smaller roles or applications within the shipping industry, its value has been realised. There is little doubt the data models collected from these applications are bringing about the realisation of the digital twin and have been, and will be, informing everything from improvements in engine performance to enhanced hull integrity. It is available for analysis from the first day of a maiden voyage, to the day a vessel is decommissioned. This data will be pivotal in helping the maritime industry grow and become more efficient and environmentally friendly.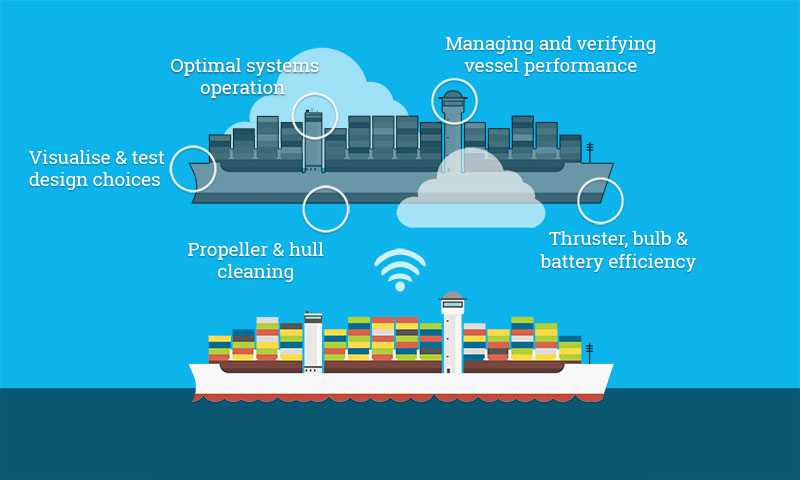 Theoretically, there are an endless variety of operations that can benefit from the digital twin, and these have grown to include system design, efficient assurance and verification services, simulator-based testing, training and virtual system integration, and the generation of deep insights and predictions.
The operations and insights from the digital twin are leading the first steps towards autonomy - the creation of efficient algorithms for remote controlled, and self-controlled, components and operations. A digital twin vessel fuelled with an integrated data loop is fundamental to the augmentation and advancement of autonomy.
Currently, autonomous shipping is limited to the development and testing of autonomous ships for specialized operations in national waters.
Late in 2018, we saw the launch of the Falco, the first completely autonomous (car) ferry. The Falco travelled between the terminals at Parainen and Nauvo, Finland. On its journey, the Falco used a combination of Rolls-Royce Ship Intelligence technologies and was able to avoid a stationary vessel and berth unaided at its destination. On the return leg, the ferry was remotely controlled from Finferries' operational centre in Turku.
In 2019, we will see the testing of the YARA Birkeland, the first fully electric and autonomous container ship, with zero emissions. Initially, the vessel will have a small crew and the ship will sail two routes in Norway - between Herøya and Brevik, and between Herøya and Larvik. As sensor, automated, manual and predictive data is gathered and analysed from these scenarios and simulations, this enhances pattern detection, uncovering anomalies and improving decision-making.
The data recorded to the digital twin will add valuable layers to their digital ecosystem and bring the vessel towards autonomous operation.
By 2022, the plan is for the vessel to be fully autonomous. In the case of the YARA Birkeland, and the realisation of autonomy in shipping, there are advantages which need to be mentioned.
The ship is paid, owned and operated exclusively by YARA for this shipping of their product, the vessel is small, never leaves Norway's territorial waters and only visits 3 ports.
The Falco has similar advantages which will allow it to test and operate. With these factors alone, these vessels avoid many concerns with regards to codes of conduct, regulations and application in international shipping.
Penetration, adoption & standards
For autonomy to have a significant effect across the shipping industry, it requires penetration (awareness and consideration), adoption (on-boarding) and a set of universal standards.
The adoption of autonomous vessels within the shipping industry, like technology, will be heavily influenced by context.
The context of the countries, regulators, organisations and companies are at the same level of readiness to adopt new technologies and automation. It is easy to understand that the adoption of autonomous vessels will happen by degree in pockets or sectors first, before becoming more mainstream.
We will need to see the development of a Code of Practice for design, construction and operation of autonomous maritime systems. With that, regulators and the law will need to keep up with technology.
How will autonomous ships comply with current seaworthiness obligations, safe manning levels, the duties of the shipmaster, and compulsory pilotage?
Consider that compulsory pilotage laws literally vary from port to port, meaning that autonomous ships may not be permitted to berth in some ports. Thus, their usefulness as cargo-carrying vessels will be limited unless these issues are resolved at an international level.
While not every shipowner, builder or operator is at this stage of technology adoption, we must also bear in mind that running a port or ship building involve hefty capital investments, and one can understand why stakeholders need to see proof of concepts before signing on the dotted line.
The YARA Birkeland costs approximately three times as much as a conventional ship of similar size – not even considering the research and development costs which went into achieving this modern marvel.
While there will be a saving on operations in the long-run, the increased costs to make these vessels will undoubtedly make them more expensive to insure. A vessel could encounter a wide variety of situations with regards to its voyage. Consequences of any situation could include; collision, grounding, sinking, loss of cargo or (at worst) loss of life.
I would not imagine these insurance costs to go down until the safety, performance and operation in emergency situations is proven over time. As we are taking these steps forward in digitalisation (and specifically, autonomy) the aim is to improve efficiency and reduce, or remove, human error. However, we cannot ignore that this reliance on technology can make way for other problems which may have consequences which could be costlier.
Digital errors could cause physical harm, or open ports and vessels to attacks from cyber criminals.

Reliable and secure channels of communication will become increasingly important in building the success of the digital twin, and a constant data connection will be required for remote operation and automation.
This exercise will be expensive, but continuous improvement and diffusion of technology means that digital technology is becoming cheaper, and available to more people and industries than ever before.
Are we ready to let go?
One definition of autonomy is the ability of a person (or computer in this case) to make its own decisions.
I suppose a good question would be how much data is required to allow for autonomy? How much data is enough?
This is where the conversation for a slow transition towards autonomy becomes highly sensible. In its simplest form, we process information in four stages: Information acquisition, analysis, action selection and implementation.
The above-mentioned factors aside, to achieve safe and efficient autonomy will require a large volume of sensor, automated, manual and predictive data. The scope for the digital twin to allow for processing of large volumes of information, scenarios and potential outcomes is unprecedented but the human factor is not going away anytime either.
Instead, the appearance of remote-controlled, autonomous or even unmanned vessels will transform the role of the seafarer. The World Maritime University noted in a recent report that, "Despite high levels of automation, qualified human resources with the right skill sets will still be needed in the foreseeable future."
What we are likely to see is an evolution of the seafarer, and we might be more likely to see vessels supervised by human operators before we see full automation.
The skill sets, and tasks of seafarers will evolve to more digital ones. These vessels will still require support from competent and ingenious teams of engineers, more adept in operations monitoring and system management than hands-on operational work, which will give birth to exciting new roles and opportunities.
Keep your finger on the pulse of the trends, technologies, processes and projects transforming shipping through digitalisation. Book your seat for Shipping2030 in Copenhagen, Denmark.