In 2013, FUSE debuts refreshing new session formats to diversify your experience and fulfill your yearning for conversation, engagement and dialogue. Download the agenda to experience this entirely new FUSE.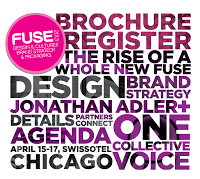 Introducing six new session formats including:
' Lean In ' Our version of 'interactive,' join fellow participants for provocative discussion and good old fashioned conversation
' Stories ' Client led, these FUSE case studies divulge behind the scenes stories of the most invigorating brand work and impactful designs of the year
' Synergy Spotlight ' Three panelists, each representing a different function within the organization, share their points of view on a FUSE hot topic
' Industry Mashup ' Three panelists, each representing a different industry, discuss how they overcome common challenges and share moments of breakthrough inspiration.
' Expos?? ' Interviews with today's most strategic brand experts and influential designers
' Gallery Session ' Expert led, today's leading branding firms and design agencies share thought leadership, success stories and award winning work.
All of the above make for a far more collaborative, inspiring and engaging FUSE experience, one you won't want to miss. See why John Silva of Dupuis chooses FUSE:

Have YOUR voice heard. FUSE yourself today. 
Want to share why you choose FUSE? We'd love to hear from you: http://bit.ly/Vi63zO. Send us Tweets @NextBigDesign #FUSEDesign or Instagram it @nextbigdesign.
FUSE 2013 . April 15-17, 2013. Swissotel Chicago
Mention your BLOG VIP code FUSE13BLOG to save 15% off the standard rate.